Assess and Correct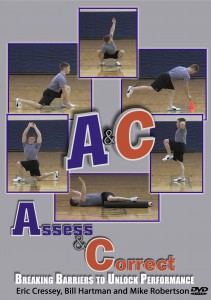 Assess and Correct is the first resource that empowers you with not only a series of self-assessments to identify your own flexibility and stability limitations, but also exercise progressions to correct those inefficiencies. In the process, you'll take your athletic performance to all new levels and prevent injuries from creeping up on you – whether you're a high-level athlete or someone who sits at a desk too much.
Want to learn more? Take a few minutes to watch the video below:
The easy-to-follow format of these DVDs takes you step-by-step to a healthy body that feels and performs well. It's like having a coach right there with you the whole time.
Everything starts with an assessment. Once a limitation has been identified, you simply follow the corresponding exercise progress
Over time, as your movements improve, you'll progress to more challenging exercises within the progression.
With 27 self-assessments and 78 corresponding exercises, you'll cover virtually everything you need to feel and perform well. And, you'll have plenty of variety to use for many years to come!
Included in this package are:
DVD #1: Your Comprehensive Guide to Self-Assessment
DVD #2: Your Individualized Corrective Exercise Progressions
Bonus #1: The Assess and Correct Assessment E-Manual, which is a guide to which you can refer to in conjunction with DVD #1.
Bonus #2: The Assess and Correct E-Manual, which includes written cues and photos for each recommended drill in DVD #2 so that you'll have a resource you can take to the gym with you.
Bonus #3: "The Great Eight Static Stretches" E-Manual, which shows you eight additional flexibility drills that we use on a regular basis in addition to the drills featured in the DVDs.
Bonus #4: The "Optimal Self Myofascial Release" E-Manual, which shows you the soft tissue methods and techniques we use with our clients and athletes.
Bonus #5: "Warm-ups for Every Body" E-Manual, which is a collection of two sample warm-up templates for each of the following sports/scenarios:
Click HERE to learn more about Assess and Correct