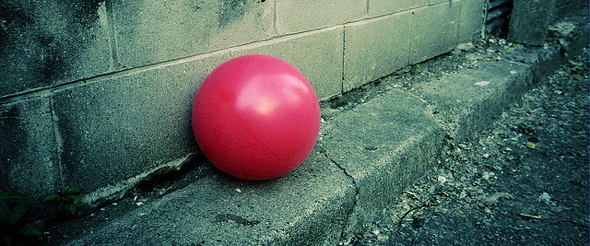 A Guest Post By Chris Collins M.Sc. CSCS (And inspired by Mike Robertson)
A few weeks ago I had the privilege to attend a 2 day seminar with Mike Robertson.  As a reader of his blog I don't need to tell you how knowledgeable the guy is.  Anybody that gets results for himself and his athletes, year after year, has to be good.
What you might not know, however, is that Mike is a very good teacher.  His ability to convey information explains the great results he gets with his clients.
One aspect of the seminar in particular stuck with me.  It was when Mike went around the room passing out balloons.
He had everyone in the room blow up and tie off their balloon.  From there he made a point regarding core training that I thought was excellent.
And it made me realize this point could be expanded further.
(That Robertson guy is so good he can just plant a seed in you subconsciously and let in germinate into a full blown blog article!)
And from that moment I made a quick note in my journal to develop this article once I got home.  So here for you are The 7 Keys of Balloon Core Theory.
Key #1 – Top/Down is stronger than Side/Side.
Once we all had our balloons inflated and tied off, Mike asked us to press on the sides of the balloon.   Next he had us press on the top and bottom of the balloon.  Then he asked us which direction we sensed more pressure.
There is more stability up and down through the core rather than side to side or front and back.
And this makes sense.  As we compress the core vertically we develop more intra-abdominal pressure than with lateral pressure.
Everyone already knows of another example in nature where top/down is stronger than side/side.  But sometimes we forget.
Need a clue? It's an egg.
I remember Todd Wright presenting a few years ago about the 'Vertical Core'.  I'm going to have to go back and see if there is a correlation to this point.
Key #2 – Think of the core as a box.
In the same way that a balloon has a bottom, sides and a top so does your core.
The core is comprised of the pelvic floor muscles (bottom), the abdominals, RA and TVa, (front), the erectors and multifidus (back), the obliques (sides) and the diaphragm (top).
Just as there is no way to consider a balloon without all of its dimensions and sides, there is also no way to consider the core independent of all of the various sides.
Key #3 – A balloon has elastic character.
What do you do before you blow up a balloon?  You stretch it to make it easier to fill.
The core is likewise made up elastic components that can be stretched and change shape.
Imagine how different our structure and also our function would be if our core muscles didn't have elasticity to them?  We wouldn't be able to generate our natural 'lifting belt' anytime we need to generate a substantial force.
Key #4 – Pushing on one spot creates pressure throughout the balloon.
This may not be specific to just the core but rather to all muscles.
If we press on area of the balloon we can feel pressure in all other areas of the balloon.  This helps to convey the idea of co-contraction or bracing of the core.  In his article, McGill (1) explains how co-contraction of the core muscles is unique from the contraction of the extremities.
Consider how the agonist contracts and the antagonist relaxes with respect to the extremities.  And compare that to what happens to the muscle of the core when it fires out of reflex such as when you sneeze.
And I specifically said reflex for a reason to lead to the next point…
Key #5 – It helps some understand the bracing versus hollowing debate.
Pressing top/down on the balloon creates pressure throughout the balloon.  There isn't just pressure on one side or aspect of the balloon.
You can't cave the front of the balloon (think hollowing out) without having a resultant bulge to the back of the balloon.  But yet there are still some that would insist you should try and isolate particular core muscles and draw-in the abdominals when the core functions as a unit, like the balloon.
Key #6 – It helps convey the idea of intra-abdominal pressure (IAP).
You ever see the people in the gym who always look to throw on a lifting belt no matter what the load?
I'm talking about the guys who warm up with the bar and maybe 135 lbs yet have that belt cinched up so tight they walk around funny between sets.
Yeah these guys never learned to develop their natural lifting belt.
They never learned to develop as much IAP as possible to take stress off the spine.
I think it was McGill as well who said the closer you get to world record Powerlifting numbers the more stable the spine.
When the balloon is inflated a decent amount and then you apply a decent amount of top/down pressure you can definitely feel the stability that extends throughout the balloon.  This is similar to the IAP that develops when you inhale and then press out front, to the sides and to the back.
Key #7 – It helps teach proper breathing.
I'm amazed at how poorly people in the gym breathe!
I mean breathing is something so basic and intrinsic yet gets messed up by so many.
First of all, many incorrectly breathe by lifting the chest and shoulders on every inhalation.  But you also see people hold their breath and finish a set cyanotic and gasping.
As well you see others inhaling and exhaling at the exact opposite times losing the benefits of IAP.  And then you get the ones who inhale and exhale at the right time but need a balloon to remind them how to breathe properly.
Imagine a fully inflated balloon.  What is the pressure like in this balloon?  It's pretty good, isn't it?
Now imagine compressing the top and bottom of this balloon as we've been talking about.  What happens to this pressure?  It goes up even more, right?
Now what happens if you didn't tie off the top of the balloon and just let go of the balloon.  Not letting go so the balloon will fly off around the room but just about.
What happens to the pressure and the air in the balloon in this case?  It leaks out rapidly; the pressure drops quickly and makes a funny farting sound.
Compare this to keeping a tight seal on the top of the balloon and only letting out the smallest amount of air.  In this case the air comes out in small bursts and the pressure stays high.
Remember this when breathing during the most challenging point in your lift and purse the lips to only allow a small amount of air to escape and thus maintain as much IAP as possible.
Summary
Kind of cool what can come from one balloon and a discussion about core stability with Mike Robertson.  Imagine what would come from spending 16 hours in a seminar with him? (Note from MR: You WILL be able to review the full seminar soon. Stay tuned!)
In the comments section below leave some feedback as to your thoughts to using a balloon as teaching tool to explain core training.  I'm sure there are other analogies that could be made and that's where you come in. Let's hear it.
Now go learn, practice and pass it on.
Chris Collins M.Sc. CSCS
Literature cited
1.     McGill, S. Core Training: Evidence Translating to Better Performance and Injury Prevention. Strength & Conditioning Journal 32(3):33-46, 2010.
(Lead Photo Courtesy of Duchamp)