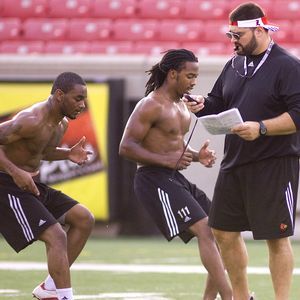 As you guys can tell, things have been a bit slow around here.  Sorry about that – things have been a little bit more hectic than usual lately 🙂
To get things cranked back up, I figured I'd run a little contest.  Here's what I'd like for you guys to do.
Everyone who reads this blog is interested in moving and/or feeling better.  Whether you coach 1,000 clients/athletes or only yourself, we all need a bigger coaching and cuing "toolbox" to improve our movement and function.
To help all of us take our performance to the next level, I'd love to hear what coaching cues you guys use with your clients, athletes, or even yourself.  Give me a quick write-up in the "Comments" section below as to what coaching cues you use, and how they help people move better.
So again, here's what I need, preferably in this order:
1 – The Exercise you're coaching.
2 – What you're trying to "fix."
3 – The cue that you use to get them out of the faulty movement pattern/alignment, and into a better position.
Leave these below and one (or more!) lucky winners will receive some free RTS swag!
Thanks everyone!
Best
MR
PS – I'll even give an example below to get us started!