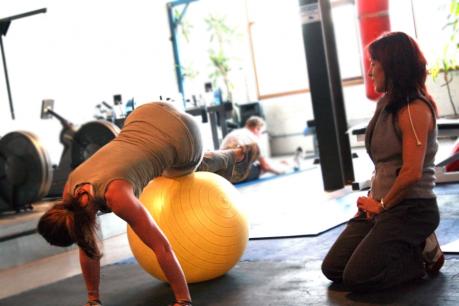 This is a question I get asked all the time, from friends and family members alike:
How do I go about finding a competent fitness coach/personal trainer/performance enhancement coach?

These days, it's not as easy as you'd like to think.  With all the marketing and hype surrounding our industry, it can be difficult to separate the wheat from the chaff.
However, when you boil it down to two questions, you can really find out a lot about a coach.
Here's what I would do, if you need to find some qualified.
Question #1 – How long have you been in the industry?
The private sector of the fitness industry is truly dog-eat-dog.  If you can last more than 5 years, you're ahead of 80-90% of the population.  Not only does this mean you probably have at least some idea of what you're doing, but you're passionate about it as well.
When I came out of my undergraduate program, at least a dozen of my friends immediately signed on at local fitness facilities.  They were told to "sell, Sell, SELL!" and never got a moment to relax, let alone educate themselves on the actual fitness/training side of the equation!
Not surprisingly, none of these people are still in the industry.
So if you're looking to hire someone, make sure they've been around long enough to prove themselves.  You might find some high-quality coaches/trainers that have been in the industry for less than 5 years, but they're the exception versus the rule.
If they pass this test, this next one should weed out the rest of the clowns…
Question #2 – Is this your full-time job?
True story:  I go to a business networking group 4-5 years ago, and immediately notice this trendy looking guy with Dolce and Gabbana glasses.  He's dressed for success, and his full-time job is selling high-end audio-visual systems.
Anyway, fast forward a month or so and I see him out and about.  The guy now has on a skin-tight t-shirt (at least two sizes two small), he's got tattoo sleeves that would make my parents blush, and he's pretty much acting like an ass clown.
While I have absolutely zero desire to talk to him, at some point we crossed paths and in light conversation he mentions:
"Oh yeah, I personal train people on the side, too."
WHAT?!?!?!?!
So this total moron is training people "on-the-side." And we wonder why our industry is looked at so poorly.
I don't know about you, but I don't want a lawyer, account, or another other professional working for me who is doing their job "on-the-side."
I take my job seriously, and this is a full-time job for me – in fact, dare I say, I actually want to be good at my job.
If you're not good enough to make a full-time living out of this "job," then that's a big red flag.
Any clown can train people on the side, but to succeed and make this your full-time gig is a different story.  Even more, if you can not only support yourself but other trainers (i.e. you own/operate a facility), you're probably doing some really good things.
Obviously there are exceptions to every rule, but if you ask these two questions to potential trainers/coaches you might be interested in hiring, I think you'll have a much better idea of who is qualified and who isn't.
Good luck!
MR