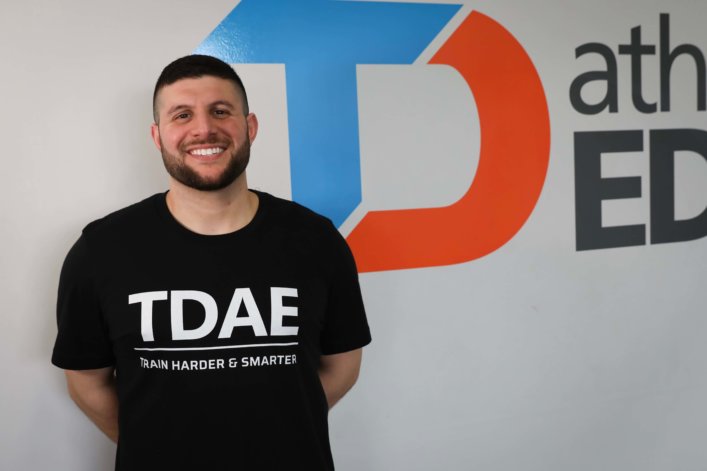 Matthew Ibrahim is the Co-Owner, Director of Strength & Conditioning and Internship Coordinator at TD Athletes Edge in Salem, MA.
He has been an invited guest speaker nationally in over 10 U.S. states, which was highlighted by his presentations at Google Headquarters, Stanford University, Equinox and Lululemon, in addition to guest speaking internationally in Milan, Italy.
His professional work has been featured in Men's Health and Men's Fitness. Currently, he is finishing up his masters degree at Rocky Mountain University, which has a direct track into a PhD in Human and Sport Performance.
In this show, Matthew and I talk about his early failings in academia, why FUN is so critical to your success in this industry, the value of a 10-minute brain dump, and how to be successful – with integrity – on social media.
This is a really fun show and I think you're going to love it.
Show Outline
Here's a brief overview of what we covered on this week's show:
How Matthew got started in the world of physical preparation.
His overarching philosophy or "Big Rocks" when it comes to training and coaching.
What to do when a client or athlete just isn't getting a specific lift or exercise.
Slow Cooking: Looks great on paper, but it's not necessarily what a client or athlete wants to hear. Learn how Matthew reconciles the two to make training a Win-Win.
How to keep an open mind and not become too dogmatic in your approach to training.
Communication and buy-in – how to get it, and perhaps more importantly, how to keep it!
The BIG Question.
A really fun lighting round where we talk about our mutual friend Tim DiFrancesco, his advice on being successful on "The 'Gram," his Ph.D. work, and what's next for Matthew Ibrahim.
Related Links
Get 3 days of my best coaching materials — for free.
3 DAY COACH'S CAMP:
Write better programs
Learn how to motivate clients outside the gym
My most popular resets for instantly improving movement quality