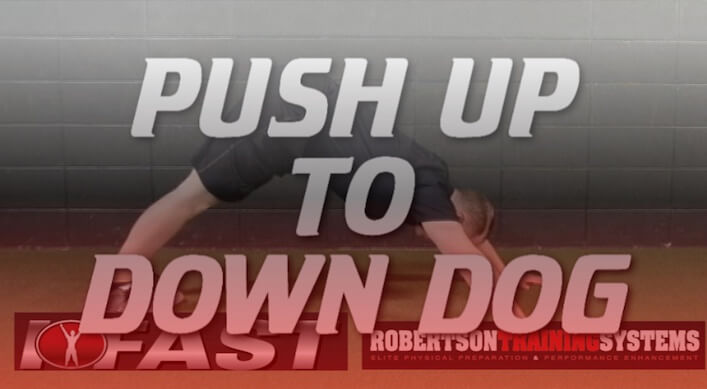 We've focused a lot on the push-up in recent weeks (and in case you missed it, you see what I mean here, here, here, and the big push-up article here).
With all of this focus on coaching and cuing, something I wanted to throw in this week was one of my favorite push-up variations of all time:
The push-up to downward dog.
Now I know what you're thinking:
"Say what?!?!"
"Why are we covering lame exercises all of a sudden?"
"Mike – you do Yoga?!?!"
You're going to have to trust me on this one. If you do this exercise, you know how powerful it can be.
And if you don't – well, just take 2:19 seconds out of your day to watch this short video so I can explain myself.
As you can see, there's a ton of benefits to using a push-up to downward dog in your program:
Like all push-up variations, you get a reach – which is awesome for opening up the backside of the thorax/trunk, as well as restoring a more optimal position of the abs.
You also get the side benefit of shutting off the posterior chain. Very extended clients/athletes struggle with this (especially the calf/gastroc), so by working on getting the knees straight and driving the heels down, you get an awesome stretch/mobilization on the backside.
Now a few quick tips to help ensure that your technique is on point:
Exhale to find your abs, and get into that 3-points of contact/neutral spine position.
Perform the standard push-up variation, focusing on getting a nice reach at the top.
After finishing the reach long, pike the hips up while you continue to push more vertically.
In the midpoint position, think about the following:

Continuing to reach long (don't sag/hang on your shoulders!),
Flexing the quads/straightening the knees, and
Driving the heels down towards the ground.

Return to the starting position and repeat for the allotted number of reps.
Whether it's in the warm-up, used as part of low-intensity circuits, or as a component of your resistance training program, the push-up to downward dog has a place in virtually everyone's program.
Give it a shot and let me know what you think!
All the best
MR
Get 3 days of my best coaching materials — for free.
3 DAY COACH'S CAMP:
Write better programs
Learn how to motivate clients outside the gym
My most popular resets for instantly improving movement quality