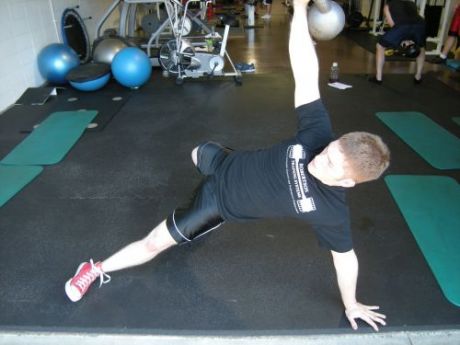 One of my goals of late is to really dial in and focus on the quality of my movement, and that of my athletes.  And one of the exercises that I've really tried to develop within my coaching and teaching repertoire is the Turkish get-up.
The Turkish Get-up is a fantastic exercise, and while I have espoused some of its benefits before, I think it's important to recap a few of those here.
In this one simple drill you get a whole host of fantastic benefits, such as:
Core strength and stability
T-spine mobility
Hip mobility
Hip extension (glute) strength
Gleno-humeral (shoulder) stability
Body awareness and proprioception
Etc.
However, one of the biggest issues I see is when people have no clue how to coach or execute the exercise.  A while back, I actually had a gentleman who came to me and thought the only goal was to stand up from the ground while keeping the 'bell overhead.
Instead of going through all the requisite motions, he actually just did an explosive crunch into a deep squat, and then stood up!
And while that's impressive, that's not exactly how it should be done 🙂
Today, I'm going to take you step-by-step through how I coach the Turkish Get-up.  At each point I'm going to give you the following:
The name of the step/position. This isn't RKC speak, this is what I use with clients/athletes to help them remember all the various positions of the lift.
Pictures from the front and/or side.
Specific coaching cues. Again, these may or may not be RKC specific, but it's what I've found works well with my clients and athletes.
And finally, before we get started, I want to make a few general comments about the lift and my write-up:
Technically, Lance (my model) should have been looking at the kettlebell from the starting point, up until the split-stance/half-kneeling position.
DO NOT go out and try this Day 1 with a heavy kettlebell. Work through the positions/steps with body weight first, or even with a shoe on your fist (aka the Extreme Naked Get-up by Brett Jones).
Please take the time to really feel this lift out.  I often tell my clients to pause for a 2 count at each position, as if they're getting their picture taken at a photo shoot.  Beginners are notorious for blowing through this lift, and not really milking all of its benefits.  When in doubt, slow it down!
The seasoned veterans who come across this may not jive 100% with the pictures, how I coach the lift, etc.  Keep in mind; my goal isn't to refine perfection here.  Rather, the goal is to get more people performing Turkish Get-ups in a safe and effective manner.  I will reference some places where you can learn the finer details at the end of the post.
So without any further ado, let's get into this!
Step #1 – Starting Position
In the starting position, think about "packing" your shoulder/shoulder blade down and back.  We'll assume you're holding the weight in your right hand, as that's how we've demonstrated it throughout this progression.
If you're holding the weight in your right hand, your right knee should be flexed with your heel back near your buttocks, and your left leg should be slightly abducted (away from your body) with your leg straight.  I will often cue people to "lengthen" through their heel to get their core turned-on. This is the starting position.
Step #2 – To the Elbow
The first motion is a crunch to get up to your left elbow.  Dan John uses the term "punch and crunch," and I sure haven't come up with anything better!
So you're going to crunch and punch, but also drive through your right heel as well.  If you combine this with lengthening through your left heel, it will be much easier to keep your left leg straight and fairly flat on the ground.
One key with the crunch is to think of leading with your t-spine or chest. You don't want your chest caved over.  Instead, think about really exaggerating keeping the chest up and out (good thoracic spine extension).
Step #3 – To the Hand
There isn't too much to think about in this transition.  You're simply shifting your weight from your left elbow to your left hand.  Focus on keeping the right shoulder packed and tight to the body, and keeping your chest up and out.
Step #4 – High Post
This is where the TGU really gets fun, and its "corrective" benefits really start to shine through.
From the "on the hand" position, you're going to actively drive through your right heel into a high bridge.  The key here is getting hip extension, versus lumbar spine extension.  Keeping your chest up and out from the onset of the lift should help here.  Think about squeezing that right cheek hard to get those hips up!
I often cue my clients/athletes to really hold this position for a 2 count, to milk the benefits of this position.  Beyond just the hip extension/glute strength, you're also getting some fantastic shoulder stabilizing benefits on the left-hand side as well.
Step #5 – Sweep the Leg
If you're a child of the 80's, you remember this quote:
"Sweep the Leg, Johnny."
Unfortunately, lame movie references are the only thing I can remember at this portion of the lift.  From the high post position, think about sweeping your left leg back to a point where your left knee is on the ground underneath your body.
One of the issue you'll often see here is a loss of lumbar neutral.  If your client has poor hip mobility, they may not be able to maintain a neutral spine, which could cause issues over time.
Cue them to keep their chest up and out and their lower back flat whenever possible.  It may also help to have them think about "lengthening" their spine.
Step #6 – Up Tall
From the previous position, this is another smooth transition.  All you're going to do is subtly rotate your left lower leg so it's straight and in-line with your body, and straighten your torso so you're up tall.
Once you're in the "tall" position, this is an opportune time to check everything else:  chest up, long spine, shoulder packed, etc.
As I mentioned previously, your eyes should be on the kettlebell throughout most of the lift.  This is the first time where you'll take your eyes from being focused on the kettlebell, to focused straight ahead.
Step #7 – Stand-up
Congratulations!  Once you've hit this point you're exactly halfway through one repetition!
All kidding aside, from the half-kneeling position you were just in, you're simply going to perform a split-squat to stand up to the top position.  I've heard arguments about exactly how people want this done, but I like to err on the side of simplicity here.  Stay tall, drive through your heel, and stand-up to a point where your feet are next to each other.
Step #8 – Reverse Lunge
From the top position, it's time to work our way back down.
Take an exaggerated step backwards with your left leg, lowering under control until your left knee is on the ground.  Focus on staying tall and tight through your midsection, and keeping your shoulder packed throughout.
Step #9 – Windshield Wiper and Hip Hinge

Once you're set-up in the half-kneeling position, it's time to start winding the lift up.  Begin by finding the bell with your eyes, and doing the "windshield wiper" motion with your left lower leg to get it back into position.
From here, I want you to think about lengthening your spine and actively driving into your right hip.  If you do this correctly you should be able to maintain a fairly neutral spine, and get a killer stretch in your right hip as well.
Step #10 – Sweep the Leg
More Karate Kid references come into play here as well.
On the transition back, we don't tend to focus on the high bridge as much.  Sure, it's a great component of the lift, but it's a little bit more awkward getting into the right position this time around.
Instead, I'll often integrate a lower "high bridge" at the same time I'm sweeping the leg through.  This portion of the lift is a little bit more athletic verus robotic, in my opinion.
Step #11 – To the Hand #2
You're in the home stretch now!  From the previous transitional position with the hips extended and legs straight, simply drop your hips back down to the ground.
At this point, though, don't just flop to the ground!  Keep your right shoulder backed, t-spine extended, etc.
Step #12 – To the Elbow
Virtually identical to the point above – stay under control!  Right shoulder packed, t-spine extended, etc.  Control and own this last portion of the lift.
Step #13 – Start/Finish
Woo-hoo!  Congrats on performing ONE perfect Turkish get-up.
More on the Turkish Get-up
As I mentioned throughout this piece, I can't possibly cover all the details of this intricate lift in a blog post.
If you're interested in really taking your technique and performance to the next level, I would highly recommend either picking up a copy of Gray Cook and Brett Jones' "Kalos Sthenos" DVD and manual, or actually attending an RKC/HKC event.  The book/DVD can show you tons of cool tips and tricks, while the live event will get you hands-on coaching, which we all know is invaluable.
Summary
As you can see, there's a lot to this lift.  I hope the instruction I've provided above will help you improve and refine your technique.
As well, if you enjoyed this post, please take a moment to Retweet it, Share it on Facebook, or simply e-mail it to a friend or family member who might enjoy it.
That's it for today.  Enough reading – get out and perform some TGU's, will ya?
Stay strong
MR
Get 3 days of my best coaching materials — for free.
3 DAY COACH'S CAMP:
Write better programs
Learn how to motivate clients outside the gym
My most popular resets for instantly improving movement quality