About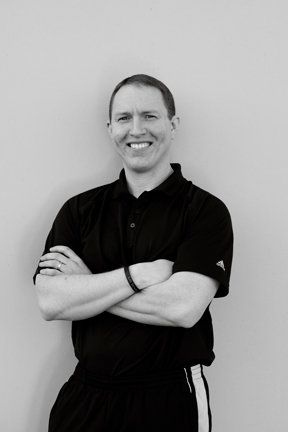 Mike Robertson is the President of Robertson Training Systems and the co-owner of Indianapolis Fitness and Sports Training (I-FAST) in Indianapolis, Indiana. Mike has made a name for himself as one of the premier performance coaches in the world, helping clients and athletes from all walks of life achieve their physique and sports performance goals.
But enough with the stuffy intros – here's a little bit about me.
Professional Background
As of 2010, I've officially been in the fitness industry for 10 years. In that time, I've done and seen a little bit of everything. From 2000-2002 I was an assistant/volunteer strength and conditioning coach at Ball State University. While there, I was primarily responsible for working with men's and women's volleyball, women's soccer, football, and our powerlifting team, although I worked with individual athletes from all 26 sports.
At that same time, I was working towards completing my Masters Degree in Sports Biomechanics. I was lucky enough to study under two wonderfully smart gentleman, Dr. Robert Newton and Dr. William Kraemer. These two guys really laid the foundation for my learning going forward. I graduated with my Masters of Science in May of 2002, and the real world beckoned.
I spent the next three years in Ft. Wayne, Indiana, where I headed up the Athletic Performance Center. Don't let the name fool you, however – I primarily worked with chiropractic rehabilitation clients. This is where I was really introduced to the assessment process, physical therapy, rehabilitation, and corrective exercise as a whole. This definitely was not my comfort zone at the time, but I learned a ton during my time there and this helped really broaden my scope as a trainer and coach.
In 2005 I moved back from Ft. Wayne to Indianapolis. There, I teamed up with Mike Dodd to form Custom Fitness, a high-end, in-home personal training company. Like every step in my journey, this was out of my comfort zone and got me working with a new population. With Custom Fitness I got a firm appreciation for what it was like to work in a truly one-on-one setting, often with adults in their 40's and 50's.
As Robertson Training Systems grew, I knew there would be a time when I'd need to make it my priority. I did that in 2008, when I left Custom Fitness and took 6 months off from training and coaching all together. Strangely enough, it only took me 2 months to get seriously bored and the itch to train and coach clients again was back (and worse than ever!). It was at this point in time that Bill Hartman and myself decided it was time to team up and open our facility, Indianapolis Fitness and Sports Training (IFAST).
Since 2008, it's really been a whirlwind. In 2009, IFAST was named one of America's Top 10 Gyms by Men's Health magazine. We're now at the two year mark and still going strong. It seems as though IFAST is growing each and every month.
So that's my professional background – here's a little bit about me from a coaching and athletic perspective.
Athletic and Coaching Background
I've been an athlete my entire life. Growing up, my favorite sport was actually baseball – until I realized how much I hated the heat and couldn't ever breath when the humidity cranked up!
In high school, I played a different sport every season. If you can imagine, I actually ran cross country in the fall, which was a total joke. However, it was made "mandatory" by my basketball coach, who claimed it would help get us into shape. In the winter, it was always basketball. Finally, in the spring, I played baseball a few years, and my last two years of high school, I played volleyball in the spring as well. My junior year of high school we finished 6th in the state, and my senior year we were ranked as high as 2nd, but failed to put the pieces together in the state tournament.
I continued to play every sport imaginable all throughout college, and intramural sports were a God-send for someone as competitive as myself.
At the end of my undergraduate career at Ball State University, I joined the powerlifting team. The only reason I joined was because I wanted to learn the core lifts better, and hopefully get a little stronger in the process. Again, competition got the best of me, and after one meet, I was totally hooked.
In my first meet, I totaled 951 pounds in the 181 pound weight class. Over the course of the next 4.5-5 years, I grew that to a 1400 pound total in the 198 pound weight class. In my final meet I squatted 530 pounds, benched 335 pounds, and deadlifted 535 pounds.
I was pretty lucky while competing to coach some amazing athletes as well. In 2004 I was asked to be an assistant coach for the 2004 USA World Bench Press Team, where I'd like to think I played a part in helping the team clinch a second and first place finish for the Men's and Women's teams, respectively.
While I haven't competed in the past 5 years, that's more a function of lack of time than lack of desire. I have, however, continued to learn about training outside of powerlifting. I'm an R-Phase Certified Z-Health trainer and a Russian Kettlebell Certified instructor (RKC). In 2009, I was honored by the International Youth Conditioning Association when I was named to their Advisory Board.
Writing and The RTS Site
Finally, if you look around my site even a little bit, you can see that I like to write. I still can't imagine that myself, as I absolutely loathed writing all throughout middle and high school.
In the past 8 years, however, I've written well over 100 published articles for a wide variety of sites and magazines. Some of the more notable publications include T-Nation.com, Men's Health, Men's Fitness and Outside magazines. At this point in time I'm very focused on growing the RTS site, so that's where you'll find the bulk of my current literary gems.
If you've read all this, you're definitely a trooper. I'd just like to thank you for taking the time to visit my site, and I hope that over the coming months and years you find some information that takes your training, your health, and/or your physique to the next level.
All the best
Mike Robertson
Trainer Testimonials
---
"Mike Robertson could very well be the Clark Kent of the fitness industry. Quiet. Unassuming. Almost goes unnoticed. But underneath that quiet demeanour is a world class coach armed with almost superhuman skills and knowledge on almost every aspect of fitness training.
Definitely a name that's on my radar. And on my personal advisory team. Mike not only has the knowledge, but he can actually apply it in the real world."
Alwyn Cosgrove
www.AlwynCosgrove.com
"Mike Robertson has established himself as one of the top strength coaches and corrective exercise specialists in the world. His knowledge of the musculo-skeletal system is staggering. Yet even more impressive is his ability to improve the movement and function of the human body. From improving knee pain and shoulder weakness – to lifting bigger weights, Mike always has a fresh and new way of looking at the body."
Dr. John Berardi, CSCS
Adjunct Professor: University of Texas
Author: Precision Nutrition, Gourmet Nutrition, Scrawny to Brawny
President: Science Link, Inc., Translating Research Into Results
www.JohnBerardi.com, www.PrecisionNutrition.com, www.ScrawnytoBrawny.com
"I have to admit; I'm somewhat of a snob for recommending other fitness professionals. Very simply, I'm not impressed very easily. The simple fact that I've made two information products, co-authored ten articles, attended several conferences, and chat almost daily WITH MIKE ROBERTSON speaks volumes about his abilities as a coach. Mike has a tremendous ability to make the complex seem simple; if you aren't reading his stuff, you're missing out."
Eric Cressey, Performance Enhancement Specialist – Boston, MA
www.EricCressey.com
www.ExcelStrength.com
"Mike Robertson is one of the few coaches in my 'inner-circle' that I trust & respect with training advise. His knowledge & understanding of the human body is on par with the best in the industry. I would recommend anything with Mike's name on it to anyone looking to get stronger, healthier or perform better."
Joe DeFranco
www.DeFrancosTraining.com
"I had the pleasure of meeting Mike at Dr. John Berardi's G-Flux Seminar in Chicago. I had read a few of Mike's articles on the internet and was impressed by his knowledge as well as his ability to articulate it. But, it wasn't until I had the chance to sit down and talk shop with him that I was able to really appreciate his passion for educating himself as well as others. I feel that Mike will continue to be a leader in the Fitness Industry for a very long time."
Joe Dowdell
Owner, Peak Performance NYC
www.PeakPerformanceNYC.com
"I've been in this business for a long time and it's not every day that some one comes along and makes me sit up and take notice. When I first started reading Mike Robertsons stuff a few years back I was seriously impressed. Mike has an incredible knowledge of the human body and ton of practical experience to go along with it. I honestly wouldn't hesitate for a second to recommend anything with Mike's name on it to those looking to improve their strength and conditioning knowledge. On top of that, and more importantly to me, Mike is a first class, stand up human being."
Jason Ferruggia, Performance Enhancement Specialist
www.J1Strength.com
www.CombatConditioningSecrets.com
After all our communication via e-mail, and Mike's selfless coaching for myself and my athletes, I must say he's one of the most genuine Coaches in our field.
Any time I have a question or need your assistance, Mike is always available and giving. Best of all, he's ego free! For someone who knows as much as he does he sure keeps it quiet! Bottom line is I want to thank Mike for all his guidance since we've first spoken and I can say with absolute confidence that any athlete or Coach who can receive training from him should jump on the opportunity ASAP!
Zach Even – Esh, Strength Coach
www.ZachEven-Esh.com
One of the things that sets Mike apart is his ability to 'see the training process through several different lenses.' I think this is due to several factors: his extensive formal education, his power-lifting background, his work experience in the rehab setting and his training of athletes. Additionally, Mike has developed a network of some of the best people in the fitness/rehab/athletic training industry that he is able to utilize as a valuable resource whenever needed. All of this allows Mike to take a holistic view of training, rather than focusing on only one style or variable and being blinded to the others. Personally, I feel that this holistic view will result in long-term success through the implementation of a training program designed to maximize benefit while minimizing risk. Not every person or athlete has the same training needs, and being able to view training through multiple lenses makes it easier to see what is needed for each individual.
Ryan Smith, D.C., A.R.T.
Chiropractic Physician and Sports Injury/Rehab Specialist
www.chirocolumbus.com
www.EliteFTS.com
Mike Robertson has one of the sharpest minds in the industry and has a unique ability to make difficult concepts sound simple. The industry is flooded with poor products and information, but you can always count on Mike to constantly put out quality, useful and innovative articles and DVD's. He is one of the first guys I turn to when I need assistance to better help my athletes.
Brijesh Patel
Associate Director of Strength and Conditioning, College of the Holy Cross
Co-founder and Partner of S B Coaches College, LLC
www.sbcoachescollege.com
Client Testimonials
---
"The reason I contacted Mike was because I had been having increasing hip and low back pains for the last 2 years. It started as what I thought was IT Band tightness or soreness, and gradually over time worked its way up into my low back. The warm-ups were worse and longer than my actual workouts. I was also having a lot of upper back tightness and neck pains, where it felt like I just couldn't get it popped into place.
I went to 3 different chiropractors over that span, and spent over $2,500 dollars in adjustments and massages and it just kept getting worse. I was convinced I needed to be stretching more (and I had been), but it just didn't seem to be helping much. I had been going through a stretching routine for about 4-5 months which did help some, but nothing for the time I was putting into it. It was hit or miss; some days I would be fairly flexible (for me anyways) and some I couldn't even get into position to get a stretch because it felt like my back and hips were out of place. I got to the point where I could not even sit for more than 15 minutes without extreme low back, glute and neck pain. I had to do something.
While I was looking for ways to alleviate some of the pain, I came across a few articles by Mike over on T-Mag but I was still at a loss on where to start; what stretches to do for my problem, how hard to push the stretches, how often, etc. It was a lot of info to learn and I didn't have time – I needed relief RIGHT THEN, so I emailed Mike for his help. He told me what he thought the problem was and gave me some rather simple stretches to do to fix the problem. Some I was trying to do already, but I was doing them wrong. A few simple adjustments and within a week I noticed some relief. By week two I was seeing some more progress and by week four, ALL hip and back pain was GONE! What's more, my upper back and neck pain cleared up too! I thought for sure I needed to be stretching my upper back, but the pain was just working up from the hips.
After 4 weeks, my previously exhaustive warm-up routine for my hips was dramatically reduced to a few stretches and I was ready to go in under 10 minutes (this is down from about 30-40 minutes – No joke!). There was no hip pain when squatting, or after, and it was much easier to achieve depth. The increased ROM has also helped me get into a better position to DL and get a better arch my bench which was non-existent before.
All that is great, but I cannot begin to tell you about the relief from the constant hip and low back pain from squatting and pulling heavy week after week. I was seriously considering hanging up the chucks because it was getting so bad. I felt way too old and decrepit to be as young as I am. Mike I can't thank you enough for your help man!"
Sam Byrd, Competitive Powerlifter
All Time 198 Squat Record of 1,050 pounds
All Time 220 Squat Record of 1,063 pounds
** 1063 squat , 611 bench, and 733 deadlift for 2408 Total
---
Mike Robertson's honest and dedicated approach to coaching made him the ideal choice for someone like me; an athlete working toward a future in her sport while battling the ghosts of injuries past.
Although I was mildly skeptical about distance coaching, my concern was immediately remedied by the thorough and personalized attention I received. I was impressed and amazed by how quickly Mike delivered a program, and how quickly that program delivered results. Within one month of working with Mike, I was seeing incredible improvements in my mobility, speed, strength and body composition. I posted personal and team bests at each stage of fitness and skill testing in my collegiate pre-season, and with help from Mike, went on to play my strongest field hockey season ever. This was only the beginning.
Mike matches the work ethic he inspires in his clients and with under his guidance and encouragement this season, I was honored to be named team captain, as well as the 2008 Carleton University Women's Field Hockey MVP. What sets Mike apart from other coaches is his ability to generate independence and empower the athletes he works with. As an elite athlete himself, he understands not only the physiological, but the underscoring mental processes that produce results, and affect athletes in their daily lives. His good humor, professionalism and focus make him a pleasure to work with and a driving force behind my ever-improving performance in sport, and lifelong pursuit for flourishing health.
– Jaya Dixit
---
The truth is I could have written this 2 months ago. That was when my initial 3 month cycle of training under Mike's guidance came to a close…many of my nagging aches and pains had improved significantly, I was stronger than I had been in several years and my physique had noticeably changed for the better. All things worthy of a written testimonial. But I am a perfectionist and it takes some time for me to get in the right frame of mind to write. Of course in the interim I continued working with Mike (considering the excellent results I would have been crazy to stop). Today I am happy to report more of the same: even stronger, feeling even better, physique even nicer. And I am very happy to finally be sitting down to write the testimonial that Mike has deservedly earned.
Working with Mike exceeded my expectations. Of course I knew he was very good (there is a reason I own nearly all of his educational materials), but I was curious as to how effective online coaching could be, especially since I had a few problem areas that needed to be addressed. I was pleased to discover his online coaching to be extremely effective. Obviously the training programs are top-notch and custom tailored to my needs and goals. But Mike also fully supported the programs with prompt, courteous and encouraging email communication that addressed all of my questions and concerns as I worked week to week. As corny as it sounds, his level of attention at times makes me feel like I am his only client. Of course, I know I am not the only one, and I can guesstimate how many clients and work projects he is juggling, which makes me even more impressed (and grateful) for his level of service.
Furthermore, I can't overemphasize the peace of mind I have experienced from knowing I can remove myself from the equation and trust Mike to make the program decisions. It is so nice having that level of skill and experience in my corner supporting me. Though I get great results coaching my own clients, there were shortcomings in my conditioning because I couldn't be truly objective with myself when designing my own programs. I had some lingering hip pain, shoulder pain, plus issues with my knee from a series of dislocations…all of which were hindering my progress, and all of which resolved with Mike's expertise and objectivity. A note to other health-fitness professionals out there: if you are programming for yourself, you probably aren't truly objective either…if guys like Dan John and Pavel Tsatsouline think it is a bad idea to program for yourself, it probably is and you ought to consider bringing someone on board to help you. (I recommend Mike Robertson.)
The time working with Mike has also been highly educational. The solid results thus far led me to re-appreciate the importance of fundamentals, as well as how to achieve more with less. My thought process for program design and coaching has evolved dramatically, and I am now even more effective at assisting my own clients than I was 5 months back. The experience has been some of the best continuing education I have ever had.
The bottom line is Mike is an excellent coach (and all around person), and I count myself fortunate to be able to work with him. Anyone reading this who ends up on his client list would be equally fortunate, regardless of their goals.
Travis Johnson, Ph.D.
NASM – CPT, PES, CES
CHEK EXERCISE COACH
CMTA1
---
I'm 45 years old and have had shoulder problems with shoulders (including major surgery on one), low back problems, neck problems, knee problems and too many other minor things to list.
Mike was able to tell from the pictures I sent him that I had significant anterior pelvic tilt. The exercises he had me doing began correcting this problem very quickly. It has made me feel more stable and strong doing all my exercises. It also has my low back in much better shape.
My squat form was not very good before. Mike had me lay off back squats for a while to correct some core issues. After a few months of following his program my 1RM squat has increased from 325 to 360, plus it is deeper than before with much better stability and overall form. My knees, low back, hips and my whole core feel good when I squat now.
Mike had me lay off bench presses for a few months to correct core and shoulder problems. Within two workouts of starting bench pressing again, I was benching as much as I was before I stopped. Now, two months after starting up again, my 1RM has gone from 265 (before I stopped benching) to 285. The biggest improvement is my shoulders feel more stable than before.
My deadlift 1RM has increased from about 395 to 450 while doing Mike's workouts.
I think that Mike is the best there is at writing programs. I feel better and am significantly stronger than before I started doing his workouts. The money I've spent with him has been some of the best money I've ever spent.
Tom F.
---
I first met Mike at a lifting forum towards the end of 2003. At that time I was taking a break from bodybuilding training to give strength training a try. But I was suffering from a myriad of upper and lower body injuries that were hampering my progress. One of my injuries was a shoulder injury caused by less than stellar posture. Overhead pressing movements, chin-ups and pull-ups caused me a lot of pain and were practically impossible for me to do.
Mike made several programs for me to help address these issues. The first program was geared towards helping to improve my posture. The two others were strength training programs which incorporated powerlifting elements.
I made some nice strength gains while working with Mike despite my injuries and decided to stick with strength training after finishing Mike's programs. Eventually I decided to go headlong into powerlifting and am currently preparing for my first meet. I credit my work with Mike for helping to get me back on the road to lifting health.
Over the course of the four to five months I worked with Mike he patiently answered all of my questions. He never told me he was too busy for me despite his hectic schedule. He is an officer and a gentlemen and I have nothing but the highest respect and regard for him.
– Maureen Shafer
---
Mike wrote my workout before the Omaha Collegiate nationals where I placed 6th overall, and had the 2nd best bench (325 pounds) in the nation in the 148lb weight class. You've been a great training partner, coach, and friend in my powerlifting career.
– Brett Clark
Ball State University Powerlifter
---
From the year that I was with him Mike was a WONDERFUL strength coach. I came in as a scared little freshman and he not only took me under his wing and watched out for me, but he also made sure I got what I needed in the weight room to make me a better competitor on the floor. Mike was known for his individual guidance to my teammates and myself. If it was our allotted time to train he would work with each one of us individually, making sure we were doing the exercises correctly so we could get the most out of each rep. This is something that rarely happened after he left.
Mike also took us up into the (Biomechanics) lab a few days a week to help us maximize our vertical. He was always looking for ways to make us better and improve our abilities. Not only was Mike great at what he did for us, he made it personal. He used to make it out to almost all of our home games and would read the internet or the newspaper to check and see how we did when we played on the road.
Furthermore, he got to know each one of us individually and still, four years later, we keep in touch and he checks up on us to see how we're doing. He is a great motivator, friend, coach and mentor. I am convinced he will touch even more people and have even more success in the future! Thanks Mike!!!
– Melissa Oliver
Ball State University Volleyball Player
---
I gained 8lbs of lean muscle mass after one year of working with Mike on his weight training program designed specifically for my
body structure! All 100% drug-free! Eight pounds is a tremendous gain for anyone-especially me since I am tall and thin. His plans are well thought out and easy to follow. If I did have a question or needed anything else, he was easily accessible and quick to respond. I competed in Figure competitions for 3 years before I was introduced to Mike and always finished in the bottom 2/3rds. After working with Mike I took home the 2nd place trophy in the Midwestern States Figure competition! Mike was there to cheer me on. If it wasn't for him I still would be following the "workout of the month" and getting no where. Thanks Mike!
– Kimberly Pais
---
(Commenting on the Neanderthal No More program):
…The difference is amazing. Not only am I totally pain free (for the first time in about 2 years) but I also look much better posture-wise. Thanks!
– Keith