RTS Online Coaching
Are You Struggling to Get Into Great Shape?
Have You Tried Other Solutions That Didn't Work?
If so, Maybe RTS Online Coaching is For You!
My name is Mike Robertson, and for the past 18 years, I've helped clients and athletes of all shapes and sizes get into the best shape of their lives.
And when I say all shapes and sizes – I mean it.
I've worked with everything from elite athletes in the NFL, NBA and MLS, to hard working, everyday clients who simply want to get stronger or regain their long-lost athleticism.
Over the next few weeks, I'm personally taking on a select group of distance coaching clients that want to get in the best shape of their lives, and want me to work one-on-one with them to guarantee their success.
If that sounds like you, read on because I'll map out exactly how we can work together to guarantee your success for a fraction of the cost of working with some mediocre trainer at the local gym.
Your Results Are Guaranteed
If you do this long enough, you realize that many trainers and coaches have no rhyme or reason to what they're doing.
Their programs are copied and pasted from their favorite muscle magazine.
Their exercises consist of whatever they saw on YouTube or Instagram earlier that day.
So is it really hard to imagine why most of these trainers don't get results for their clients?
I like to think of myself as the anti-trainer or coach.
I have one simple goal for the clients and athletes I work with:
It's to deliver results. Plain and simple.
And that's exactly what I'll do for you…Deliver Results.
How Can I Guarantee Your Success? Here's The Formula
I've been coaching online clients for 11 years now, which has really allowed me to dial in my system.
The first thing I like to do is a discovery call – this is where I learn as much about you as I can, things like:
What your goals are,
What you've done in the past,
How it worked (and perhaps more importantly, didn't), and
What your unique, individual needs and circumstances are so that we can determine if working together is a good fit.
By the end of that initial conversation I'll have an awesome idea as to where you're at, and what we need to do to get you moving and feeling great.
From there, I will design a 100% customized training program that is specific to your unique needs and goals.
Yes, you heard that right…every training session will be individually designed for you.
No one-size-fits-all, cookie cutter program.
This is a custom designed blueprint to guarantee that you finally get the body that you want.
It's Not Just Programming – It's Online COACHING
Your first program is just the starting point – the tip of the iceberg.
Each and every week, you'll check in to let me know how well you're progressing, send me video clips, and get feedback on your training.
That's right – I'm not just sending you a program once per month and hoping you figure it out.
Every week, we're communicating to make sure that you're working the program, that your exercise technique is improving, and that you're seeing awesome results.
And every four weeks, we're going to update your program.
After all, your body is going to be changing – becoming more mobile, stronger and athletic.
And as a result, we have to constantly update your program to make sure that we're continuing to challenge your body.
"So Mike, What's All Of This Cost?"
I'm sure by now you're wondering how much all this costs…and for good reason.
When I coach clients live and in-person, a private training session is $199.
If you're even training with me twice per week, that's a cool $1,600 per month.
If you're going three times per week, you're at $2,400 per month.
While this may seem like a lot of money at first glance, the athletes I work withunderstand this is an investment in their most valuable asset – their body.
And if you look at their track record, the results speak for themselves.
We're talking NBA and MLS All-Stars, guys who are performing at the highest levels of their sport.
But here's the really cool thing – you'll get that same level of coaching and program design at a fraction of the cost.
After working with hundreds of online clients over the years, and programming for thousands of clients and athletes offline, my program design process is truly dialed in and efficient.
In fact, if we get going now I can get you started for as little as $349 per month.
And remember, this isn't the cookie-cutter, program-of-the month BS that most "online" coaches are passing off as customized programming.
My work is 100% personalized for you.
Again, This Is NOT For Everybody!
Look, I truly love working with people, and even more, I love helping people get results.
But unfortunately, I'm very busy and time is a precious commodity for me.
As such, I have to going to be VERY picky about who I work with.
If you're interested in working together, here is my criteria for every client and athlete I coach:
Show Up. What most people fail to realize is that showing up every day is 90% of the battle. If you simply commit to the process with me, I can virtually guarantee your success.
Work Hard. This is not optional. If you are serious about achieving your goals, you have to be willing to get a bit uncomfortable in the gym. I can assure you, though, the results are worth it.
Be Coachable. Every great client and athlete I've worked with over the years is coachable. They want to learn, and they want to get better, and they know a great coach can help them achieve their goals.
They may sound simple at first glance, but I assure you there aren't many "secrets" in this game. If you show up, work hard, and allow me to coach you, I know we're going to see some great results.
Here's What I Need You to Do NOW…
If you're serious about getting started, I've got two ways for you to do just that.
The "fast track, I'm ready to start right now, TODAY" option, or the
"I'm pretty sure I want to start, but want to feel it out more first" option.
The fast track option is simple – pick from one of my training packages below, sign-up, and I'll reach out ASAP to get things rolling.
Yes! I want to sign-up NOW for Online Coaching
12-months
$349/month
6-months
$399/month
3-months
$449/month
Or, if you want to learn more about the program first, start by completing the questionnaire below.
Give me as much detail as you can.
Once I have your information, I'll reach out to you to schedule our consulting call.
If at the end of that we both feel like we're a good fit, we'll start working together to help you get the body you want.
And we decide it's not a good fit – that's OK too.
I'll never ask you for a single penny unless I know that I can get you the results you want.
Time IS A Factor…
This opportunity is extremely limited due to the one-on-one time needed in order to provide you with results.
Therefore, it is physically impossible for me to work with more than a handful of people.
And as I mentioned above, time is definitely an issue – there are only so many hours in the day, and many of mine are already accounted for!
So with that said, know that the window of opportunity won't be open long.
In fact, it could only be here for a few days if registrations go like I think they will.
If you feel like this is right for you, simply fill in the application below and we'll take it from there!
All the best,
MR
Feedback from Online Clients, Past and Present…
Still not convinced I can help you out?
Take a few minutes to read these testimonials from previous online clients…
——-
If you read no further, READ THIS:  Mike Robertson helped me, an almost 20-year veteran personal trainer, get in the best shape of my life at 40 years old!
I've been studying fitness for almost 30 years.  I've made my living as a personal trainer for almost 20.  Needless to say, I know my stuff, and I've helped A LOT of people get in the best shape of their life.
About a year out from turning 40, I decided it was MY TURN – I wanted to do a photo shoot and get in the best shape of my life.
Running my own business and designing training programs for hundreds of people has me thinking about program design enough… Plus, as a coach, I know that it's much smarter to hire someone to do the thinking for you so all your focus and effort can be on the execution.
I'm fortunate enough to have connections to some of the best trainers in the world.  I could have chosen just about any one of them to help me achieve my goal, but I knew from the get-go that Mike was my guy.  I've known Mike for several years now – we have the same business coach, and we've presented at the same fitness conferences.  I had already learned a ton from Mike as a reader of his blog and a customer – his products are awesome!  It was time to take things to the next level by hiring as my trainer…
Mike's program design skills are simply AWESOME!  Even with all my experience, Mike had me doing things I've never done…or even thought of!  The results speak for themselves.  At 40 years old, I'm in the best shape of my life!  I can't thank Mike enough for designing my workouts and teaching this old dog some new tricks.
If you're serious about taking your body to the next level – to look, feel, and perform at your very best – you need to hire Mike Robertson to design your training program.
Justin Yule, BS, CPT, MTE, FMSC
Owner & Chief Fitness Officer
Chanhassen Fitness Revolution
——-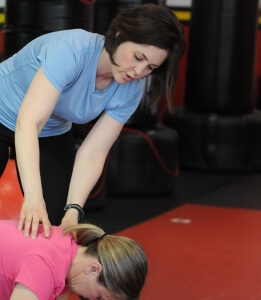 Mike has been my mentor for a very long time, whether he knows it or not. I have learned so much from him over the past few years and am a better trainer because of what he teaches and by his example.
I had been dying to get training from Mike and finally, the timing was right for me. When we started, I had shoulder pain (for the previous two years) and occasional low back pain that would flair up after some of my workouts. A few months in, and my shoulder pain is gone, my core is stronger and firing better and after he tweeked my deadlifting pattern, my low back pain has subsided, too. This has been the best training experience I've ever had and I learned a ton more that I can take back to my clients as well.
I highly recommend you get trained by Mike Robertson, too, whether you are a desk jockey or a coach/trainer yourself. The experience is invaluable. Thanks, Mike, for making my body work better, get stronger, move better, have less pain and teaching me new tricks of the trade! You're the best at what you do and I feel blessed to have had the opportunity to work with you.
Marie Ande, BS, CSCS
Her Fitness
——-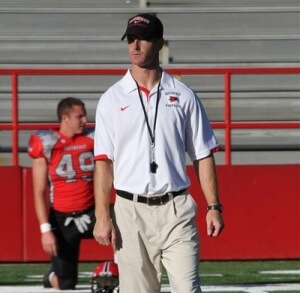 I was banged up from playing rugby and felt like I needed someone else to take over my training as I was frustrated with my current injuries.  I've read a number of Mike's articles and products and have always implemented a lot of his material with my training and the student-athletes I train so I sought Mike's help in gaining back my health.
This was one of the best decisions I've made for both my health and professional career.  I'm back to training hard without restrictions and I also feel this was one of the best educational experiences I've had as a strength and conditioning coach.  I cannot recommend Mike and his services enough!
Ryan Johnson
Head Strength and Conditioning Coach
Southeast Missouri State University
——-
I came across Mike's training program doing research online for ways to improve strength and mobility.
Having been a weightlifter for many years and starting to feel my age I decided to take steps to improve my functional movement ability.  Mike offered a quick and thorough diagnosis into a couple of problem areas for me and was able to tailor a program customized to my needs.
I was apprehensive about doing training online, as in the past I had only worked in person with trainers.  Mike's program was easy to use and contained links to all of the exercises he listed.  He was also responsive to questions, even questions that were off the beaten path, so to speak.
I noticed a considerable improvement in the way I moved an felt after working with Mike's program for a few months.  Mike is extremely knowledgeable and I would recommend him to anyone of any background and any age that would like to improve their mobility and physique.
Chris Wiser
——-
A successful trainer for more than a decade, I was confident that I "knew my stuff."
You, sir, opened my eyes. Corrective exercise was a term I'd heard a few times, but it began to come alive and make sense through your programs and coaching.
Four months under your guidance acted as a tremendous education in what is truly best for MY body. It's totally changed how I train myself, my clients, and my views of proper exercise form and function. Thanks for opening my eyes and reshaping my workout world!
Corey Little
——-
I recently completed coaching with Mike as a distance client for one year. I am a 40 year old female who was looking for general health and wellness in an effort to be mobile for the rest of my life. I was also looking for body composition changes.
Mike's programming was entirely new to me; I had trained with personal trainers in the past who had basically worked me to exhaustion up to four days per week. Mike took it back to the basics with a comprehensive evaluation (uploading videos) and regression to basic movement patterns.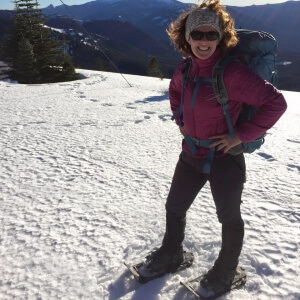 We began by working on mobility and imbalances. The back squats became goblet box squats; the deadlifts became KB RDLs; core work that I had never heard of was added; and breathing techniques were incorporated (who knew proper breathing was so important?). Over the course of the year I was able to get back up to deadlifting (with proper form this time!) and proper front squats. Conditioning work was added to accelerate fat loss.
One interesting thing I noticed over the course of the year was that skiing became MUCH easier. I attribute that to leg strength and stamina. My husband has always been a stronger skier than I, but this season I was able to keep up. It felt amazing to not be left behind!
Mike also has some amazing content on his website. Over the course of the year, I read pretty much anything fitness-related to gain an understanding of this type of programming. I learned that every block was programmed with intelligence and for a very specific purpose; you don't often find that in the coaching world.
Mike responded to any concerns I had in a timely manner and was very gracious to answer my many questions. After a year of following his program to the letter, I move better, lift heavier, and I feel great about my body. I highly recommend his coaching!
Andrea Johnson
Tigard, OR
——-
When I first started working out it was for one reason, and one reason only: get big in order to get the girls! Since then I've matured and my goals have changed, but my first six months of training had its toll on my body. Terrible technique on every lift is one thing but when you add in all my structural and muscular imbalances you've got a recipe for a disaster. Right shoulder, knees and spine was constantly injured/was hurting not to mention how incredible sick and tired of my protruding stomach and monkey butt I was getting.
I tried half-assedly correcting my structural issues myself for close to 3 years, but it was never more than a couple of glute bridges and poorly executed ab exercises. The thing is, structural and muscular imbalances don't "exist" in any real world bro-gym. People just want big muscles and don't give a damn about functionality. I had to look elsewhere for guidance.
I find the science of how the body functions extremely fascinating. Mike's name was one that popped up a lot when I was reading articles regarding bio-mechanics, exercise physiology and training in general and I always enjoyed his articles. So, when I discovered that Mike was taking clients I knew that this was the way to go if I wanted to get rid of my problems once and for all.
My goals were simple: In a 6 month time frame I wanted to be able to do all the big compound exercises like squatting and overhead lifting pain free. In my head it was an ambitious, even impossible goal, but Mike's response was "Yea, we can make that happen".
At first I hated the training! So much core work, and almost none of the money exercises. I felt like my body was withering away, and I were having withdrawal pains from not doing the exercises that I loved doing. However, Mike knew that I wouldn't be able to perform anything correctly with a core as weak as mine, and even thought I knew it myself I never had quite had the fortitude to incorporate it into a program.
While the first couple of months were tough, each following month had new exciting exercises or progressions of old ones. Every last weekend of the month was like Christmas eve as I was anticipating a new program. I'd always have a million questions but Mike was always ready with  an answer for every one of them. To be able to poke a masterminds mind whenever you feel like is truly priceless.
Fast forward several months and I'm now deadlifting very close to double my bodyweight (130kg), pressing overhead 0.7 times my bodyweight, benching 0.9 times my bodyweight with a 1 second pause at the bottom and squatting 1.2 times my bodyweight – all without pain and with awesome technique. My injuries has cleared up as well as a result of my body moving properly again.
Mike taught me not only how to do various exercises correctly but also how to keep my body healthy and strong for years to come. He also taught me about the importance of recovery which I never gave much thought before to be honest. I'm seeing great progress every week and with all the tools Mike's added to my arsenal I'm confident that my training is optimized to its fullest. The sky is the limit now!
If you're having any kinds of training-related issues I can only recommend Mike to help you out. He's a great guy, and he absolutely knows what he's talking about – my body is evidence of that!
– Daniel Pedersen
——-
When I came to have Mike help me out I was getting a lot of headache with left shoulder pain issues and throbbing in that area. It had gotten worse with time and I was feeling uncomfortable on the other side too, like a strain right across the whole chain of the shoulder from one AC joint to the other. I also couldn't toe touch and thought this was due to hamstrings being tight.
I had been through a number of physios and massage therapists that had helped temporarily yet the problem re-occurred. With Mike's individualised program and patience I picked myself up and started to feel heaps better. I was developing stronger muscles physically and this was evident too from complements I was receiving from friends. I was able to lift more and toe touch no problem! My goal was to train in pain free movement and improve performance. I definitely reached that!
Mike was very prompt in replying back to email inquiries and I felt I was in very good hands.
Anyone needing help with program design or general well being please see Mike, I highly recommend that you do!
– Costa Symeonidis
——-
I came to Mike non-functional and in pain. A back injury in February of 2013 coupled with an RSI related shoulder problem had me out of the serious lifting game for a solid year and a half. I'd been through PT, worked with several ART practitioners, chiropractors etc. Nothing helped long term. I got fed-up with not making any progress and got a hold of Mike – he has a reputation of being one of the best in the business, and after working with him, I can say with certainty that he is.
From the initial evaluation of pictures and videos, he picked up on things that NO ONE else had. Namely – my upper back was incredibly flat and my hips were askew. With that as a starting point, he developed a plan to get me back on track. It began with things I would generally consider simple, but in my broken state they turned out to be quite HARD. I had problems managing my breathing, balancing when trying to do single leg movements, and a multitude of other small things.
However, these issues disappeared quickly.
When something new would crop up – Mike would instruct me to tweak an exercise, or give me a new movement to get my body behaving as it should.
I literally went from being in pain day-to-day and barely able to lift – back to deadlifting and squatting in three months. I'm still a ways off from my old pre-injury numbers weight wise, but I'm making solid progress and that's the important thing.
Mike got me back on track, and I am incredibly thankful for it.
– Bob Killeen
——-
What Are You Waiting For?
If you are serious about getting into the best shape of your life…
…if you're serious about getting lean, strong and athletic….
…and if you're finally ready to invest in yourself, then what are you waiting for?
Fill out the application above and let's see if we're a good fit for each other.
I can't wait to hear from you!
All the best