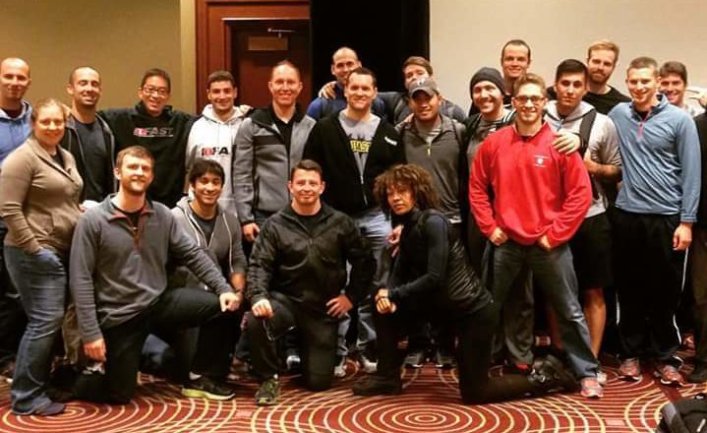 It's hard to believe, but our 2018 Physical Prep Summit is right around the corner!
There's always a ton of work that goes into this event, and this year is no exception.
Whether it's locking down the speakers, coordinating things with the event site, or just marketing and promoting the event, I will go to my grave saying that hosting seminars is very much a labor of love.
With that being said, though, I know this year's event is going to be amazing. If you're still on the fence as to whether you should attend or not, here are 10 reasons you should make it to this year's Physical Prep Summit!
1 – Lee Taft Talking Multi-Directional Speed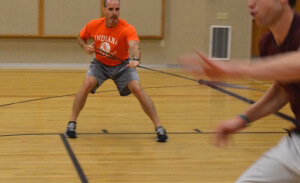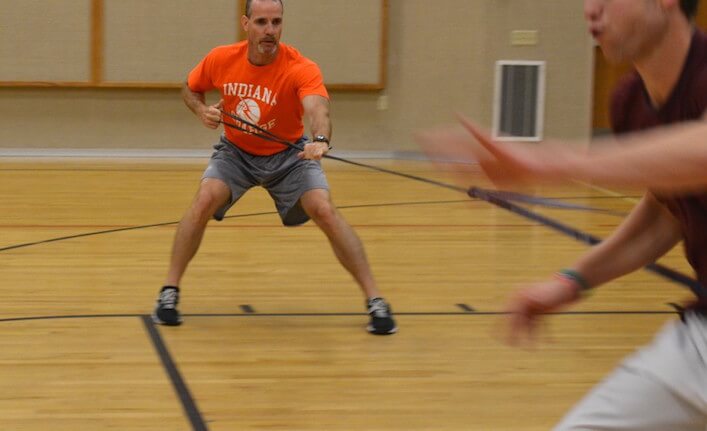 I don't know about you, but there are few people in the world that I'd rather here talk than Lee Taft.
Not only has this guy created THE MODEL when it comes to multi-directional speed, but I love that he's never willing to leave good enough alone.
He's constantly in the trenches, working on his craft, and finding ways to tweak the system and make it even better.
Plus, I find Lee always gives some of the most practical talks – there's always "Monday Morning Value," as I like to call it – stuff you can take home and apply immediately.
2 – Not One But TWO Business-Related Talks
One thing that's interesting about our group is how they've evolved over the years.
Early-on everyone just wanted training information.
And I still think there's a thirst for more info, even if it's just more specific info now that helps you tighten the screws and make things 1% better.
But we're also growing and evolving, and as you grow as a coach, there's a need to improve the business-side of your skills as well.
That's why I'm so excited to have both Pat Rigsby and Joel Jamieson adding elements of business to the seminar.
As you probably already know, Pat is my go-to guy when it comes to biz development. Both IFAST and RTS wouldn't be where they are today without him.
And I'm really excited about Joel's talk as well, because he's going to blend not only the science of recovery, but how to take that information and use it to help build your business.
I think there's a ton of value in educating your clients in how to better balance the stresses of training and life, so I know this talk will strike a chord with the crowd.
3 – Building a Program and Culture
Josh Bohnotal is a guy I've wanted to have talk for years. This guy crushed it at Purdue for the past seven years, helping build a basketball program from the ground up.
But go figure – the year I get him to talk he switches jobs!
Regardless, I'm really excited for this talk because there's a lot of talk about "culture" or "environment," but very few people giving practical advice on how to build or create those things.
4 – Actually UNDERSTANDING Sport Science
I'll be honest – I think I have a love-hate relationship with sport science right now.
Everyone is going on about "data this," and "athlete monitoring" that.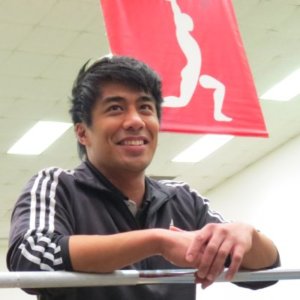 But who is actually doing this at a high level?
Who is using it in a meaningful and effective way to improve their decision-making progress?
And no one is going to confuse me with a hardcore sports scientist, so I need someone to water that ish down for me a bit.
That's why Aaron Cunanan is on this line-up.
This guy is a coach first, having interned at IFAST and worked with elite Olympic weightlifters.
But he's also a guy that I think can make sport science more palatable to all of us. After all, sports science isn't going away, but we coaches need to find a way to make it applicable to what we do everyday in the gym.
5 – The Break Room Discussions
Up to this point I've talked a ton about the information you're going to learn at this year's summit.
But here's the thing – information is everywhere these days.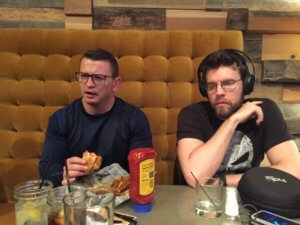 Seriously, if you just want information you can:
Read an article,
Watch a video on YouTube,
Listen to a podcast, etc.
So what's different about a live event?
Simply – you get to interact with real, live people.
You don't just consume the information – you actually talk about it with other coaches and trainers.
You get their unique perspective and insights.
What you can't replicate on the internet is the discussions and networking that go on in between the presentations.
And honestly, I think this is one of the most valuable parts of the weekend. While I know the information will be world-class, rubbing shoulders with some of the best and brightest in between sessions will only take the information to the next level!
6 – The Social!
I hate to admit it, but one of my favorite parts of every Physical Prep Summit is the social.
The first part of the day is always crazy, as I'm:
Prepping for my talk,
Getting people checked in,
Helping get speakers set up,
And about 1,001 other things
So by the time Friday night comes around, I finally feel like I can relax and catch up with everyone.
And whether you're talking shop, or simply making new friends, this is always one of the best parts of the weekend.
7 – Team IFAST Talks
About five or six years ago, former IFAST intern Eric Oetter proposed the idea of allowing a crew of up-and-comers to give presentations on the day before the event.
I wasn't sure how it would go, but I absolutely loved the idea. Not only would it give them the chance to hone their public speaking chops, but we all know that any time you present or teach a topic, you're forced to learn and understand it on a much deeper level.
Back in the day, we called these the "Futures Talks" – basically, saying that these guys were going to be the future of the industry.
But nowadays, I've renamed it to the "Team IFAST" talks, because saying they're the future would discredit the great work they're doing right now, today.
This year, we've got two talks:
Ty Terrell – Acceleration: Is Your Lifting Helping or Hurting?
Jason Neal – Structure and Setting yourself up for Success as a Young Coach
I get to see these guys coach on a daily basis, and suffice it to say, they really know their stuff. I'm excited to hear them present, as I'm sure I'll learn a thing or two along the way!
8 – Steve Friggin' Magness
One of the hardest parts of planning our event each year is determing who our "Keynote" presenter will be.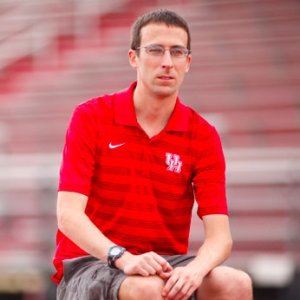 After all, it's one thing to be interesting for a one-hour presentation. But how do you keep an audience's attention for an entire day?
But in all honesty, Steve Magness was an easy choice. The guy is as well-schooled as they come, and I'm confident he could give us not one BUT two two days of amazing if we needed him to.
The great part about Steve's day, though, is that he's going to cover a bunch of simliar topics and threads from Day 1.
Sports science.
Training.
And a presentation I'm really pumped about, where he talks about "toughness" and "mindset."
Steve is a wealth of knowledge, and I know he's going to crush his talks on Saturday.
9 – You Get Continuing Education Units!
Every year, I make it a goal to get CEU's for our events.
I realize if you're going to spend your hard-earned money on an event, you should get CEU's for attending.
And this year will be no different!
When you sign-up and attend this year's event, you're going to get 14 continuing education credits/units for whatever certifying body you work with.
10 – It Will Be a Great Time!
At the end of the day, I realize any time you have to travel for a seminar, you're making a sacrifice.
Whether it's time, money, or some combination of the two, I want this event to be worth your while.
This is why we consistently get people coming back, year after year. Not only do you get a ton of great information, but it's a really fun environment where everyone is passionate, enthusiastic, and ready to grow.
So what are you waiting for?
If you haven't signed up already, the super-early bird discount (where you save $200!) expires this Friday at midnight.
So please don't delay!
Sign up now and we'll be ready and waiting for you at this year's Physical Preparation Summit!
All the best,
MR
Get 3 days of my best coaching materials — for free.
3 DAY COACH'S CAMP:
Write better programs
Learn how to motivate clients outside the gym
My most popular resets for instantly improving movement quality