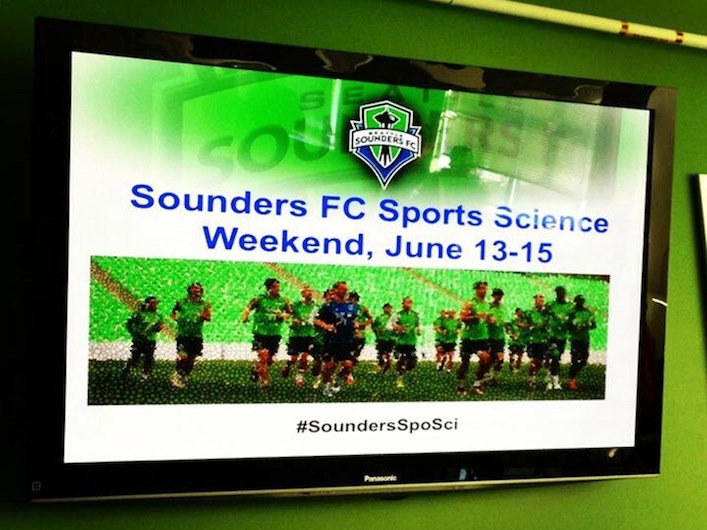 This past weekend I had the pleasure of attending the 2013 Sounders FC Sports Science weekend.
Needless to say, Dave Tenney and his staff put on an amazing seminar! Not only was I surrounded by some of the best and brightest in the strength and conditioning community, but the seminar was one of the most smoothly run events I've ever attended.
I flew into Seattle late Wednesday night, and not one single thing went as planned.
I sat for close to an hour on the Tarmac in both Indy and Minneapolis.
I basically sweat for 12 hours straight. I felt so bad for the people who had to sit next to me on those planes!
But with all that being said, I got to my final destination (and in bed) by 3 am Indy time (midnight in Seattle) and proceeded to get a bit of shut-eye.
Thursday AM
Staff In-Service at Vigor Ground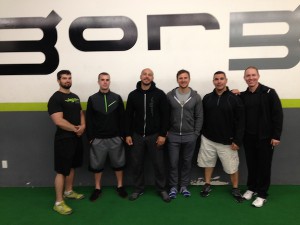 Thursday morning I caught up with my good friend Luka Hocevar and gave a quick and dirty in-service on assessment and breathing.
I love talking about this stuff, as our assessment and coaching of proper respiration at IFAST has  been a game-changer for our clients and athletes.
Little things like this really keep me passionate and fired up as well – I love working with coaches and trainers who are serious about improving the own skill sets, and helping their clients get better results.
After a quick lunch, Luka and I rolled over to the Starfire complex for the start of the seminar.
Thursday PM
Seminar Overview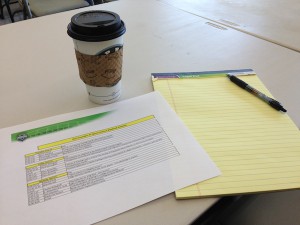 The seminar was held at the beautiful Starfire Complex. This 54-acre campus houses 12 soccer fields, and is home to the Seattle Sounders practice facility.
As mentioned up front, some of the best and brightest in our industry attended this seminar. Just off the top of my head, here are some of the elite soccer clubs represented at this seminar:
Ajax,
Manchester United,
German National Team,
Seattle Sounders,
LA Galaxy,
Sporting Kansas City,
DC United,
DC Spirit, and
Philadelphia Flyers.
And that was just the pro teams! The following colleges were also represented:
Notre Dame,
Auburn,
Washington,
Missouri, and
Louisville.
I'm sure I'm forgetting a handful, but needless to say there were some heavy hitters both presenting and in the audience.
Dave Tenney – Seattle Sounders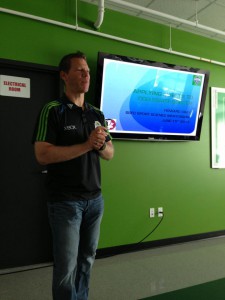 Dave Tenney started off the weekend with his presentation titled "Evolving the Training Load and Injury Prediction Model."
One of the things that Dave really tried to stress was that we need to consider the individuality of training within research. After all, research may give us a good idea of the averages and norms seen in soccer, but we need to look at individual differences as well.
Dave is also refining an injury prediction model to help him determine which players are at an increased likelihood of injury. This is a really powerful tool; as you can imagine if your best players are missing games, this could be the difference between making the playoffs and/or winning a championship.
Another thing that Dave mentioned was how guys that were more dedicated in their lifting programs during the off-season seemed to come back from injuries more quickly than their counterparts.
This makes sense – whether it's more resilient connective tissue, enhanced recovery capabilities, or some combination of the two, strength training should be a critical component of your off-season training .
One final note from Dave (and I love this): Dave made it a point to put a ton of information out there, even though there were other MLS teams represented in the audience.
Why would he give current training and recovery info to the competition? Easy.
Because if the does that, it forces him to keep moving forward and getting better. I love this – it's not about hiding your information or trying to keep it secret.
Instead, share your information and teach others. Not only will you have a deeper understanding, but it will force you to continue to grow as well.
Bjorn Rekelhof – Ajax
Next up was Bjorn Rekelhof from Dutch club Ajax. If you're unfamiliar with the European soccer clubs (I'm still trying to figure it all out myself!), Ajax is one of the most successful over the past two decades.
Bjorn started his talk discussing how each season is like it's own movie. He wanted to direct his own perfect movie, but realized that each season had to be different.
Every year, he had different actors, so he couldn't simply re-make the movie from the year before.
Bjorn also discussed how important it was to try to produce consistent performance across the calendar year. Many of these clubs are playing literally year-round, and with little off-season you have to become more effective at keeping the players fresh and managing their readiness and preparedness.
One of the key points from his lecture was reiterated numerous times across varying topics.
Quite simply, individuality is key, and it's critical that you individualize post-match recovery for your athletes.
Friday Night Social
After the seminar we cruised over to beautiful Bellevue and had dinner and drinks at the Rock Bottom Brewery.
Other than the Heat winning Game 4 of the NBA Finals, it was a really awesome night.
I got to catch up with good friend Tim Vagen, and met some of the students from his college ExSci program. Needless to say, these kids are way ahead of the curve.
I also got to catch up with good friends Patrick Ward, Joel Jamieson, and I even got to meet THE Howie Clark from Joel's conditioning videos.
Howie is an awesome guy and has some awesome stories from his 18 years in professional baseball.
About 9 pm I was ready to crash, but we didn't get home until close to midnight. Needless to say, my body was not happy with me!
Friday AM
Charlie Weingroff – Drive 495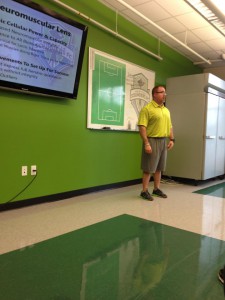 Up first on Friday was the one and only Charlie Weingroff.
It's funny – I remember interviewing Charlie back in the day for my podcast before he was quite this well-known.
Charlie has always been an incredibly passionate and motivating guy, and it's been cool to see his ascent in the industry.
Charlie talked primarily about how proper movement and hip extension are critical to athletes everywhere, but especially in the sport of soccer.
Along these same lines, mobility and stability are words that get thrown around quite a bit these days, but they should be more synonymous.  Mobility and stability are relative to each other – you can't have one without the other
A funny comment that Charlie made along the way (that I agree with 100%) is that good rehab should keep surgeons out of business. Any time we can help our clients or athletes stave off going under the knife, we're probably doing something right.
Last but not least, it was great to hear a physical therapist of Charlie's stature talk about the role of the aerobic energy system. Here's my favorite quote from his presentation:
"Increased aerobic capacity leads to improved tolerance to all biomotor abilities."
As usual, Charlie crushed it and he got the day started off right!
Mark McLaughlin – Results Period

Mark McLaughlin is a guy I've respected and learned from for many years, and this was the first time I got to see him lecture in person.
Mark's presentation focused on planning and training young athletes. Here are some stats that Mark threw around that blew my mind:
1/10 young athletes will get injured,
60% of those that get injured will do so in practice,
Kids age 15-18 are at an increased risk, and typically have more serious injuries.
Here's an interesting analogy that Mark used, and I think it's something I'll be using with parents who come in to our gym.
We all hear about NBA players who are breaking down over the course of an 82-game season. Quite simply, it's a massive workload.
However, they've spent their entire lives building up the work capacity and resiliency to do this.
Yet many of our kids due to club sports, travel teams, and their traditional sports season may easily accumulate 82 games in a competitive season!
If we care about the young athletes in our country, we need to do a better job of protecting them. If you train young kids, do your best to get familiar with anything related to the term "long-term athletic development (LTAD)."
Mark also gave us some insight into his priorities when training a young athlete. Two of the most important adaptations he's changing are priming the autonomic nervous system (shifting them to more parasympathetic), and improving their cardiovascular system via cardiac output work.
I'm currently working on a manifesto in regards to low intensity training (i.e. cardiac output), but until then, suffice it to say I can't agree with Mark highly enough. This is something that must be done, and is one of the cornerstones of LTAD.
Optimize autonomic nervous system and cardiovascular health via cardiac output
Friday PM
Ryan Alexander – Eastern Tennessee
First in the afternoon was Ryan Alexander from Eastern Tennessee state. Ryan is a Ph.D. candidate, and his presentation focused on how training loads in critical times can cause issues.
My biggest takeaway from this presentation was on the topic of session rating of perceived exertion. If you don't have fancy tools like an OmegaWave or BioForce to monitor the well-being of your athletes, this is a quick and dirty way to get started.
Quite simply, have your athletes rank how intense their training session was on a scale of 1-10. Next, multiply that number by the length of their training session. Here's a visual:
RPE (1-10) x Length of Session (in minutes) = Total Session Load
If done over the course of weeks or months, you can get an idea of how your athletes are feeling and recovering.
Gavin Benjafield – Ajax
Next up was Gavin Benjafield from Ajax. Gavin's presentation was titled "Football Injury Trends," and provided one really unique piece of content (at least for me).
The highest risk of hamstring pulls was at the end of the first and second half: 30-45 minutes and 75-90 minutes.
As my good friend Bill Hartman has said for years, "fatigue changes everything."
The question then becomes, what is the underlying issue? Is it just fatigue? And what exactly is fatiguing?
How much is motor control altered?
Are we seeing a lack of eccentric hamstrings strength? Or a reduction over time?
A lack or loss of core/pelvic stability?
I think these are all viable questions, and things that I'll be looking into more. I've done quite a bit of homework on this, but I've still got a lot more questions than answers.
Darcy Norman – Athletes Performance
The final session on Friday was Darcy Norman from Athletes Performance. Darcy is another guy I hadn't had a ton of exposure too, and he gave arguably the most practical session all weekend.
His talk focused on how they outlined the training and preparation for the German National Team for Euro Cup 2012. This was incredibly applicable to me (not because I'm training National teams – yet!), but because we're often asked to work a lot of magic in small periods of time.
One thing I really enjoyed was how Darcy and his team assess both speed and agility of their athletes, and then put them into buckets based on their most specific needs.
For example, based off their speed and agility results their athletes would get grouped into one of three "buckets:"
Acceleration: Focus on first 10 yards/meters.
Max Velocity: Focus on 10-30 yards/meters.
Multi-Directional speed.
The final takeaway from Darcy's presentation is that you must have a well-planned program to survive playing multiple games in a short period of time.
Often these athletes are playing 2-3 matches per week, and keeping them in peak condition is no small feat.
Friday Evening
Someone is getting smarter in their old age 🙂
After the past 2.5 days, I was absolutely crushed. We went out for a nice Thai dinner, and I was back in my hotel room by 9 pm.
I had time to watch the end of "Magic Mike," stretch a bit, and I got to bed at a normal hour.
Again, someone is getting smarter – or maybe just a wee bit more responsible!
Saturday AM
Howard Gray – Florida State
First up on Saturday was Howard Gray from Florida State. Howard's presentation was titled "Sport Science in Collegiate Soccer.
While I work with a handful of college soccer players, doing this in the private sector only allows me to train them in the off-season. Regardless, I still picked up a few nuggets along the way.
Most importantly, it's critical to find a good coach and team to pair players with in the off-season.
Now Howard was talking about this from the soccer side, but as a performance coach, I think this is important as well.
The ideal situation would be to find a soccer coach who understands the big picture. Most importantly, how you can train skills and develop as a soccer player without creating adaptations that conflict with what you're trying to achieve from a performance perspective.
Another nugget I picked up was the Howard does his best to look for the absolute worst part of the season and prepare for that. I think that's a great way to look at and prepare an athlete for the rigors of the competitive season.
The final point that Howard (and others made) was that soccer needs to make a dedicated effort to get stronger.
This was almost shocking to me – being a powerlifter, I just figured everyone lifted weights. But again, I think this is why I need to be at seminars like this – I'm a little naive when it comes to the sporting side of soccer.
Marcello Iaia – Manchester United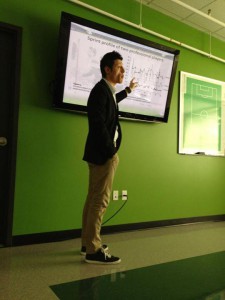 It's rare that I'm starstruck by presenters, but Marcello may have been an exception.
This guy has worked at the highest level, and had the PowerPoint deck to back it up. Marcello's full presentation topped out at 237 slides!
His first point was important: The game is getting faster. And as such, you need to prepare for this accordingly.
Along those same lines, there are a lot of inherent issues with research. We can't forget that research is an average. Instead of focusing on this, coaches would be well-served to spend more time looking at their specific team and players, and creating training programs based off that information.
Continuing on this point, you need to understand that the tactical role your players fulfill influences their performance.
For example, a subtle shift in alignment or formation could drastically reduce (or increase!) the amount of runs a player makes in a game. The best way to understand how a certain athlete plays the game is to get out there and watch them play.
Armed with this feedback, it's now your role as a coach to develop and implement a specific protocol to help improve their performance.
Marcello gave an amazing talk, and I honestly could've listened to him speak all day. Maybe next time Dave will let him get through all 237 of those slides!
Saturday PM
Joel Jamieson – 8 Weeks Out

Finishing up the lectures on Saturday was Joel Jamieson. Joel is a guy I've interacted with for years, and I always take something away from his presentations.
The bad news for you is this: I didn't take a ton of notes on this presentation. Joel gave a ton of specific recovery and regeneration protocols in his PowerPoint deck, so I resigned myself to just printing this off and using them as reference material.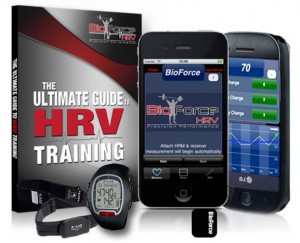 However, one point that came up (yet again) was the need to make recovery and regeneration individual.
The best way to do this is to have some way to track and monitor recovery. Again, the BioForce is a great tool, and it allows you to determine when (and if) you should be applying modalities.
At the end of the day, some may respond really well to cold plunges, while others react very negatively. If you don't have a way to track and monitor these changes, you're really just guessing as to their efficacy.
Q&A – Darcy
The seminar concluded with a Q&A session, and since Darcy absolutely crushed it with his presentation, I decided to sit in on his session.
While there's not a lot of specifics to discuss, Darcy talked a lot about how to develop a complete training session, ways to help get injured athletes back into multi-directional conditioning drills, etc.
Saturday Evening/Sunday Morning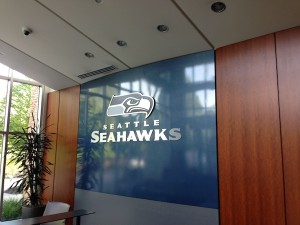 The weekend ended with a social at the Seattle Seahawks training facility.
This place is world-class, and thanks to Patrick Ward, I made the smart move and avoided the meatballs.
Following the social, a large group of us headed over to the local dive bar (Dino's) and continued our discussions. If you've ever attended a seminar, you know these after hours sessions are often the most valuable.
Being able to sit there and bounce ideas off guys like Patrick, Dave, Joel and Darcy is something that you can't put a price on.
Most importantly, while you obviously walk away with answers to a lot of your questions, you also walk away with a lot more questions that you want answers to. That may be the biggest benefit of seminars like this one.
It was a short night (getting to bed around midnight, and waking up at 4:40 am!) but it was all worth it was I got to spend Sunday evening with Jess and Kendall for Father's Day. It was the perfect finish to an awesome weekend!
Summary
I went to this seminar for one specific reason:
I'm blessed to work with some of the best soccer players in the world. And if they're willing to trust me with their bodies, they deserve to work with the best coach possible.
Seminars like this will help me continue to grow and improve as a coach, and this was a seminar I'll definitely be attending for years to come.
Many thanks to Dave Tenney, Dennis Sanchez, and the entire crew who helped put this seminar on. It was truly a world-class event!
All the best
MR