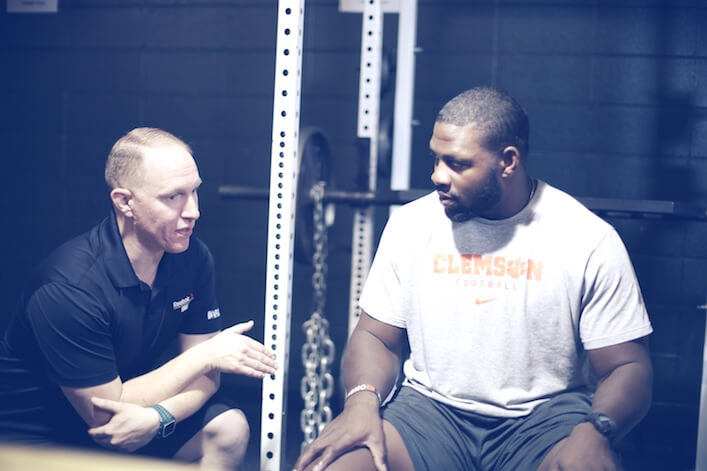 A few weeks back, I posted the following graphic on Instagram:

And needless to say, it got A LOT of attention.
So I figured now would be a good time to clarify and expand upon my thoughts.
A Primer on Expectations…
This past week I was sitting in a Mastermind group with other fitness entrepreneurs, and I told them one of my biggest secrets to success:
Set clear expectations up front any time you start working with a new client or athlete.
The only time I've been frustrated as a coach is when I have failed to do this.
And while I could obviously blame the athlete, the fact of the matter is, the onus is squarely on me.
(If you don't believe this, please read Extreme Ownership ASAP. You can thank me later)
As a coach or trainer, it's your job to set clear expectations up front.
What do you expect from a client or athlete?
What/when/how will they pay?
What consequences will there be if they fail to live up to these expectations?
At first it might seem like a hassle, or "just another thing" you have to do.
But I can assure you, setting clear and concrete expectations up front not only opens the line of communication, but makes the entire relationship easier going forward.
So with that being said, here are the three things I expect from every athlete I work with.
#1 – Show Up On Time (On Time is 5 Minutes Early).
In the summer of 2013 I had the privilege of training Roy Hibbert, who at the time played for my hometown Indiana Pacers.
This was a pretty big deal, as the Pacers had just battled the Miami Heat in a brutal playoff series, and had all the tools to make a legit championship run the next year.
I can still remember this off-season plain as day. Roy was scheduled to train with me at 10:00 am every Monday, Tuesday, Thursday and Friday.
And do you know what time he showed up?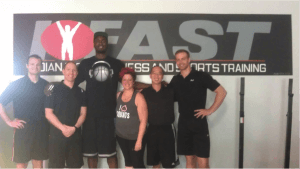 9:45 a.m.
Every.
Single.
Day.
Even if he was just sitting in his car chilling and listening to music, he was there early and getting mentally prepared to train.
This is now an expectation for me – not just for myself as a coach, but for my athletes as well.
It doesn't have to be 15 minutes, but in my world 5 minutes early is "on time."
Not only does this show that you respect your coach, but it also proves that you're serious and committed to the process.
Which leads me to my second expectation…
#2 – Give Your Best Effort, Every Day.
Indianapolis Colts Chuck Pagano is famous for the following saying:
Control the controllables.
As much as we'd like to, often we don't have control over certain aspects of our lives.
As an athlete you can't control if you play, if you get traded, or even if you get a contract.
But you can control your attitude and mindset.
You control how hard you work when you show up to train.
You control how you prepare, to keep yourself ready when the time comes.
This is what it means to control the controllables. You can't control outside factors, but you can 100% control how you prepare and keep yourself ready.
I'm working with a young man right now that exemplifies this. He's working his tail off each and every day, with the hopes that he gets picked up by an NFL or CFL team.
He can't control the result, but he can absolutely control the process that leads to the result.
Another example would be Ray Gaddis, a guy I worked with a few years back from the Philadelphia Union.
A steady contributor for years, Ray only played in seven matches last year for the team.
But rather than sulk and pout in the corner, he stayed ready. And this past weekend, he got inserted back into the starting line-up.
And if you play sports or train long enough, you realize that not every day is perfect.
Some days you just don't have your mojo working. And that's okay.
The goal is to give your best effort, every day.
And as coaches, we very quickly realize that every day is different!
#3 – Be Open to Coaching and Feedback.
Years ago, my first high-profile soccer athlete, Danny O'Rourke, brought his buddy in for a training session.
Now keep in mind – this was seven years ago, and I was really just getting my feet wet in the soccer world, so I had no clue who this "Chad Marshall" guy was.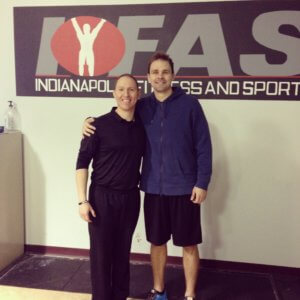 But after a little bit of homework, I quickly realized he was kind of a big deal in the soccer world.
When I first started with Chad he asked a ton of questions.
"Why am I doing this exercise?"
"How does doing step-ups for 20 minutes for 3 sets help me?"
At first I thought he was questioning me (how dare he!), but in fact, he was just curious and wanted to know the "Why" behind his training.
And because I had answers to his questions, because there was a thought process behind his programming, I found Chad to be incredibly coachable and open to my feedback and thoughts. 
But you want to know the craziest thing?
This isn't limited to Chad Marshall, or even elite and professional athletes.
Virtually every high-level athlete and client I've ever worked with genuinely wants to be coached.
They're open to feedback and coaching, because they know it can make them better.
And this is true in virtually all aspects of life, not just training.
If you want to get better at something, working with a coach is a sure-fire way to fast track your results.
Just make sure that you are open to coaching and feedback as well.
Summary
So there's a little insight as to my 3 Things I Expect from Every Athlete.
What about you?
Are there any specific expectations you have for the clients and athletes you work with?
If so, please continue the discussion below!
All the best,
MR
P.S. – If you're someone who wants (or needs) a coach to help them get back on track, or maybe to the next level, I'm in the process of taking on a few new online clients.
Head over to my RTS Online Coaching page and fill out the application form. Once completed we'll set-up a call and see if we're a good fit to work together!
Get 3 days of my best coaching materials — for free.
3 DAY COACH'S CAMP:
Write better programs
Learn how to motivate clients outside the gym
My most popular resets for instantly improving movement quality