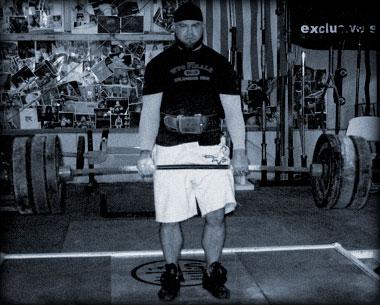 So the first month of 5/3/1 is in the books, and I'd consider it a pretty rousing success.
Now keep in mind, I'm building back up, so the weights definitely aren't where they need to be yet.  I'm ok with that.  I'd rather re-develop a strong base and have something to build from moving forward, versus jumping back into ridiculous training and expecting to come out unscathed.
Here are the workotus from this cycle, along with some random notes:
Squats
Week 1 -275×5
Week 2 – 285×5
Week 3 – 300×8 (added belt this week)
Training Thoughts:
–  I need to get my anterior core stronger.  This has been a constant theme in my training; as soon as I throw a belt on, it feels like I have a rocket booster in my legs.  This needs to be fixed and will be addressed in later training phases.
–  Bill gave me some good feedback on my hip alignment and what I need to address here.  This will include some serious soft-tissue work, mobility work, and some low-load, long-duration stretches.
–  Overall, I was pretty pleased with the squats.  Obviously the weights are almost 100#'s off my best with a belt, but that will come with time.  Slow and steady.
Bench
Week 1 -205×7
Week 2 -220×7
Week 3 – 230×6
Training Thoughts:
–  I still hate the bench, but I was happy to see my numbers stay about the same even with the increased weights from week-to-week.
–  I credit a lot of my improvements here with the added stability from the chins/chest supported rows.  I wrote an entire newsletter about this a while back.  Check it out here: Pulling Up Your Bench.
–  On that same front, I'm starting to have a sick love/hate relationship with the chest supported row.  If you own a gym and don't have one of these, it should be your next purchase.  We got ours from Elite Fitness.
Deadlifts
Week 1 -365×5
Week 2 -390×3 (added belt for last set)
Week 3 -410×2 (added belt for last set)
Training Thoughts:
–  The weights may be the heaviest, but this is the lift I had the most issues with.  Some of it was tied to long work days and having to pull after being at IFAST for 8-10 hours; this is something I'm working to manage in my upcoming cycle.
–  I'm losing my arch a touch at the starting position.  I'm going to keep my weights the same for the next cycle, and pull from a very low pin to see if I can correct this.  I think it will also be addressed with the increased volume/intensity of the anterior/lateral core work I'll be including.
–  If my back wasn't feeling a bit dodgy that day, the Week 3 reps would've been way up.  I was playing around with some technical things, and the weight really felt light.  Unfortunately, it just wasn't in the cards that day.
Military Press
Week 1 -105×10
Week 2 -110×9
Week 3 – 115×9
Training Thoughts:
–  As you can see, I grossly underestimated my strength levels on this exercise.  I'm glad I did that, though, as I really had no clue what my max would be on this lift.  I liked the fact that I was getting in some good clean reps.
–  I actually tweaked the program by placing chins first in this workout.  I figured this would help with structural balance, as well as improving my bench stability.  I actually think it worked out quite well.
So those are my thoughts after one cycle of 5-3-1.  I'll be unloading this week, and then starting back up next Thursday.  Overall, I'm still really pumped about the training program and I think it's definitely something I'm going to stick with for a while.  If you haven't checked it out yet, you can find the e-manual over at Elite Fitness.
Stay strong
MR