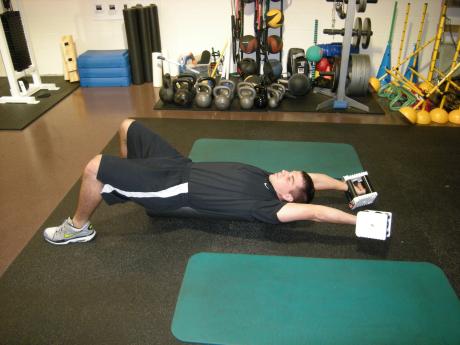 I get a lot of interest in eccentric quasi-isometrics (EQI's) from both my online clients and people who read my blog, so I figured I'd write something up to help explain what they are and how I use them.
EQI's are an active stretch – without getting into the nitty-gritty science behind them, our goal is to try and actively hold an isometric position (such as the midpoint of a dumbbell fly or split-squat) for an allotted period of time.  We generally start with 30 seconds, and work our way up to a 2 minute hold.  If they can get to 2 minutes, we start adding weight.
However, holding the midpoint position is impossible.  This is the "active" portion of the stretch – we're trying our best not to move, but we slowly lower over time as fatigue sets in.
One of the keys with EQI's is to stabilize our body appropriately.  If you're sinking into a split-squat or Bulgarian Split-squat and you're not stabilizing with your glutes and external obliques, you're going to reinforce poor stabilization patterns (such as an anterior pelvic tilt and increased lumbar lordosis).
If you're doing an EQI for the lats (as pictured above), you have to think about maintaining a neutral lumbar spine, versus allowing your lower back to arch excessively.
I often use EQI's at the end of a workout.  Not only does it help restore a better resting length to specific muscles, but it also develops strength and stability in the end range of motion.
If you have a client that consistently tests stiff or short, consider placing an EQI at the end of their training sessions.  Do these for a few weeks, and then re-test.  If they are doing them appropriately, you should see a nice change.
Stay strong
MR