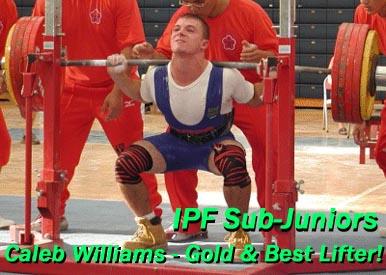 The other day, I was watching our intern, Nick, squat.  He was getting rounded over in the bottom a bit, and couldn't figure out why as he hasn't been coached all that much.
In all honesty, it's a very common issue, and one that I used to have happen to myself all the time.  There was a time (back in the day) that it wasn't a real set of squats until I got rounded over and missed a lift.
After the workout, he asked me what he needed to do to fix it up.  Now keep in mind, Nick is a really strong guy, having pulled 570 pounds at 181. His issue wasn't so much technical or muscular.  The problem in Nick's case was his set-up.
When you set-up to squat, you absolutely, positively, MUST force your chest out.  Exaggerate it, force it, whatever you need to think about – but force your chest out and lock it in.  When you lock in your chest position, you set your arch and make your torso as rigid as possible.
Taking it a step further, combine this tip with bringing your hands in closer to your shoulders and "spinning" your elbows under the bar.  You may be shocked at how tight and compact your body becomes.
Keep in mind it's not always weak body parts or poor technique.  A lot of issues that come up when lifting are exaggerated due to faulty set-ups.
To learn more, be sure to check out one of my numerous articles on squatting.
Stay strong
MR