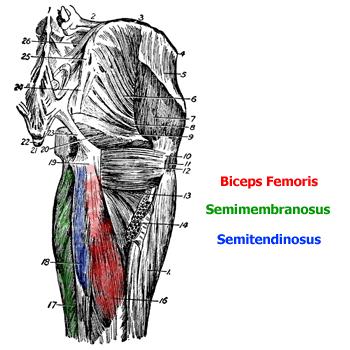 It's my goal today to prove to you that just because something is tight DOES NOT mean it should be stretched.  In an effort to do this, I'm going to give you not one, not two, but three examples of this.
The first case is our hamstrings.  I can't tell you how many times people tell me their hamstrings are "tight", and that they should stretch them.  But is this really the case?
Think about someone in anterior pelvic tilt.  In this case, the hamstrings may feel "tight", but they are only this way because they are in a constant position of stretch!  So yes, your hamstrings may feel tight, but stretching them is only going to make things worse.  You may feel better initially, but it will not resolve the issue, and it will most likely exacerbate it in the long run!
The hamstrings are quite obvious, so let's move on to two lesser known examples – the spinal erectors and levator scapulae.  Both of these muscles are associated with tension in the back/neck area, so it's common knowledge you should stretch them, right?
In the case of the spinal erectors, we essentially have two sets of fibers – the superficial set (which promotes lumbar extension), and the deep fibers which promote posterior shear force.  Due to the lordotic curve in our lower back, our lumbar vertebrae are constantly in a position of anterior shear, as the superior vertebrae is essentially "slipping" forward on the one in front of it.  If we stretch our spinal erectors, we decrease the magnitude of our posterior shear force (along with our posterior longitudinal ligaments).  What does this mean?  Again, while it may provide temporary relief, we are essentially allowing our lumbar lordosis to increase in size.  Not good!
Tne final example is the levator scapulae.  Much like the lumbar spinal erectors they provide a posterior shear force on their associated vertebrae.  In the case of someone with forward head posture, the levator scapulae is already excessively stretched, thus feeling "tight."  However, just like the previous examples, stretching it is only going to exacerbate the underlying issue.
If you're serious about getting results, don't rely on feeling – instead, focus on the underlying causes and trying to address them.  Treating the symptoms is a sure-fire way to achieving limited results.
If you're interested in learning more about anatomy, assessments, etc., be sure to check out the Building the Efficient Athlete and indy Seminar Series DVD's on our Products page.
Stay strong
MR