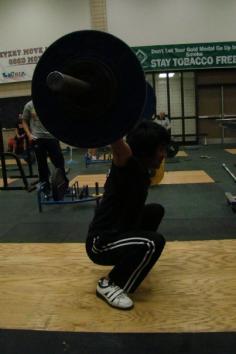 While revising the IFAST Website this weekend, I got an amazing testimonial from one of our former clients, Aaron Cunanan.  Rather than mince his words, I'll just give you the testimonial.
I moved back to the Indianapolis area in January 2009. I was in between jobs and had a lot of free time on my hands, so I thought I'd look into joining a gym. I came across IFAST's website and saw the offer for the free assessment and two-week trial. In all honesty, I was thinking I'd enjoy the benefits of the complete assessment and two free weeks of gym time, and then just join some generic gym. Luckily, things didn't quite turn out that way.

From the very beginning when I first talked to Mike to schedule my assessment, it was clear to me that these guys treat all of their clients as individuals. At the time, I had a little bit of experience with the Olympic lifts and was interested in focusing my training around them. Mike suggested I have Bill do my assessment, because of Bill's experience with those lifts and programming for the sport.

Mike and Bill were great about providing feedback on what I was doing well and how I could improve my training. More importantly, they were effective at communicating all of the concepts they were trying to get across. As I spent more time at the gym, I noticed that was the case with all of their clients. Whether it was someone looking to lose weight or an Olympic-level athlete, Mike and Bill were able to address each person's strengths and deficiencies and help them progress and get results. It didn't take me long to recognize there was something different about IFAST. I knew I wasn't going to be leaving for just "some other gym".

Both Mike and Bill recognized some raw talent I had with the lifts and encouraged me toward competition. It had always been something I was interested in, but I never really gave it a serious thought. When you hear something from established training professionals like Mike and Bill, you tend to give it a little more weight. I can honestly say, if it wasn't for them, I never would have begun competing.

After my first competition in April 2009, I started to also work with USAW Regional Coach Grant "Rufus" Gardis. Mike and Bill were very receptive to me working with Grant and took the opportunity to improve their knowledge on training and coaching of the lifts. While their knowledge of movement and the human body is encyclopedic, they are always looking to expand their expertise by learning from and working with the best in the sport and fitness industry.

In August 2009, I had the opportunity to move to Shreveport, LA, to train at the USAW High Performance and Development Center. I am currently training toward my first national-level competition, with my sights set on the international stage. If it wasn't for Mike and Bill, and their tremendous encouragement, support, and skill, I wouldn't be where I am now. Thank you, Mike! Thank you, Bill!

-Aaron Cunanan
If you live in the Indianapolis area, you owe it to yourself to check out IFAST.  Just follow the link below to find out more about our gym and how we can help you achieve your fitness-related goals!
Indianapolis Fitness and Sports Training
All the best
MR
PS – Here are some videos of Aaron in training.  He's made great progress in the past couple of months!