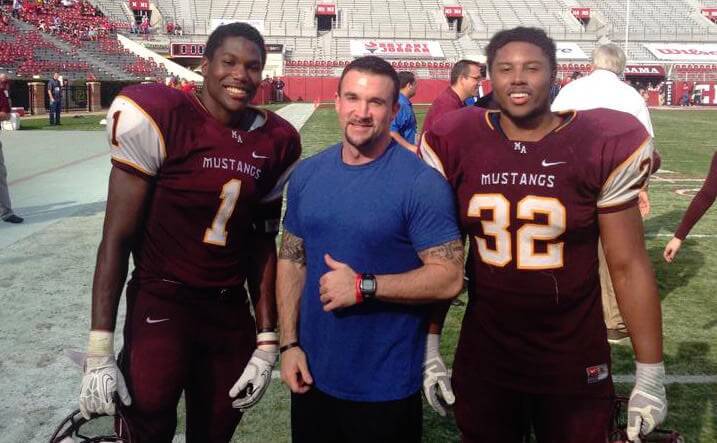 Andy McCloy is the owner of BCI Sports Performance and Fitness, an Alabama-based fitness company providing a wide range of performance enhancement and strength training programs to clients ranging from high school and college players to pro athletes.
Their goal at BCI is to have each client reach a higher level of athleticism which will translate to higher levels of performance. His philosophy is built around what he calls the "Wheel of Conditioning," where the body is the wheel and each aspect of fitness is equally recognized so it rolls efficiently.
Andy joins me today to discuss his program and how they help their clients achieve peak physical performance. He shares the story of when he had his hips replaced and how it changed his life, as well as his career, for the better.
He describes the scholarship program they offer and the clients they accept for it.
And he reveals why being connected is not the same as being engaged and the significant changes he applied in his personal life that enabled him to achieve a balance between his life, career, and fitness.
Put in your family and your self-care first, then build everything else around it. – Andy McCloy
This week on The Physical Preparation Podcast:
Andy's passion for fitness and how having hip replacement surgery impacted his life and career.
The changes he applied to his everyday life and how it changed the way he provides service.
How his scholarship program works and what it offers clients.
Strategies he implemented that helped him find better balance.
Why connectivity is both a blessing and a curse.
What his everyday routine looks like and how he sustains it.
The mistakes he made and the lessons he learned from them.
Advice to up and coming coaches who want to be more successful.
His career highlights as a coach and his plans for the future.
Andy McCloy's Life & Training Advice for Young Athletes:
Do not trade connections for engagements.
It's impossible to balance two things when they don't weigh the same
Connect with Andy McCloy:
Improve Results with The Physical Preparation 101 Training System
Are you a fitness coach or trainer looking for ways to improve the results you deliver to your clients? Want to create consistently better training programs and learn the exact exercises and strategies to improve your clients' and athletes' performance?
The Physical Preparation 101 Training System unlocks the secrets to optimizing performance and improving movement through my unique, cutting-edge basic training philosophy.
In this series, you'll learn:
The nuts and bolts of program design
The single-biggest issue you will see related to core exercises and breathing – and how to fix it!
How to train others to squat safely and effectively – in the first session
How to stop lower back pain in its tracks through deadlift progression
And much, much more!
You'll also receive sample programs and templates to help you build great programs with AMAZING results – consistently.
Are you ready to take your fitness training and coaching programs to the next level? Visit PhysicalPreparation101.com to learn more and get started NOW!
Get 3 days of my best coaching materials — for free.
3 DAY COACH'S CAMP:
Write better programs
Learn how to motivate clients outside the gym
My most popular resets for instantly improving movement quality