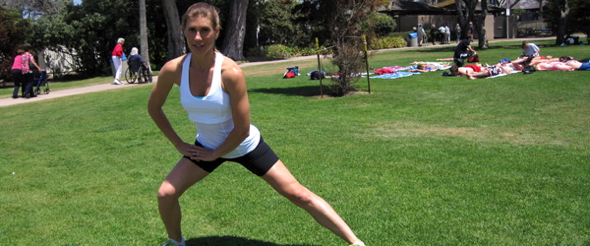 Humor me for a minute while I bounce an idea off you.
What if we're doing single-leg training completely wrong?
What if we're totally missing the mark, and therefore, not getting the most out of our training?
Over the past couple of years, the landscape of strength and conditioning/performance enhancement training has totally changed.  While many coaches before were totally focused and committed to the big lifts like squats, deads, power cleans and the like, things have shifted and now there's a much bigger focus on the role and implementation of single-leg lifts into one's programming.
I, for one, think this is fantastic.
But are we doing them correctly?
Are we getting the most out of them?
I don't think so – and here's why.I watch videos of trainers performing single-leg training, and their goal is either to look like a bad-ass on YouTube by using stupid amounts of weight, or to demonstrate horrible technique.
I see guys doing ridiculous amounts of weight on walking lunges, Bulgarian split-squats, etc. And to the lay end user, this may be impressive.
To a little bit more seasoned coach, however, the issues are evident: They're in a ridiculous pelvic anterior tilt, their knees are caving all over the place, and their overall stability is atrocious.
So what was the point of including single-leg work again?
I don't care how you slice it, you can never use the same degree of loading in a single-leg (or split-stance) lift that you can in a big bilateral lift like a squat or deadlift.  Basic biomechanical principles like base of support make sure this is the case – as I mention numerous times in my single-leg video, a wider base of support inherently makes us more stable.
More stability equals more weight.
Don't forget that the big lifts like squats, deads, Olympic lifts, etc. will always be superior for developing strength and power.
So why, again, are we trying to use stupid amounts of weight on our single-leg exercises?
Maybe it's not so much the fact that so much weight is being used – it's the fact that they're piling on the weight and using horrible technique. I guess the same could be said for squatting, deadlifting, etc. with horrible technique and a ton of weight.
But when I talk about missing the mark, one of the primary goals of improving our single-leg training is to improve our stability.
Maybe, instead of piling on the weight, we should be taking weight off.
Maybe we should be focusing more on optimal stability patterns at the foot, knee, hip and pelvis.
Maybe we should be making sure our core is engaged in an effective manner.
I discussed this same idea in my article for Lee Taft last week.  It's not just the single-leg strength that athletes need, but the stability necessary to come into and out of a cut effectively.
It doesn't matter how strong you are, at least initially. If you can't effectively control and stabilize your body, you're going to be slower going into and coming out of that cut.
Worst case? You're going to end up injured.
At the end of the day, I think we're putting the cart before the horse.  If you want to maximize the role of single-leg training in your programming, consider taking some weight off the bar (or out of your hands) and really dialing in your technique and stability.
If I could summarize this entire post in one line, it would be this:
Use single-leg and split-stance training to improve your stability, and use the big lifts like squat, deads, O-lifts, etc. to build your strength and power.
To me, it makes a lot of sense.
Stay strong
MR
PS – Want to learn more about single-leg training? Be sure to check out the Single-Leg Solution where I cover all the above mentioned topics and more!
(Lead Photo Courtesy of Lululemon Athletica)