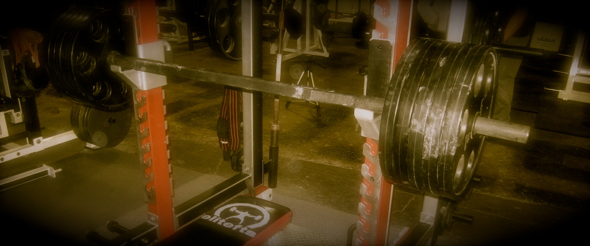 Today, I've got a hypothetical question I want to ask you.
Are you following the right program?
And before you blindly answer "Yes" or "Of Course," really step back and think about that for a moment.
Far too often, people get caught up in finding the trendy new workout program.
That is, of course, until the next hot, trendy, thing comes out, and then they're following that!
As I see it, there are two key issues that we need to address if we want to not only achieve long-term success, but really reap maximal rewards from our training programs in general.
1. Find a Training Program That is Suitable For Us NOW.
Imagine the following scenario: Little Johnny (all 140 pounds of him, dripping wet) decides he wants to start powerlifting.  Now he's never really trained hard before (let alone squat below parallel), but he just knows powerlifting is going to be his thing.
He reads everything on the Interwebz, and determines that the Westside method is what he's going to use (or block periodization, or anything that's rather advanced).
The question becomes, is this really necessary?
Is this conducive to Little Johnny getting the best results?
I would argue no.
It's not that those methods or systems are ineffective – but I would argue they are inappropriate at this stage in his development.
Instead, Little Johnny needs to pay his dues and focus on the basics tenets of quality programming:
Progressive overload, adding a bit of weight to the bar each week.
Consistently finding time to train 3-4 days per week.
Focusing on developing proper technique, and lifting in a manner that will get his lifts passed at powerlifting meets.
For all intents and purposes, Johnny doesn't need an advanced program when he's a beginner.  Now when he's squatting 500 pounds, or bench pressing 300, it's definitely time to find something a little bit more exotic or sexy.
But the real key here is to use a program that's in-line with your current level of development. If you're a beginner, that's fine! We were all there at one point in time.
But don't try and convince yourself that you're an intermediate or advanced level lifter when you're not. Following the program of Elite guys when you're a total newb isn't going to get you anywhere.
2. Stick with Said Training Program For an Extended Period of Time.
The other issue we see with newer lifters is their inherent ADD.
Little Johnny is serious about powerlifting.  He's following a basic routine, and making steady gains in all of his lifts.  This is awesome, right?
But wait! It's the new year – he's got 1 pound of extra fat on him, and he's really dying to see his abz again.
So what does he do?
Time to jump programs!
I see it all the time. One month people want to get strong.  The next, they want to put on size. The month after that, they want to lean out.
If you can't pick a training program and stick to it, it's no wonder you aren't getting the results that you'd expect.
I firmly believe one of the reasons people get such great results on program's like Eric Cressey's Show and Go is because they stay focused on one goal, and follow one program, for an extended period of time.
This isn't rocket science guys – I know that! But if you worked with enough people, you'd know how serious of a problem this really is.
So at the end of the day, ask yourself these two questions:
1 – Is the program I'm on good for me right now, at this stage of my development?
2 – Am I serious about this goal? Can I dedicate the next 3, 4, 6, or even 12 months to achieving this goal?
If the answers to both are "Yes," I can't wait to hear about the results you achieve in the future.
All the best
Mike
BTW – If you'd like to contribute, I'd love to hear what your personal goals are (as well as the programs you're following to achieve them) in the "Comments" section below.