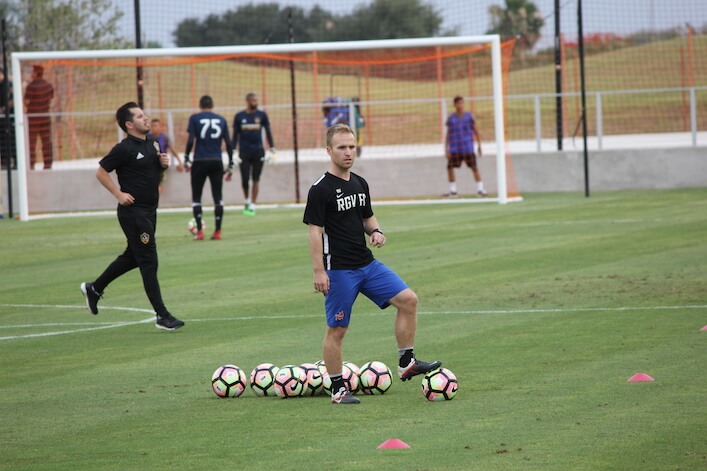 Brett Uttley is the founder of TOG Soccer and the Assistant Coach for the Rio Grande Valley Toros of the United Soccer League, the Houston Dynamo's second team in Major League Soccer. Prior to serving as the first assistant coach for the Rio Grande Valley, he worked as the fitness coach for the Seattle Sounders' USLPro reserve team as well as the Seattle Sounders' U-13 Academy team's head coach. He has a master's degree in Recreation and Sports Sciences with a special focus on Soccer Coaching from Ohio University as well as a MBP Master Certification in High-Performance Soccer from the MBP School of Coaches, a coaching course in Barcelona, Spain.
Brett joins me today to discuss tactical periodization and performance in the world of soccer. He explains what tactical periodization is and how soccer coaches can use it to improve their practice design. He explains the importance of understanding roles and how it relates to the team's sports performance as well as why sports athletes need to understand the model and play style their coach want. He also shares how to create drills that give athletes the context they need to perform at a high level.
As a coach, when you're executing a training exercise on the field, you should more or less understand the physical requirements of that exercise & the demands being imposed on the players. – Brett Uttley
This week on the Physical Preparation Podcast:
What inspired Brett to begin a career in sports coaching and physical preparation.
The importance of athletes understanding their roles within the confines of their team and style of play.
Why it's critical for sports coaches to help athletes cope with the "emotional rush" of playing a professional sport.
What is tactical periodization?
The four primary principles of the tactical periodization method.
The micro-cycles of the tactical periodization method and how they help players train and prepare between games.
The four phases of a professional sports game and how the tactical periodization method applies to each phase.
Why it's critical to understand the game, play style, and model before applying tactical periodization methods to your practice sessions.
Brett's perspective on strength training in pro sports and its role in his training programs.
Why he believes it is critical for young athletes to optimize their game intelligence before focusing on the physical demands of the sport.
His experience while living in Barcelona for four months.
Resources Mentioned:
Connect with Brett:
Improve Results with The Physical Preparation 101 Training System
Are you a fitness coach or trainer looking for ways to improve the results you deliver to your clients? Want to create consistently better training programs and learn the exact exercises and strategies to improve your clients' and athletes' performance?
The Physical Preparation 101 Training System unlocks the secrets to optimizing performance and improving movement through my unique, cutting-edge basic training philosophy.
In this series, you'll learn:
The nuts and bolts of program design
The single-biggest issue you will see related to core exercises and breathing – and how to fix it!
How to train others to squat safely and effectively – in the first session
How to stop lower back pain in its tracks through deadlift progression
And much, much more!
You'll also receive sample programs and templates to help you build great programs with AMAZING results – consistently.
Are you ready to take your fitness training and coaching programs to the next level? Visit PhysicalPreparation101.com to learn more and get started NOW!
Subscribe, Rate & Share!
Thanks for tuning into this week's episode of The Physical Preparation Podcast – your one-stop-shop for fitness trainers, coaches, and athletes.
If you enjoyed this episode, be sure to subscribe on iTunes, Stitcher, and SoundCloud and leave your honest review. Connect with us on Facebook, Twitter, and Instagram, and don't forget to share your favorite episodes with your friends on social media!
Get 3 days of my best coaching materials — for free.
3 DAY COACH'S CAMP:
Write better programs
Learn how to motivate clients outside the gym
My most popular resets for instantly improving movement quality