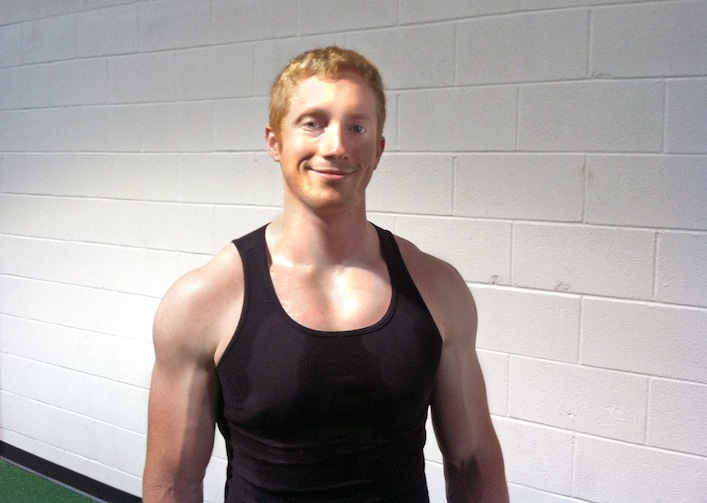 Mike, thanks for taking the time to be with us here today. Could you start by telling us a little bit about yourself?
I am 26 years old.  I am married to my wonderful wife Kate.  I just recently moved from Connecticut to North Carolina, where I am currently working as a Coach/Trainer at Capital Strength and Conditioning in Raleigh.
I graduated from UMASS Amherst with my B.S. in Kinesiology and have my CSCS, Precision Nutrition level 1 Coach, and Training for Warriors level 1 Coach certifications.  I am absolutely in love with my job and have a blast learning new ways to coach and create success within each of my clients.
Could you tell us a little bit about your training history and background?
I actually didn't begin strength training until my first year of college.  I started like most, wanting to look better, so I was doing a bodybuilding routine.  One day I saw someone at the gym completing a log press.  I had never seen this before and immediately thought how awesome I would be if I could actually push that over my head.
From there, I was hooked on strongman.  I competed in a few competitions.  I actually ended up winning the 175 and under weight category for New Hampshire's Strongest Man in 2009.  I went on to compete at the National Amateur Championship in 2010.  I didn't place well, but just to have been a participant was an exhilarating experience.
I haven't competed in any competition since 2010 because I was involved in an accident that hurt my back.  It took a while to feel better, and was still bothering me a bit before I was on the Bulletproof Athlete program.
What did your training look like heading into the Bulletproof Athlete program? And why did you think it would be a good fit?
My training was all over the place before the Bulletproof Athlete.  My back didn't feel good, yet I wanted to lift heavy.  When I did lift heavy, it usually didn't feel so good on my back.  I was being stubborn on making the necessary changes to my training program.  That's where the Bulletproof Athlete came in.
I looked it over and realized that it would be a completely different program than I had been following.  It focused on a lot of my weaknesses.  This was exactly what I needed.
I think that's a huge part of the program – building up on people's weak areas.
Tell us about the program itself – which program did you follow, and what did you like about it?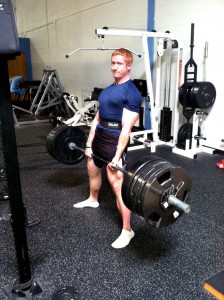 The program was very thorough and had multiple variations for what your goals were and how much time you could devote to your training.
I chose "The Monster".  It was the more advanced program best suited for an athlete.  I liked that the program had me following a lot of regressions to the big lifts.  It was still hard, just not in a "I am going to rupture my spleen kind of way."
The conditioning was also very interesting.  It was the first time I had done a lot of these variations of aerobic work i.e. HICT (which, by the way, made me want to die).
I'm still laughing at that last comment – anyone who has done HICT knows it can be quite grueling.
Along those same lines, were any of the nutrition and/or recovery challenges difficult for you?
I really liked that there was a nutrition and recovery goal for each individual week.  I have since taken this and applied it to my own clients.
The nutritional goals were pretty easy for me.  I have experimented on myself with a lot of different nutritional approaches.  When it's time to hunker down and eat right, I can do that pretty easily.
However, the weekly recovery goals were a little more difficult for me.  I tended to never set aside the time to take care of myself.  Trying to settle down at the end of the day when all you do is run around, coach, and try to energize everyone around you can be difficult.
You obviously made some great changes, as you were picked as the first place winner for our BPA contest!
Could you tell us a little bit about the progress you made on the program, as well as how you're feeling now after completing it?
The best result I got out of this program was actually getting out of pain.  My back may hurts every now and then if I attempt a max deadlift or squat.   However, the pain is much lighter and subsides within 24 hours.
All my big lifts got stronger and overall had much better form.
And my endurance was the best it has ever been, I felt like the energizer bunny!
My body composition changed pretty dramatically and I have been able to maintain it since the end of the program.  Since finishing the program I have continued to see great increases in my big lifts and just recently got an all time PR on my deadlift, 515×1 (My form got a little sloppy, but I guess that can happen when maxing out on a deadlift.)
I think that's one of the coolest parts of the program; it lays a movement foundation so you can KEEP getting stronger even after you're done with the program.
Last but not least, hindsight is always 20/20. Did you make any mistakes along the way? And if so, how would you troubleshoot those in the future?
I did pretty good with this training program.  I managed to even work through it when my gym got completely flooded by Hurricane Sandy.
If there was something I may have fudged on it would be the intensity I put into my conditioning.  I have always been a slacker with conditioning.  Making myself follow through with nearly an hour of HICT was one of my greatest accomplishments. Every now and then I did cut back on the conditioning just a little bit, it's times like that I could really use a coach of my own.
Since finishing the program I still have the same problem. Now I have more potential training partners who actually do a lot of conditioning, which will greatly help.
Mike, thanks again for taking the time to be with us here today. Any final thoughts?
I just want to thank you for giving me this great opportunity.  I am absolutely humbled to have been a part of it.  I can't thank you enough for all the content you provide for the strength and conditioning field.  Not only did this program help my own training, but it has influenced how I coach and train my own clients.  Thanks again Mike!
Thank you, Mike!
And if you'd like to learn more about the methods behind the program, please head over to the Bulletproof Athlete website ASAP!