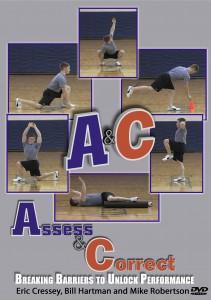 It's been almost 6 weeks since we released Assess and Correct, and the feedback up to this point has been fantastic!
Rather than sit here and too my own horn, here are blogs from several fitness experts who have reviewed the DVD's and manuals:
I'm constantly asked – why should I purchase this product?
Can't I just purchase my next fat loss/strength improvement/mass gain program and be done with it already?
The beauty of this product is that regardless of your end goals, it can help you stay healthy throughout the course of your training.  A ton of the trainees here at IFAST are people who got derailed along the way by injury.
Instead of waiting for an injury to come about, why not figure out your movement limitations first, and treat them accordingly?
Because regardless of what you want to achieve, one of the most frustrating things that can happen is getting a full head of steam going, and then getting injured and losing your progress along the way.
Make 2010 your best your ever – purchase Assess and Correct today, and see what a healthy, resilient body really feels like.
Stay strong
MR