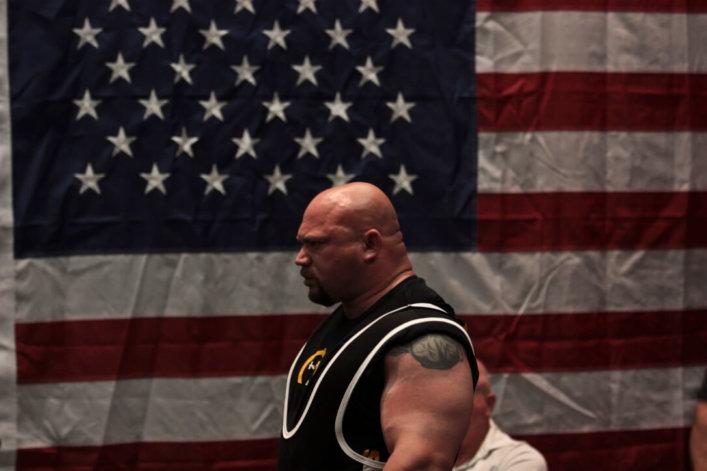 Huge accomplishments mean even bigger failures. As an entrepreneur, father, husband, world champion powerlifter and grip sport enthusiast, JL has had his share of both.
He is the founder of The Spot Athletics, which has two, 20,000sq. ft. private training facilities in Columbus Ohio and Co-Founder of Reflexive Performance Reset. With these experiences, JL is no stranger to failure in the business world. As a lifter, his competitive best lifts of a 905 lb. squat, 775 lb. bench press, and a 804 lb. deadlift earned him the 4th highest total in the world all-time, until an 1,100lb squat earned him a herniated disc, and took him out of competitive powerlifting for 10 years.
However, he made his way back in 2014 and won a world championship in the deadlift. JL believes that struggle and failure are the best teachers, and hopes to help others so they learn faster and don't have to fail as often as he has.
In this show, JL and I talk about how he got his starting training hard and washing it down with peanut butter and broccoli, how that major injury led to major shifts in his life, why it's so difficult to build a business around training athletes, and finally what RPR is, and why it should definitely be on your radar.
This is an awesome show with a good friend, and I truly hope you enjoy it!
Show Outline
Here's a brief overview of this week's episode:
Show Intro

The crazy week of youth baseball and softball.
Getting at least an hour per day of work done on the big project
New Video ==> Training Trunk Rotation in the Push-up
May was an AWESOME month for the podcast – thank you!

Deep Thought: Become a Savage with the Basics

The biggest compliment former Indianapolis Colt Dwayne Allen ever gave me.
Why vets and high level guys intuitively get this.
Why some lesser athletes DO NOT.
What do you stand for?
A thought on how the best not only become that way, but stay that way.

Interview with JL

How JL got started in the world of physical preparation.
His wide ranging career path, and what he learned by living out of his car once he moved to Columbus.
What got him started in powerlifting, and the massive amount of success he achieved in the sport.
How a massive injury derailed his lifting career, but kick-started his desire to open a gym.
What originally made him want to open "The Spot" athletics.
One thing JL was totally unprepared for when he opened his facility.
RPR: What is it, and why every trainer or coach should know about it.
His vision for RPR going forward.
The BIG Question.
A really fun lightning round where we talk about the strongest guy JL ever trained with, some of his favorite coaches to learn from, the advice he'd give to a young coach who wants to level up in his/her career, and what's next for JL Holdsworth.
Related Links
Connect with JL
The Physical Preparation 101 Training System
Are you a fitness coach or trainer looking for ways to improve the results you deliver to your clients?
Want to create consistently better training programs and learn the exact exercises and strategies to improve your clients' and athletes' performance?
The Physical Preparation 101 Training System unlocks the secrets to optimizing performance and improving movement through my unique, cutting-edge training philosophy.
In this series, you'll learn:
The nuts and bolts of program design
The single-biggest issue you will see related to core exercises and breathing – and how to fix it!
How to train others to squat safely and effectively – in the first session
How to stop lower back pain in its tracks by using a specific deadlift progression
And much, much more!
You'll also receive sample programs and templates to help you build great programs with AMAZING results – consistently.
Are you ready to take your fitness training and coaching programs to the next level? Visit PhysicalPreparation101.com to learn more and get started NOW!
I Want Your Feedback!
What do you like about the show?
What do you hate?
What can I do to make you download every single episode, and share it with all of your friends in the industry?
Drop me a line at [email protected] and let me know. I'd love to hear from you!
Get 3 days of my best coaching materials — for free.
3 DAY COACH'S CAMP:
Write better programs
Learn how to motivate clients outside the gym
My most popular resets for instantly improving movement quality