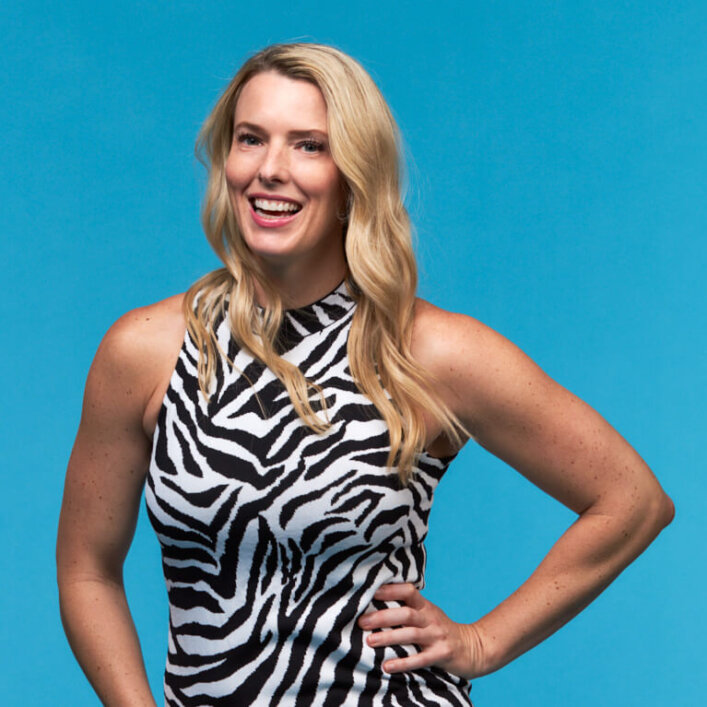 Like many people, Molly Galbraith was unhappy with her body when she was 18 and would spend years struggling with insecurities.
But, when she discovered how she could stop comparing herself to other women, Molly dedicated her life to supporting women and helping them feel strong, confident, and empowered in their lives and bodies.
She and other passionate women co-founded Girls Gone Strong as a platform dedicated to women and strength. Since its founding, Girls Gone Strong has grown to become the world's premier education company that provides evidence-based interdisciplinary health, fitness nutrition, and pregnancy education for women and the health and fitness professionals who work with them.
In her book, Strong Women Lift Each Other Up, Molly draws from her experience as a coach and Woman-in-Charge at Girls Gone Strong to guide women through what it takes to use their values and lift other women.
Molly joins me today to discuss training during and after pregnancy. She discusses pelvic organ health and the role of coaches in supporting women's health.
She reveals the dos and don'ts of exercising and lifting heavy weights while pregnant and shares her advice for planning a return-to-work program for women postpartum.
And Molly also explains why she is a staunch advocate of therapy and mental health and how women can develop a healthy relationship with their bodies.
Unless you're someone who specializes in working with young male bodybuilders, you're going to work with women, and there are things you need to know about their bodies to be able to coach them well. – Molly Galbraith
This week on the Physical Preparation Podcast:
How Molly got into the world of physical preparation
Why she emphasizes pregnancy and postpartum phases in her work
The reason coaches need to be educated on pregnancy, postpartum, and women's health
The biggest misconceptions and myths about pregnant women and exercise
The dos and don'ts of exercising for pregnant women
Molly's recommendations for lifting heavy weights while pregnant
Using the principles of strength and conditioning to write a smart return-to-exercise program for women in postpartum
Assessing the healing of the diastasis recti
The importance of seeing a pelvic floor specialist
Tips and advice for coaches talking to their clients about potentially sensitive topics
How therapy helped Molly cultivate a healthy relationship with her body
How to be a strong woman who lifts up other women
Connect with Molly:
IFAST University is BACK! Are You In?
Are you ready to take your coaching and training career to the next level?
You need to find great mentors to guide you along your journey – to help you find the blind spots in your own training programs and improve your skills as a coach.
But… mentorship can be expensive, and unfortunately, it's not always feasible for some budgets.
That's why Bill Hartman and I developed IFAST University, an online curriculum and mentorship program designed exclusively for fitness trainers, coaches, and rehab professionals.
We want to help every trainer and coach in the industry improve their training techniques and write better training programs for their clients.
By becoming a member of IFAST University, you'll receive:
Hundreds of hours of members-only exclusive content,
Monthly updates and tips to help you improve your skills and programs,
Group Q&A sessions to answer your specific questions, and
Access to our Facebook group, where you can learn from other dedicated professionals such as yourself
This blend of content and Q&A is specifically designed to help make YOU the best fitness trainer you can be.
To learn more or to join IFAST University now, visit https://ifastuniversity.com/
Subscribe, Rate & Share!
Thanks for tuning into this week's episode of The Physical Preparation Podcast with Mike Robertson – your one-stop-shop for fitness trainers, coaches, and athletes.
If you enjoyed this episode, be sure to subscribe on Apple Podcasts, Stitcher, SoundCloud, Spotify, and Google Podcasts and leave your honest review. I'd also love to connect via Facebook, Twitter, and Instagram or visit our website.
And last but not least, please don't forget to share your favorite episodes with your friends on social media. Thank you!
Get 3 days of my best coaching materials — for free.
3 DAY COACH'S CAMP:
Write better programs
Learn how to motivate clients outside the gym
My most popular resets for instantly improving movement quality