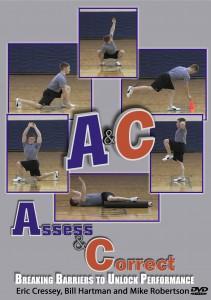 A few days ago, I received a testimonial for Assess and Correct.  So far, the feedback has been nothing short of amazing – but this particular e-mail happened to be from the one and only Adam Campbell of Men's Health.  Needless to say, I was pretty excited to hear he liked the product so much!
Assess and Correct is the most useful physical evaluation tool I've ever seen. It's like having instant access to the knowledge that Hartman, Robertson, and Cressey have gained through years of experience studying anatomy and human movement, and working with real people.

But most important, it's presented in a way that you can put it to use immediately. In fact, the design of the manual is genius because you're given a series of simple tests to identify postural and movement problems, followed by smart exercise progressions–which you can tailor to a client's ability-to correct any issues. So it's a powerful tool that will help any coach create more effective training plans, customized to an individual's true NEEDS. The upshot: Assess and Correct will make any fitness professional better at what he or she does.

One other note: Because I'm a fitness journalist, the authors offered me a free manual for review (common in the industry), but I had already purchased it. When they tried to refund my money, I requested that they not. The reason: I found the material to be so valuable that I felt like I SHOULD paid for it. I'm not sure there's any testimonial I could give that's better than that.

Adam Campbell
Fitness Director, Men's Health
If you haven't picked up your copy yet, head over to the Assess and Correct website. There you can see all the feedback we've received, as well as video clips that demonstrate just how easy the program is to use.
All the best
Mike