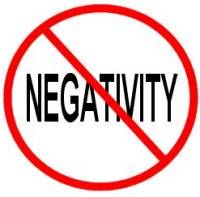 I'm going off the beaten path a bit here today, but I think you'll be able to relate.
Fear, negativity and/or a "scarcity" mindset are things we must address on a daily basis. Here are two of my favorite quotes about negativity:
~ From the backstabbing co-worker to the meddling sister-in-law, you are in charge of how you react to the people and events in your life. You can either give negativity power over your life, or you can choose happiness instead.




Take control and choose to focus on what is important in your life. Those who cannot live fully often become destroyers of life. ~

~ Negativity sucks away energy. If part of the negativity stems from your attitude or perspective, commit yourself at the beginning of each day and each activity to find something positive in yourself and in others around you.

If the people around you are negative and you can't change that, either remove yourself from the situation or view it simply as one obstacle you face in pursuing your own potential.

Stay focused on your own goals and make the best of the situation. ~
Unfortunately, not everyone wants you to achieve your goals in life.  They don't want you to be strong, lean or fit.
They don't want you to make more money, get that promotion, or feel great about the work you do.
It's sad, but true.
Take a few moments every day to reflect on not only your energy, but the energy of those around you.  The saying goes that you are the composite of the five people closest to you.  Take inventory! Are the people around you empowering you to grow and become the best YOU that you can?
Whenever I'm feeling negative, I take a step back to reflect on my goals, and why what I'm doing is important. I'm far from perfect, but I'm always trying to improve myself and take what I do to the next level.
What about you? If you're feeling negative or crappy, how do you recalibrate and get back on track?
I'll be looking forward to your feedback below!
All the best
Mike