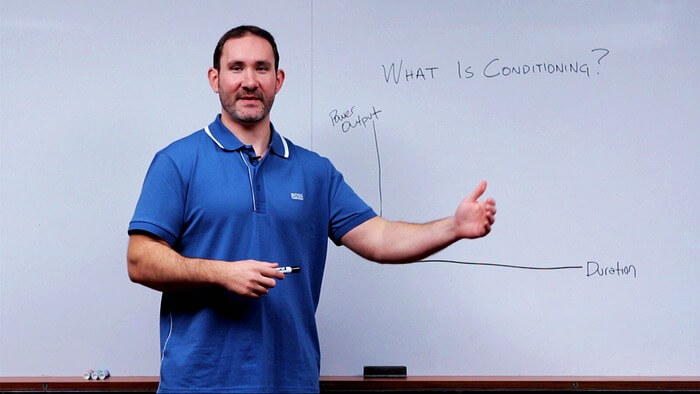 I'm forever indebted to Joel Jamieson.
His book, Ultimate MMA Conditioning, completely changed the way I looked at conditioning and energy systems training. But most importantly, this book gave me the tools to help build better athletes.
In this episode, we're going to dig deep into the topic of conditioning. We're going to talk about how getting choked out by MMA fighters got Joel interested in conditioning, the role of the brain in energy system training, and why the typical ways of coaching during conditioning are horribly outdated.
Show Outline
Here's a brief overview of what we cover in this show:
Why Joel got into the physical preparation world.
How getting choked out by MMA fighters led to his interest in conditioning.
Joel's thoughts on why there's so much confusion when it comes to conditioning.
The role of the brain in both fatigue management and conditioning.
Why cuing someone to be "fast," "powerful," or "explosive" when fatigued could be doing more harm than good.
The role of the movement screen, and why you should be assessing movement at all times.
What mental toughness really is, and how to develop it in yourself or your athletes.
The BIG question.
And of course, the uber awesome and always insightful Lightning Round – where we discuss emergency landings in planes vs. helicopters, the best fighter Joel has seen in person, plus the most phyiscally impressive fighter he's ever seen.
Related Links
Joel's Sites and Social Media
Articles Mentioned
Get 3 days of my best coaching materials — for free.
3 DAY COACH'S CAMP:
Write better programs
Learn how to motivate clients outside the gym
My most popular resets for instantly improving movement quality