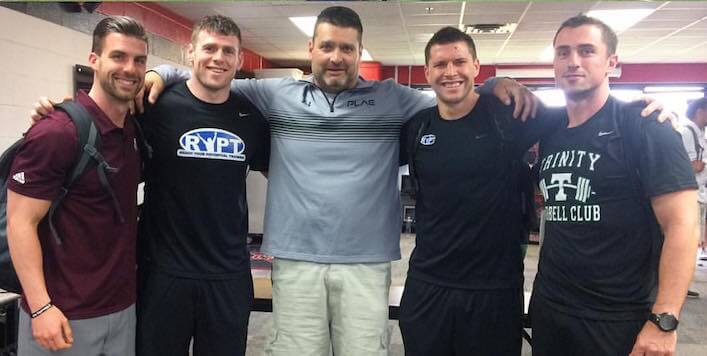 Mike Snyder is a guy I've known for years now, and someone I truly respect as a coach. He's the physical preparation coach at Trinity High School in Louisville, Kentucky, and someone I think all of us can learn a thing or two from.
In this show, Mike and I talk about how his 3-4 months of selling cell phones made him realize just how much he loved coaching, his roles and duties as a high school physical preparation coach, and his philosophy on young athlete development.
Show Outline
Here's a brief overview of what we covered in this show:
What led Mike to the world of physical preparation.
His career path, including his current job as physical prep coach at Trinity High School in Louisville, KY.
Mike's overview on developing the young athlete (and his SECRET program that ensures success).
The biggest issues he deals with on a day-to-day basis.
Block Zero – what it is, and why he's using it with massive success with his entry-level athletes.
A real question: Does he ever deal with blowback from parents and coaches when it comes to "slow-cooking" athletes? As well as his sales technique that will help any coach who needs better buy-in.
What led Mike to using Joe Kenn's Tier System.
The most recent changes and tweaks Mike has made to his programming and coaching.
The BIG Question (with a great answer!)
And finally, the always popular lightning round – where we discuss books he's reading, his go-to training music, his proudest moment as a coach, and the one piece of advice he's give to a young coach.
Related Links
Contact Mike
Mike's Books and Resources
Get 3 days of my best coaching materials — for free.
3 DAY COACH'S CAMP:
Write better programs
Learn how to motivate clients outside the gym
My most popular resets for instantly improving movement quality