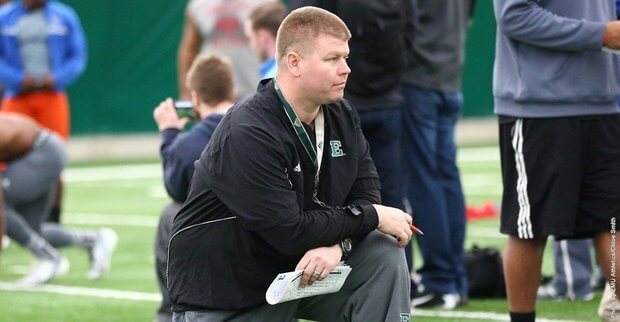 Ron McKeefery is currently the Vice President of Performance and Education for Plae Sports Performance Flooring, but he's been a physical preparation coach for the past 20 years. And while he's spent time in the NFL, he's most well known for his work in the collegiate ranks, where he's been named a 2-time collegiate strength and conditioning coach of the year.
I originally met Ron years ago at an IYCA Summit, and we immediately hit it off. Like me, he's incredibly passionate about coaching – but he's also interested in using the Internet to help positively impact his fellow coaches.
In this show Ron and I talk about how a wrong turn way back in 3rd grade changed his life, the pros and cons of working in both the professional and collegiate ranks, and his advice for up and coming coaches.
Show Outline
Here's an overview of what we covered in this show:
What originally led Ron to the world of physical preparation.
An overview of his coaching philosophy.
An insider's view – what are the real pros and cons to working at the various levels of sport.
The advice Ron would give to someone who wants to work in collegiate strength and conditioning.
The most common issues he sees with collegiate athletes today.
His insight as to the biggest differences you see between a big school such as Tennessee, and a mid-major like Eastern Michigan.
The changes Ron sees on the horizon for collegiate strength and conditioning.
Want to work for Ron (or someone like him)? Here are the skills, abilities and personal attributes you need to be successful.
The BIG Question
The lightning round, where we discuss his CEO Strength Coach book, the books he's reading now, his new gig with PLAE sports performance flooring, and what's up next for Ron McKeefery.
Related Links
PLAE Sports Performance Flooring
Social Media
Books Referenced
Get 3 days of my best coaching materials — for free.
3 DAY COACH'S CAMP:
Write better programs
Learn how to motivate clients outside the gym
My most popular resets for instantly improving movement quality