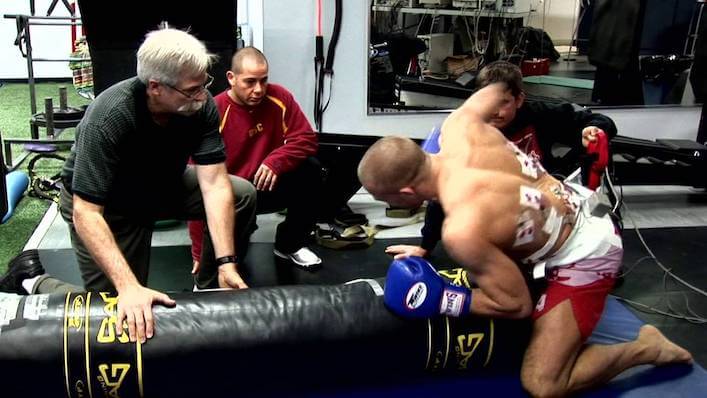 Dr. Stuart McGill is often considered to be the world's foremost expert on spinal biomechanics. His patient list ranges from the general population to some of the world's most elites athletes, and his work has produced over 240 peer reviewed journal papers and 4 books.
In this show, Dr. McGill and I talk about a wide range of topics – how spinal shapes impact and influence performance, the power of pulsing, the differences between elastic and strength athletes, and even what he describes as his "biblical training week."
Now before I jump into this show, I want to say this – Dr. McGill is one of the most influential people in my career as a coach. His work shaped my path early-on when I was just a  young fledgling, and I'm constantly amazed at the depth of his knowledge.
And after doing close to 200 of these podcasts, I can tell you with no reservation that that is definitely an all-time favorite.
Show Outline
Here's a brief overview of this week's episode:
Show Intro
Interview with Dr. Stuart McGill

Updates on what life is like since retiring from teaching.
How spinal type influences athletic performance.
The concepts of stiffness, relaxation and impulse, and how they impact athletic movement.
How rehabilitation approaches differ (and perhaps more importantly, are similar) between the lay population and elite athletes.
His thoughts on flexibility for the spine.
A shocking stat regarding injuries and personal training, and the advice he would give to young trainers and coaches to help keep them healthy.
Real talk: Of his four books, does he have a favorite?
Our always popular lightning round where we talk about his favorite summer past time, why he doesn't miss teaching, and what's next for Dr. Stuart McGill.
Related Links
The Best Protein on the Market Today?
For many years, I simply disregarded the age-old advice of getting liquid protein in either during or after workouts.
Part of this was due to the fact that most had so much crap in them I didn't want to put them in my body, and others might have been high-quality but tasted absolutely disgusting.
However, if you're looking for a protein that's not only high-quality but also tastes amazing, you need to check out Momentous.
I've been using Momentous for several months now, and I can tell you it's hands-down the best tasting protein I've ever had. But it's not just me – I have numerous elite athletes who are very picky with their protein powders, and every one of them raves about how great Momentous protein shakes taste.
And while the taste is amazing, the best part about Momentous is that they're incredibly transparent with what goes into their product. You never have to worry about a tainted or dirty supplement, as all of their products are NSF and Informed Sport certified.
If you'd like to try Momentous out for yourself, here's how to do it:
Head over to LiveMomentous.com/Robertson
If you want to try a sample, use the code RobertsonSample
When you're order to order, use the code Robertson20 to save 20% off your first order!
Regardless of which option you choose, I guarantee once you try Momentous protein shakes, you'll never go back to anything else!
Get 3 days of my best coaching materials — for free.
3 DAY COACH'S CAMP:
Write better programs
Learn how to motivate clients outside the gym
My most popular resets for instantly improving movement quality