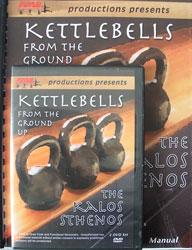 For the past couple of days I've been going through Gray Cook and Brett Jones' DVD and manual, "Kalos Sthenos – Kettlebells from the Ground Up." It's a fantastic resource, and one that I'm going to review in-depth in a later blog post.
Today, however, I want to talk about communication skills.
As many of you know, I'm willing to read, listen, and learn from just about anyone.  Even if it doesn't fit into my core philosophy in the long run, and least I can say I was open-minded and willing to give it a shot.
After watching Gray speak at seminars, within DVD's, etc., I can see why he's as wildly popular as he is.  His communication skills are fantastic.
Could he wow you with his knowledge of functional anatomy? Sure.
Could he use big, fancy, scientific words to make himself look smarter?  Yep.
But he doesn't.  Instead, he talks in a very matter-of-fact and on-your-level sort of way.  Even on a DVD, it feels as though he's talking right to you.
Some might call this persuasion. At the end of the day, though, it's simply effective communication.
It doesn't matter if you're the best physical therapist/strength coach/personal trainer on the face of the planet.   If you can't communicate effectively with your clients, peers, etc. that your way of doing things is superior, you're going to be cruising down a lonesome road.
While fancy words have the intended purpose of wowing your clients or proving how smart you are, you may be surprised to note it's often the exact opposite – you turn clients off.  They know you're simply trying to sound smart, or talk down to them.
Instead, use each and every day as an opportunity to improve your communication skills.  True mastery of a topic isn't using fancy words that overwhelm your clients; instead, mastery is taking an extremely complex topic and being able to break it down and explain those concepts to anyone, regardless of their background or education level.
I'm pretty sure Gray could explain the basic science and usefulness of the FMS to just about anyone.
Could you do the same with your training?  If not, work daily to improve your communication skills and understanding of your key topics.  It's something I strive to improve upon daily.
You'll not only be rewarded with greater mastery of the topics at hand, but your clients and athletes will love you for it as well.
All the best
Mike