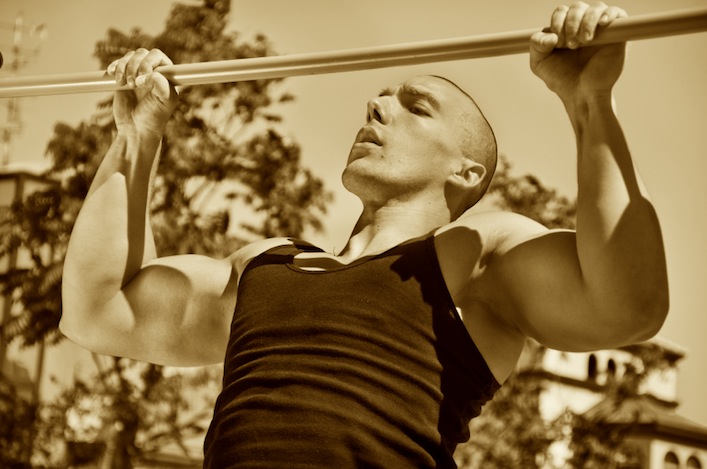 A few months back, two of the guys at IFAST came into my office with almost identical issues they needed to work around and address.
Their low backs were beat-up, so big lifts like squats and deads were out (at least for the short-term).
On the other hand, being young, testosterone-laden men (with spring quickly approaching!), they wanted an upper body workout that would get them swole and in shape for t-shirts and tank tops.
What to do, what to do…
What you'll find below is the workout I created for these guys. The title is a little bit long-winded, but I have been calling it:
The Upper Body Get Swole, Lower Body Get Right Program
Let's start with a bit of rationale behind the program, and then I'll wrap up by giving you the entire program for FREE.
The Goals and Rationale
The goals of this program were simple:
Get the upper body jacked,
Hit the legs enough to prevent atrophy, and
Do anything in our power to get the low back feeling better.
So with that information, here are some of the things I was thinking about when I laid the program/template out:
3x/week training. The boys could lift three days per week, and I wanted to give them a program that they could come in and knock out in an hour to an hour and fifteen minutes, tops.
Shoulder-friendly training options. For whatever reason they are somewhat prone to little aches and pains, so I tried to give them shoulder-friendly options whenever possible. A neutral grip shoulder position was used whenever possible.
Push-pull supersets work well in this environment. If your goal is to get big, and/or accumulate a lot of volume, push-pull supersets work really well. Not only are they time efficient, but they don't seem to impair the performance of the alternating lift. On the other hand, I've found that alternating work like this in the lower body doesn't work nearly as well.
Autoregulation was key. Both of these guys had a ton going on in life outside the gym, so we used autoregulation instead of traditional set-rep schemes. This way they could push it whenever they felt good and rested, and hold back when they weren't feeling so hot.
Lead with big moves, but mix it up throughout the week. I love bench pressing, but some people can't handle that 3x/week. In this case we had three different days – a supported horizontal push-pull, a vertical push-pull, and an unsupported push-pull.
Single-leg work to maintain size. If you can't squat and deadlift, it's not a death sentence. If your goal is simply to maintain some size while simultaneously taking some strain off your back, single-leg work can definitely do that.
Half-kneeling exercises to improve posture and alignment. Often people that are locked in extension have ridiculously stiff hip flexors (for numerous reasons). Half-kneeling exercises work well to shut them off, while simultaneously re-building more optimal stabilization patterns.
Finish with core training. Not just for the aesthetic appeal, but to help improve back function and stabilization as well.
As you can see, a ton of thought went into this and I was really happy with how it all came together.
Now, without any further ado, here's the program.
The Get Swole Upper Body Workout
Monday
1A) SWISS Bar Floor Press, ?x5
1B) DB Row, ?x5
2A) Single-Leg RDL, 3×8
2B) Half-Kneeling Kettlebell Chop/LIft, 3×8
3) Core-Engaged Dead Bug, 3×6
Wednesday
1A) Chins, ?x5
1B) Single-Arm, Neutral Grip Overhead Press, ?x5
2A) Low Cable Split-Squat, 3×8
2B) Half-Kneeling Landmine Press, 3×8
3) Front Plank, 3xALAP
Friday
1A) Push-ups (feet elevated, if possible), ?x6
1B) Unstable Surface Rows, ?x6
2A) Step-ups, 3×8
2B) Half-Kneeling Face Pull or Lat Pulldown, 3×8
3) 3-Month PNF, 3×8
Last but not least, you can download the entire program HERE.
The Exercises
Unsure of how to perform the exercises? Here are video clips of each and every one to help you out. Good luck!
Day 1 Workout
Day 2 Workout
Day 3 Workout

Frequently Asked Questions
Mike, what does the question mark mean for sets?
The question mark simply means that you will do as many sets as you can on that given day.
For instance on the first week, you may only be able to perform 2-3 sets of an exercise with a given weight.
However, as the program goes on and you get stronger, you should be able to do more and more sets. This will help build your volume, and help you build size to boot.
Can I do a big lower body lift?
Sure you can – but that's not really the goal of this program.
This is more an upper body specialization program, with the ancillary goal of keeping the lower body in respectable shape.
For best results, consider doing this for a month and then switching to a more lower-body dominant program. (Don't worry – I have something like this going to T-Nation in the very near future if you want it).
Mike – this ain't no upper body program! Where's the direct arm work?
Trust me, if you go through this program for a month and don't put some size on your arms, you're either not training hard enough or not eating enough.
But, I also understand the want/need for some direct arm work.If you'd like, after the third workout you can have 10 minutes of free-time to blast those guns into oblivion.
However, I don't think you need it here. The goal is put on some size/mass with big, compound lifts – you can refine and dial that muscle in later.
Summary
So there you have it, the upper body get swole, lower body get right program.
This program worked really well for my guys, and I hope it will do the same for you.
Enjoy!
MR
BTW – if you like the program (or know someone else who needs it), please help me get it out there. Share it on Facebook, retweet it on Twitter, or just pass the link along via e-mail. Thanks for your support!
Get 3 days of my best coaching materials — for free.
3 DAY COACH'S CAMP:
Write better programs
Learn how to motivate clients outside the gym
My most popular resets for instantly improving movement quality