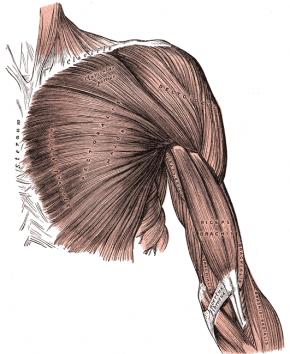 Justin Ware and I were talking about pec strains the other day, so I figured this would be an opportune time to discuss how pec strains come about in the gym.
Now, keep in mind (as many are more than willing to note) I'm not a therapist, so I'm not going to discuss treatment strategies.  Rather, let's discuss how pec strains come about in the first place, as well as how to avoid them.
The pec strains that I've seen over the years can typically be traced back to one of two issues:
1 – Poor programming which leads to overuse, and/or
2 – Scapular instability
Let's discuss each a little bit more in depth.
With regards to programming, it's like anything else – a lot of issues arise when you increase volume, intensity, or both, too quickly. Runners are notorious for this.
You see it time and again – little Johnny reads about the "blow up your pectacles" or "increase your bench 50 pounds in 2 months" and goes from 15 sets of bench in a workout to 30.  It's amazing what the body can adapt to, but every body has its threshold.  All those stupid things you do over the course of months and/or years will come back to haunt you.
If you're reading this blog, I'm assuming you already know that structural balance is important.  As well, you also realize that you have to be judicious when raising volume and intensity, so let's look at #2 instead.
Scapular instability is another huge cause of pec strains.  You'll see this quite often in bench pressing – you should be able to keep your scapulae retracted and depressed throughout the set.  If you are unable to do this, you've reached what many would call technical failure. This is a critical component of training that many overlook.
Your prime movers might be able to crank out more reps, but you lack the appropriate stability to do so safely and effectively.  Going beyond technical failure is where many pec strains occur – you exceed your body's ability to appropriately stabilize your scapulae, and the pec gets overloaded.
This is why getting a hand-off is so important; you want to set up nice and tight through the upper back.  Not getting a hand-off often results in "pushing" the bar out of the supports, versus "pulling" it out.  This is a very subtle distinction (and one I stole from Dave Tate), but it makes a huge difference in your stability throughout the set. If you "push" the weight out, you often lose your scapular position and stability.  "Pulling" the weight out, along with a hand-off, keeps you in the appropriate scapular position throughout.
Injuries are a part of the iron-game; if you push things hard enough (and long enough), chances are an injury will crop up at some point in time.  However, smart training and adherence to basic principles will go a long way to keeping you healthier and stronger for a lifetime.
Stay strong
MR
(If you'd like more info on the bench press, check out the following articles: Defending the Bench Press and Yo, How Much Ya Bench?)