Coaching the Lower Body Lifts Workshop
Are You Ready to LEVEL UP Your Coaching Skills
(And Have a Great Time Doing It)?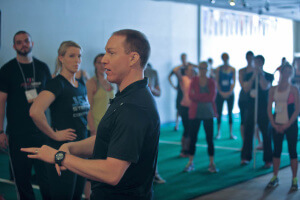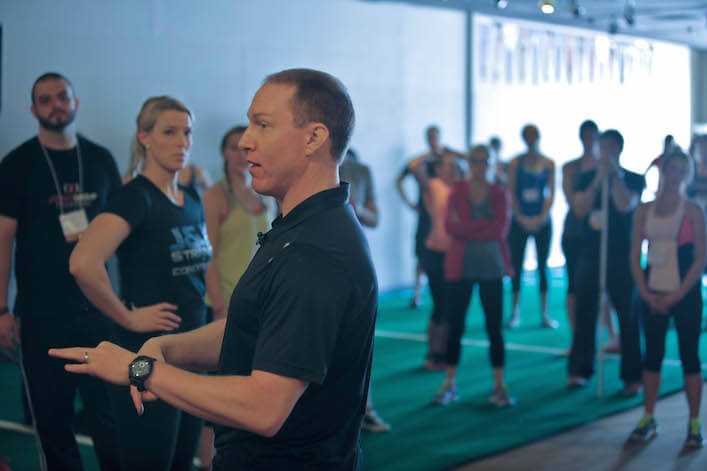 Hey friend – Mike Robertson here.
I don't know about you, but one thing I'm seeing in the fitness industry is a death of the traditional "seminar."
The days of standing up in front of a room and lecturing in front of a powerpoint for hours on end?
They're gone – dead by the wayside.
And for good reason.
Why on Earth would you go out of your way get on a plane, stay in a hotel, and sit in a stuffy room when you could probably get 95% of that information while sitting at home in you underwear?
Trust me – I've run a series of successful events for close to a decade now, and there's a seismic shift in the seminar industry.
So rather than continue to go that route, I've got something new and exciting I want to tell you about today.
A small, intimate workshop that I think is not only going to make for an awesome learning environment, but that's a ton of fun as well….
What Makes the "Coaching the Lower Body Lifts" Workshop Different?
This event is going to be unlike any you've attend before. Here's why…
First and foremost, it all starts with you. I have some specific things we're going to cover, but I'm also going to customize this event on the fly based on what you need the most help with.
Second, we're going to focus on coaching and cuing. The focus in this workshop is going to be coaching – refining our eyes, knowing where the issues are, and then using the appropriate cues to fix it.
And third, we're going to HAVE FUN. I'm not going to stand in front of a PowerPoint and lecture to you for hours on end. We're going to work together, move around, and most importantly, have FUN.
Now here's a quick list of things we'll be covering…
What We're Going to Learn…
Here are some of the "Big Rocks" that we're going to cover in the workshop…
Rethinking "Basic" Coaching and Cuing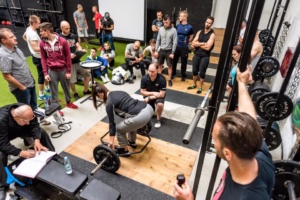 We're going to break the coaching segment of the workshop into three distinct areas:
Squatting
Deadlift, and
Split-Stance and Single-Leg work.
We're going to start with the basics, and then expand outwards.
Now I don't care how long you've been doing this – we can all improve our coaching skills, even on the most basic of lifts. In fact, I'd say at least 80% (if not 90%) of the coaching we do revolves around the basic lifts and their derivatives.
But if you're one of those coaches that thinks you have everything figured out, and that you can't learn anything new, then I can assure you – this isn't the event for you.
Once we've mastered the core and foundational movements, we're going to discuss…
Progressions and Regressions to Streamline Your Workouts
Much like coaching and cuing, this is something I'm always tightening up.
In fact, the progressions and regressions I used years ago – while still valid – don't necessarily reflect what I'm doing right now, today.
Choosing the right progression or regressions allows you to choose the right exercise for the right client EVERY TIME.
And last but not least, we're going to discuss what I call "micro-progressions" – these are those small, subtle changes you can use for difficult clients and athletes.
From there, we'll move on to…
Modifiers and Tweaks to Keep Things Fresh
Look, I'm all for making absolute savages in the gym.
If I can teach someone to squat or deadlift more weight, that's awesome!
But sometimes, that's just not what someone needs.
In this section we'll take the standard exercises and modify or tweak them slightly. Maybe it's to make an exercise more challenging, or maybe it's to further improve a certain movement quality.
If you have clients or athletes that you struggle to load heavily, this section alone will be worth the price of admission!
Programming Thoughts to Simplify and Streamline Your Approach
While not the focus of the session, we'll constantly circle back to program design, and how to use the various tools to write a more complete (and individualized) program.
A Little Bit About Me…
My name is Mike Robertson and I'm the President of Robertson Training Systems. I'm also the co-owner of Indianapolis Fitness and Sports Training (or IFAST) in Indianapolis, Indiana.
I've worked with clients and athletes of all shapes and sizes, from high school to the pros. I'm most well known for my work with professional soccer and basketball players, but I cut my teeth training gen pop clients for many, many years.
The thing that I like the most about my job is the customization involved – trying to find the perfect exercise or program for the client in front of me.
And that's why I'm so excited about this seminar – I want to help you really refine your coaching model, so that every single day you coach, you're getting the most out of your clients and athletes.
The Details
The "Coaching the Lower Body Lifts" workshop will be held on Sunday, May 5th, from 9 am – 5 (ish) pm.
Now you probably noticed, that's Cinco de Mayo – which just so happens to be one of my favorite holidays.
So in true Cinco de Mayo fashion, I'm going to have Mexican food catered in for lunch so we can just hang out, relax and talk shop.
The seminar will be hosted at IFAST:
IFAST
9402 Uptown Drive, #1600
Indianapolis, IN 46256
And if you're coming in the night before, I'd highly recommend staying at the SpringHill Suites:
Springhill Suites
9698 Hague Rd.
Indianapolis, IN 46256
317.841.0416
I Almost Forgot to Mention…
In the past, I've made it a habit of recording seminars for resale later on.
And while that's worked great in the past, it's not something I'm going to be doing with this event.
Furthermore, there's only 20 spots available, as I want to keep the event small and intimate.
So basically, if you want to level up your coaching skills, you need to sign-up and make this happen!
But Mike – How Much Does It Cost?
If you know me at all, you know I'm really not a fan of this question.
It's not about cost – it's about value.
And more importantly, it's about investing in yourself – so that you can realize your potential as a trainer or coach.
This event is going to be small, intimate, and impactful.
I don't want 100 people in the room – I want 20 motivated individuals, who are serious about getting better.
So registration for this seminar is $499, which you can do as either a single-or 2-pay option.
If you want in, make moves now because there are only 20 spots available – and once those are gone, you'll be left out!
What Are You Waiting For? Register Now!
As I mentioned above, there's only 20 spots available, and this event will NOT be recorded or live streamed.
So if you're ready to take your coaching game to the next level, just follow the link below to secure your spot.
Thanks so much for your support, and I look forward to seeing you at my "Coaching the Lower Body Lifts" Workshop!
All the best,

MR
P.S. – Like I mentioned numerous times, this event will not be recorded or live streamed – so if you want in, please register ASAP before it fills up!
P.P.S. – If you've get questions or concerns about the event, drop me a line at [email protected] and I'll get back with you as soon as I can. Thanks!