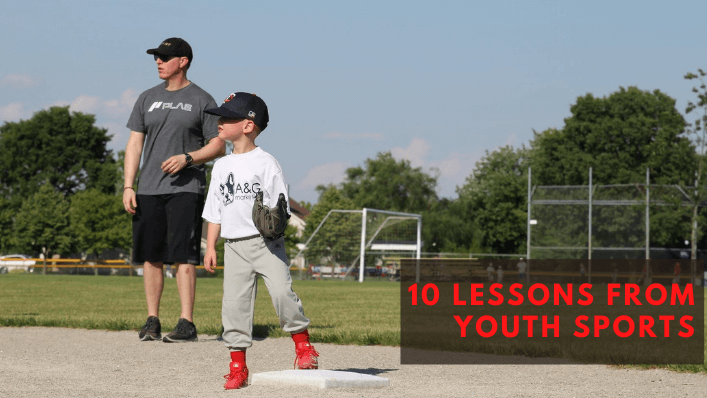 When you have kids, you start seeing the world through their eyes – and you definitely learn a lot from them.
I played a lot of sports growing up. And by a lot, I mean if you can think of it, I've probably played it at some level.
For me, personally, I enjoyed sports because I loved competing and learning athletic skills.
And thankfully, this passion translated into a career where I get to work with athletes.!
I could say that being in the world of sports and physical preparation all these years has taught me a thing or two about the coaching profession.
But coaching my own kids in sports for the last five years taught me some things that I wouldn't have learned without them.
In this episode, I share 10 lessons I've learned from coaching youth sports and how they've influenced me as a coach.
I share some of the questions you should ask yourself,  to help you evaluate and improve your role as a coach, trainer, or rehab professional.
I reveal the three elements you need to check whenever you're coaching youth sports and highlight the importance of creating a fun, engaging environment where it's safe to make mistakes.
I also underscore the reason coaches and trainers should strive to be a positive influence on others and how they can move from a place of significance to a place of impact.
We want to evolve. As coaches, athletes, human beings, the goal is to make a mistake and learn from it. – Mike Robertson
This week on the Physical Preparation Podcast:
Our power to control our effort and the value of hard work
Why I always tell every kid I work with to have fun
The importance of becoming a positive influence on the people you work with
Reps, reps, reps (and getting experience over information)
The inevitability of mistakes and using them as learning tools
The value of fostering an environment where clients and athletes can fail safely
The relationship between discomfort and growth
How to get clients and athletes to feel like they win in the gym every day
Why overnight successes aren't real and the impact of striving for daily growth
The critical role of preparation and the difference between taking your craft seriously and taking yourself seriously
Why outcomes aren't indicative of performance
Everything wrong with youth sports and why coaches need to teach young athletes the principles of the game
Moving from a place of significance and a place of impact
Resources Mentioned:
Subscribe, Rate & Share!
Thanks for tuning into this week's episode of The Physical Preparation Podcast with Mike Robertson – your one-stop-shop for fitness trainers, coaches, and athletes.
If you enjoyed this episode, be sure to subscribe on Apple Podcasts, Stitcher, SoundCloud, Spotify, and Google Podcasts and leave your honest review. I'd also love to connect via Facebook, Twitter, and Instagram or visit our website.
And last but not least, please don't forget to share your favorite episodes with your friends on social media. Thank you!
Get 3 days of my best coaching materials — for free.
3 DAY COACH'S CAMP:
Write better programs
Learn how to motivate clients outside the gym
My most popular resets for instantly improving movement quality