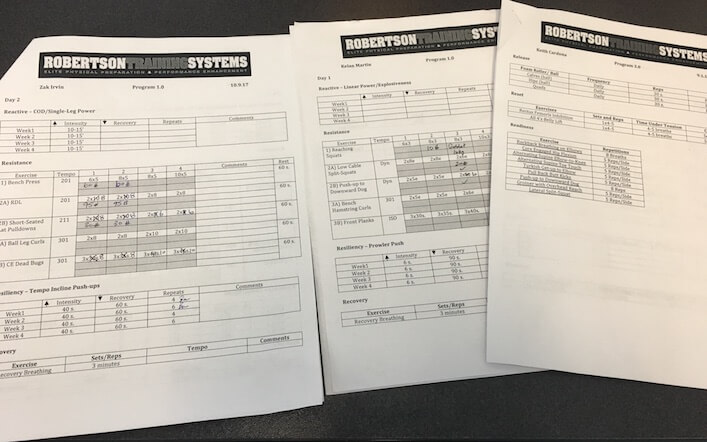 If you're a trainer or coach, you have to write programs.
And trust me – there are tons of great resources out there to help you. I'm preferential to my Physical Preparation 101 product, but again, I'm biased…
But here's the thing – the X's and O's are all fine and dandy, but sometimes you want specifics.
Or nitty-gritty details.
And sometimes, you just want strategies to help you get in the right mindset to write an awesome training program!
So this show is all about programming – I talk successes, failures, and want I do to hedge my bets and make sure each and every program I write is legit.
Let's do this!
Show Outline
Here's a step-by-step overview of what I cover in this show:
1 – Don't be Issurin before you're Tudor Bompa
2 – Paint by Numbers Initially
3 – It's All About the Adaptation…
4 – …And Sometimes Adaptation Doesn't Happen in 4 Weeks
5 – Changing TUT is Really About Changing the SSC
6 – Remove ALL Distractions When Programming
7 – Serial Batch All Programs at One Time (if possible)
8 – Dan John – "The Goal is to Keep the Goal, The Goal"
9 – Remember that it's all GPP
10 – Use "Off-Days" to Earn Your Training
11 – Meet Them Where They Are with Regards to Exercise Selection
12 – Underwhelm them Early
13 – Don't Be Afraid to Train In-Season
14 – The "Introductory" Week vs. The Deload Week
15 – Flip the Sets and Reps on the Accumulation Block
16 – Make it a Goal to be a Lazy Coach
17 – What are they prepared for?
18 – Don't Build without Maintaining
19 – You Don't HAVE to Follow the Program
Final Thoughts
If you enjoyed any portion of this podcast, or know someone who might benefit from hearing it, please pass this on to them. I'd appreciate it more than you know!
All the best,
MR
Get 3 days of my best coaching materials — for free.
3 DAY COACH'S CAMP:
Write better programs
Learn how to motivate clients outside the gym
My most popular resets for instantly improving movement quality