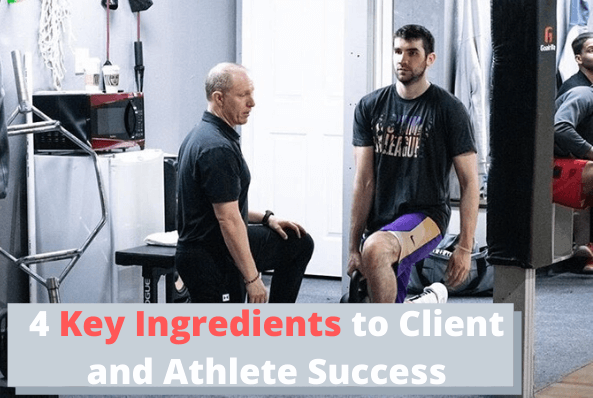 An athlete's triumph lies in more than just training inside the gym or following a routine.
After all, while many coaches take their clients and athletes follow specific training programs, not all of them achieve success on the field.
In that case, what separates good athletes from great ones?
What are the key factors that drive an athlete's growth and development?
And how can coaches use those factors to ensure their athletes' success?
In today's episode, I share the four key ingredients necessary for ensuring your clients and athletes achieve success in and out of the gym. I explain how humility and communication skills can create the right training environment for athletes.
I illustrate how commitment to the process can lead an athlete toward success. And I also share my experiences of training with NBA professionals such as Roy Hibbert, Glenn Robinson, and Kelan Martin to illustrate how they achieved success in their careers.
Great coaches not only have vision. They also have the unique ability to instill that vision into their clients and athletes. – Mike Robertson
This week on the Physical Preparation Podcast:
How the right training environment can affect an athlete's growth
How a competitive training environment like Westside Barbell can foster progress towards success
The keys to building the right training environment for athletes
The importance of honesty, humility, and communication skills when training athletes
How having a vision helped NBA player Roy Hibbert get better results
Why coaches need to help athletes address and work through their weaknesses
How committing to the process of improvement helped Glenn Robinson and Kelan Martin achieve success
The power of committing to the process instead of the outcome
The psychological impact of belief in success
How coaches can instill their belief and vision into their clients
Stop the Frustration! Get the Complete Coach Certification
Are you a young fitness trainer or coach? Are you frustrated by the results you're getting or the lack of resources available to learn the skills you need to be successful? Are you struggling to get enough clients or wondering how long you'll be able to follow your passion for helping others?
It's time to stop the frustration and stop worrying. It's time to get certified!
If you're serious about improving your results, serious about becoming a better coach, and serious about increasing your bottom line, then you need the Complete Coach Certification.
In this massive course, you'll learn:
How to use the R7 system to create seamless, integrated and efficient programs for clients and athletes of all shapes and sizes
How to create the culture, environment and relationships with everyone you train so you can get the absolute best results
The exact progressions, regressions, and coaching cues I use in the gym – from squatting and deadlifting to pressing and pulling and everything in between
And much, much more
This certification course is jam-packed with everything I've learned over the last 20 years of my career.
So if you're ready to get serious about the results you're getting for your clients and the impact your programs have on your income, head over to www.completecoachcertification.com to sign up for the Complete Coach Certification course today!
Spots are limited, and the next certification is set to launch in March 2020.
Join my FREE Insiders List to learn more, stay tuned for our launch details and save $200 when the course opens!
Subscribe, Rate & Share!
Thanks for tuning into this week's episode of The Physical Preparation Podcast – your one-stop-shop for fitness trainers, coaches, and athletes. If you enjoyed this episode, be sure to subscribe on iTunes, Stitcher, and SoundCloud and leave your honest review.
Connect with us on Facebook, Twitter, and Instagram and don't forget to share your favorite episodes with your friends on social media. Thank you!
Get 3 days of my best coaching materials — for free.
3 DAY COACH'S CAMP:
Write better programs
Learn how to motivate clients outside the gym
My most popular resets for instantly improving movement quality