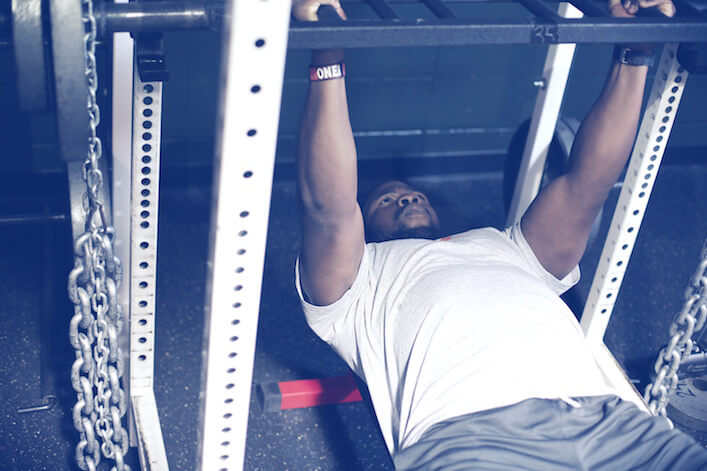 I have one simple goal in life:
To get better every day.
Now keep in mind – I said it was a simple goal.
But definitely not an easy one 🙂
And while this goal applies in all areas of my life, it's really evident when it comes to my coaching and programming.
I have an absolute disdain for "staying the same," so I'm always looking for ways to get just a bit better at what I do.
With my off-season training period right around the corner, I figured it was a good time to take a critical look at my programing.
What I'm doing right, what I'm doing wrong, and most importantly what I can do to get better.
So here's your "behind-the-scenes" pass as to my six big training goals for this off-season. Enjoy!
Goal #1 – Be Ultra Specific
If you're here reading this article, it's because you want to get more out of your own training and coaching.
And one of the simplest ways to get more out of any program is to make it specific to an athlete, versus general in nature.
This is something that we've always adhered to at IFAST. We respect the individual differences between our athletes, and we design programs that reflect that.
To make my programs even more specific this year, I'm going to really dig into our assessment process to help me tease out how this specific athlete moves, produces forces and produces energy.
On the orthopedic assessment side, I'm not sure much changes.
However, with all of the jump and VBT testing we're using at IFAST now, I'm really excited about how we can essentially "profile" an athlete, and create a training program that is specific to their weaknesses.
Actionable Item
Every athlete is going to go through our new-and-improved IFAST DNA assessment program, which covers everything from our orthopedic assessment, speed/power/strength assessment, and energy systems assessment.
From there, I'll take the results and create a program that is ultra-specific to that athlete's unique needs and goals.
Goal #2 – Improve Monitoring of Training
If there's a buzzword in our industry right now, it's "monitoring."
Everyone and their mother is talking about monitoring.
How to do it on a big budget, how to do it on a small budget, and everything in between.
And for good reason – better monitoring should, in theory, help us produce better outcomes.
The key for me is to make our approach to monitoring as streamlined and minimally invasive as possible.
As much as I'd love to collect 1,000 data points each and every session, I'm not sure that's realistic.
And furthermore, the goal isn't to collect as much data as possible. Instead, the goal is to take in a handful of pieces that will truly impact and direct your training program.
Actionable Item
At the start of every training session, I'm going to use one test to determine the readiness of that athlete. It could be a multi-jump test, it could be a bench press VBT test, and it could be a simple hand grip test.
I'm hoping that by giving the athlete a choice in which test we use, that they'll be more inclined to do it every day.
Goal #3 – Make Programming More Dynamic
One thing that I've never loved about programming templates is how they tend to force you into four or six week blocks.
For the average everyday client, this is probably fine. It could easily take them four to six weeks working on the same exercise before they are comfortable, competent, and ready to move on.
However with a professional athlete, these guys are total freakazoids.
In fact, I routinely have guys who have squatted and/or deadlifted one way for the entire life, and I can re-pattern them in a matter of sets.
Not days, not weeks, not months – sets.
As such, I need to make my programming more dynamic. When their body is competent and stable with an exercise, we progress that exercise.
Actionable Item
My good friend Tony Giuliano and I are working on a completely revamped programming template that I will begin using this off-season.
The goal of this template is to help build the "trainable menu" (Chris Chase's term – coming soon to a podcast near you), as quickly and effectively as possible.
After all, if a client only needs two weeks to master a certain progression of an exercise, why keep them there an extra four to six weeks?
Our new template will allow us to program on the macro level for exercise groups or categories, while making us  malleable week-to-week with regards to the exact exercise we select.
I'm very excited about this, and I'm going to unveil a prototype at this year's Physical Preparation Summit in my talk on program design.
Goal #4 – Put a Premium on Eccentric Work
The more I watch sports, and the more I train athletes, the greater respect I have for what they put their bodies through.
The load on the body when you have to plant and cut 1000+ times in a game or match is ridiculous.
Yet in the weight room, I feel as though we put too strong of an emphasis on how much load you can push up.
Why aren't we more focused on slow and controlled eccentrics?
On teaching the body to effectively absorb force?
And then over the course of an off-season program, slowly but surely introducing more aggressive eccentric modalities to prepare them for the needs and demands of their sport?
All rhetorical questions of course, but definitely things we need to be thinking about.
Actionable Item
I feel as though I did a pretty good job of getting eccentric work into last off-seasons program, but I can always do better.
By laying a solid base and foundation, this should allow us to get progressively  more intense and voluminous as the pre-season approaches.
Goal #5 – Make Speed and Agility Work Reactive
Speed and agility work has been a focal point of my training for 2-3 years now, and for good reason.
High level sport demands athletes to be fast and explosive.
You hear it all the time from athletes when they jump to a new level – whether it's high school to college, or college to the pros, as you move up the game gets faster.
Now part of this speed is cognition. Athletes at higher levels simply see, interpret and react to the game faster than their lower level counterparts.
But don't dismiss the fact that raw athleticism and speed can separate the good ones from the great ones!
Much like proper posture and position allows athletes to demonstrate their true mobility, reactive/competitive speed and agility work allows athletes to display their true athleticism.
Last year I made some serious strides in my speed and agility programming and coaching, but it's time to make another big jump.
The biggest adjustment I want to make this year is getting the athletes into reactive and competitive situations sooner.
Actionable Item
The goal this year will be to get my athletes comfortable with the specific skills and movements first and foremost.
Once there, we'll create a reactive and competitive environment that allows them to put their speed and agility on display.
Goal #6 – Build Lower Extremity Tissue Tolerance
Much like eccentric training, I feel like progressive building of lower extremity tissue tolerance is a lost art.
Athletes simply aren't running, bounding, or jumping rope like they used to – and it shows.
Not only are they losing some of their elasticity and "bounce," but they're also dealing with more lower extremity issues than ever before.
I started thinking a lot about this early last year, and it came up again when I chatted with Boo Schexnayder on the podcast. He covered this topic in-depth at last year's Physical Prep Summit, and I haven't stopped thinking about it since.
Actionable Item
Lower extremity tissue tolerance is going to be a focal point of this off-seasons training program. The goal will be to introduce low-intensity methods early in the off-season.
Going forward, we will slowly build into higher intensity variations, as well as driving up the volume as the off-season progresses.
Summary
There is no such thing as "the perfect program." We all know that.
But as coaches, our goal should be to look objectively at our programs.
To critique them, evaluate them, and determine what gaps or weaknesses each program displays.
And if you can do that, I guarantee you're going to improve your programming from year-to-year.
All the best,
MR
Get 3 days of my best coaching materials — for free.
3 DAY COACH'S CAMP:
Write better programs
Learn how to motivate clients outside the gym
My most popular resets for instantly improving movement quality