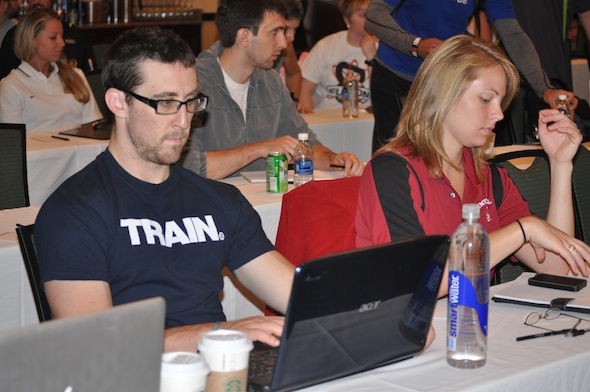 Note from MR: This post sponsored in part by Eric Oetter, Bill Hartman, and the longest, most soul-wrenching travel experience of my entire life.
This weekend Bill, Eric and I attended a Postural Restoration Institute course, and over the course of four days, we took away a ton of amazing information.
Look – everyone and their mother knows you should attend seminars if you want to get better.
But how do you ensure that you extract maximum value from your time and money?
Luckily for you, after attending and presenting at more seminars than I care to remember, I've got some great ideas that will take your seminar performance to the next level.
Seminar Tip #1 – Review the Materials Before Attending.
When attending a seminar, you're wasting your time if you haven't thoroughly reviewed the course materials, or previous work(s) of the presenter.
Imagine going to a Stuart McGill course, having never read a book or article from Stu McGill?
While I'm sure you would learn a ton, there's no way possible that you're going to get all the "ah-ha" moments if you aren't familiar with the author or speaker.
If nothing else, simply Google the author/speaker and review the materials that they have readily available (for free) on the Internet.
And if you're really serious about your studies, pick up a book or one of their most popular products.
Seminar Tip #2 – Attend with Like-Minded Individuals.
If you attend a quality seminar, there's no doubt you're going to get a ton out of the experience.
But what I've found even more valuable are the discussions that ensue in between sessions, versus just the seminar itself.
When you attend a seminar, it's easy to get overwhelmed with all the information, or to simply let some of that info fall through the cracks.
When you attend with a crew of like-minded individuals, you make sure that nothing gets past your team.
Furthermore, when you go to lunch, dinner, or simply hang out in the evening, it's a great time to delve even deeper into the subject matter, or clear up any concepts that may seem foreign or odd to you.
Quite simply, when you attend a seminar with other motivated individuals, it's far easier to get maximum value from your time and money.
Seminar Tip #3 – Take Amazing Notes.
I can't tell you how many people will sit through an entire seminar, and not lift a single-finger the entire time.
And I get it to some degree. You're supposed to be in the moment, or really dialed in to what the speaker is saying.
But here's the rub…
There's no way you're going to remember everything if you don't take notes!
Great notes allow you to go back at any point in time and review the key points from the seminar. I've got notes from seminars dating back to 2001 that are invaluable; both as a reference tool and a simple reminder as to the big take home points.
Seminar Tip #4 – Take the Presenter Out to Lunch or Dinner.
As someone who presents frequently, I've seen both sides of this one.
Sometimes it's nice to just sit back and relax for a few minutes, rather than continue to be "on" around your peers.
But we're not talking about me; we're talking about you.
Taking a speaker out to lunch not only presents an amazing networking opportunity, but it also allows you to ask specific questions that you may have about their area of expertise.
Protip: If you ask a presenter to lunch, and he/she accepts, you pick up the tab.
Furthermore, don't make the entire discussion a firing squad about course topics. Keep it light, pepper in a question or two that you want answered, but don't badger a presenter mercilessly just because you can.
Seminar Tip #5 – Buy the Presenter a Gift.
This one comes to you exclusively from Eric Oetter….
If you really want to make a great first impression with a speaker, buy them a gift. EO's wants to drop a bit of specific advice here, especially if you intend to buy the speaker a book:
"You never know what the person has read in their profession, so make sure that the book is both off-topic and new. This makes for a great gift, and something they will most likely enjoy."

– Eric Oetter
I can tell you from experience, kind gestures like this go a long way and make a lasting impression.
Seminar Tip #6 – Absorb, Then Apply.
Here's a big issue I see when people attend seminars, yet haven't fully absorbed the material.
They take all the great information they learned, and (with great intentions) proceed to use all these new materials with their clients on Monday morning.
Obviously, this isn't a good thing.
Sure, you can take one or two new things and dabble with them on Monday morning.
But I'd recommend at least a 1-2 week incubation period before employing any wholesale changes to your programming.
By using an incubation period, you have time to "cool off" and figure out how the course materials fit into what you're already doing.
Chances are you don't need a massive overhaul of your programming, but some specific fixes or tweaks could lead to serious change.
Make sure to absorb your materials before you start applying them in your programming and coaching.
You'll thank me later.
Seminar Tip #7 – Attend a Seminar at IFAST.
What else needs to be said here?
Whether it's the Midwest Seminar, a Diagnosis Fitness, or anything in between, I love hosting courses.
Most importantly, I love working with people who are serious about getting better.
Next time we hold a course at IFAST, I hope to see you there!
Bonus Tip: Come Prepared for Travel Delays.
Without giving you all the nuances of this little "trip" we've been on, let's just say the travel has been less than smooth.
As such, come prepared with other work materials that you can use on flights, during delays, etc.
For example, I always bring both a book and printed articles in a file folder.
Even if you can't be on your phone, laptop, etc., you can still get some quality work done, even during less than ideal travel situations.
Summary
I'm a big believer that if you're going to do something, you ought to do it right.
If you're going to attend a seminar, use one (or all) of the tips I've provided above to get the most out of your learning experience.
All the best
MR
PS – What do you do to get the most out of your learning experiences? I'd love to hear from you in the "Comments" section below.