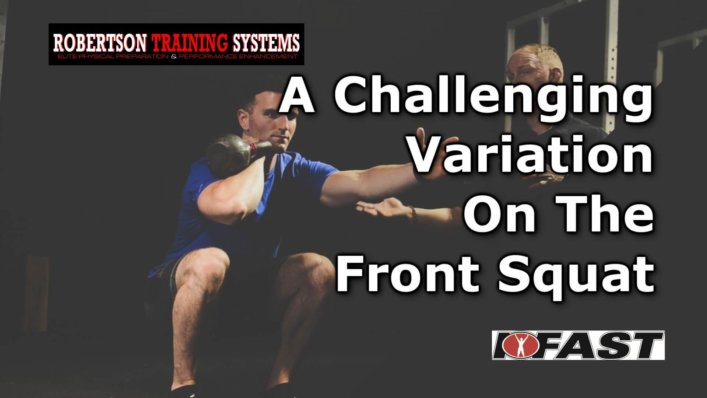 If you know anything about me, you know I'm a huge fan of the front squat.
Whether it's shifting the center of gravity back, unlocking the body's mobility, or just providing a great workout to the core and quads, pretty much every client and athlete I train is going to front squat.
But here's the thing – sometimes you need a little bit of variety in that workout!
So if you want a fun and challenging variation of the front squat, you need to check out this short video…
Now that you've watched the video, here are a few notes to think about:
Stack the system. Make sure that the heels, hips and shoulders are in a straight line before you initiate the movement.
Active elbow. Using whichever arm is holding the kettlebell, think about driving the elbow forward to help keep the core engaged.
Feel the whole foot and PUSH. Just like any of our other squat variations, we need to maintain our connection to the ground and PUSH out of the bottom.
Whether it's using it to iron out an asymmetry, or simply throwing it in to keep your training fun and fresh, make sure to give the offset kettlebell front squat a shot.
I think you'll really enjoy it!
All the best,
MR
Get 3 days of my best coaching materials — for free.
3 DAY COACH'S CAMP:
Write better programs
Learn how to motivate clients outside the gym
My most popular resets for instantly improving movement quality