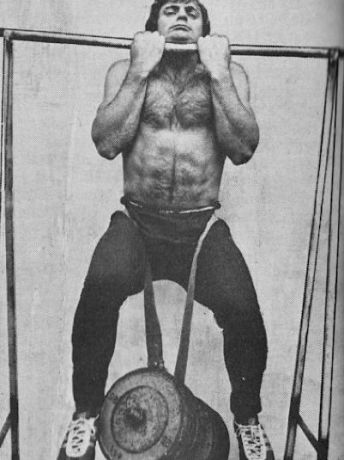 In today's edition of Exercise of the Week, we're going to cover a sweet variation on an old-school strength exercise.
You're all probably familiar with the traditional chin-up/pull-up variation with the knees bent and ankles tucked behind you.  It looks something like this:
And while the standard chin-up/pull-up is still a great option, here's a little tweak that I think you'll find a bit more challenging.
The Pillar/Plank Chin-up is an exercise I originally heard about from physical therapist Charlie Weingroff.  I'm not sure if he calls it the pillar chin-up or not, but that's really not here nor there. 🙂
Hang from a chinning bar, but before you perform the lift, do the following things:
Dorsiflex your toes (pull them UP towards your face).
Straighten your legs, extending your knees.
Squeeze your glutes and drive your hips forward.
NOW, with all these things going on, perform your traditional chin-up.  Here are the big coaching points when it comes to chinning/pulling:
Elbows straight/extended at the bottom.
Initiate by pulling through the elbows, not just flexing the biceps.
At the top, the chest should touch the bar and you should squeeze your shoulder blades DOWN (think of tucking them in your back pocket).
Lower under control to the starting position and repeat for the necessary number of reps.
I really like this version, as it seems to integrate the body a bit better, versus dissociating between upper and lower bodies.
Along those same lines, you guys know how obsessed I am with getting the core and glutes involved in our lifts, and this version really cranks up the stabilization needs of our torso and hips.
Give this variation a shot TODAY! I think you'll really enjoy it.
Stay strong
MR