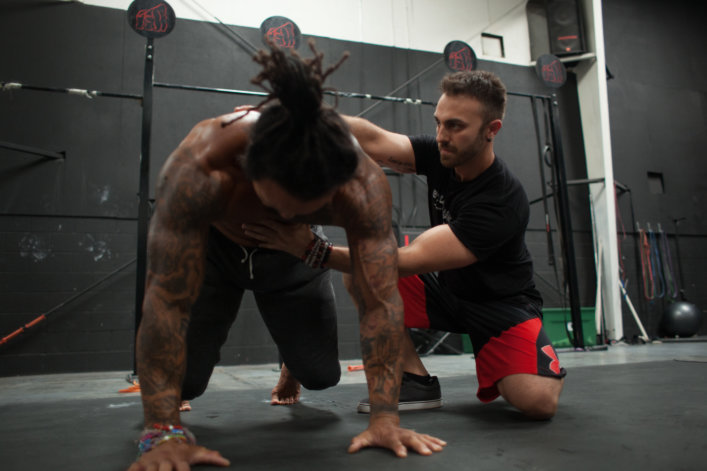 Andreas Saltas is a licensed Physical Therapist practicing in the state of New York. He attained his Bachelors Degree in 2009 studying physiotherapy at the Institute of Lamia in Greece.
Andreas achieved his dream of working with both professional bodybuilders and powerlifters once he moved back to the states. But in addition to that, he has now also broken into the NFL, working with players from the NY Giants and Buffalo Bills.
Andreas is a guy who I enjoy learning from, as he's a creative thinker and definitely not afraid to think outside the box when it comes to training and therapy.
In this show, Andreas and I talk about how a massive motorcycle wreck and his comeback from it was the driving force behind him becoming a physical therapist, his holistic approach to assessing and treating his patients, and the differences he sees between powerlifters, bodybuilders, and football players, and how he treats them differently as a result.
Show Outline
Here's an overview of what we covered in this week's episode:
Show Intro
Interview with Andreas

How Andreas got interested in physical therapy, and why a horrific motorcycle accident changed and shaped his life forever.
His overarching approach and philosophy when it comes to treating his patients.
How Andreas goes about progressing and evolving the programs he gives his clients and athletes.
The major issues he sees when treating his powerlifters and bodybuilders, and why bodybuilders are actually the harder patients to treat!
His evolution into treating NFL players, how they're different from "lifters," and why he enjoys treating them so much.
What a typical day looks like for Andreas.
The BIG Question.
A really fun lightning round where we talk about work and life in NYC, the books he's reading right now, some tips and tricks on social media, and the real deal story on how he became "The Bodmechanic."
Related Links
Connect with Andreas
Books Mentioned
The Physical Preparation 101 Training System
Are you a fitness coach or trainer looking for ways to improve the results you deliver to your clients?
Want to create consistently better training programs and learn the exact exercises and strategies to improve your clients' and athletes' performance?
The Physical Preparation 101 Training System unlocks the secrets to optimizing performance and improving movement through my unique, cutting-edge training philosophy.
In this series, you'll learn:
The nuts and bolts of program design
The single-biggest issue you will see related to core exercises and breathing – and how to fix it!
How to train others to squat safely and effectively – in the first session
How to stop lower back pain in its tracks by using a specific deadlift progression
And much, much more!
You'll also receive sample programs and templates to help you build great programs with AMAZING results – consistently.
Are you ready to take your fitness training and coaching programs to the next level? Visit PhysicalPreparation101.com to learn more and get started NOW!
Help Me Get to 100!
As I mentioned in the show, I'd really love to get to 100 5-star reviews of the Physical Preparation Podcast.
If my show has created value for you (either now or in the past), please take 30-seconds out of your day and head over to iTunes and please give the show a 5-star review.
I'd appreciate it more than you know!
Get 3 days of my best coaching materials — for free.
3 DAY COACH'S CAMP:
Write better programs
Learn how to motivate clients outside the gym
My most popular resets for instantly improving movement quality