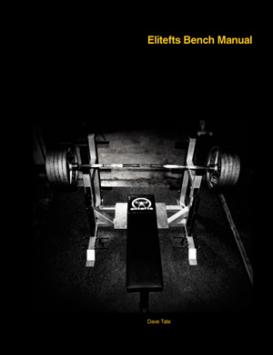 Evidently, my new favorite lift is the bench press (or at least that's what all the guys in the gym say!).
Hey, everyone else has been doing it for years – maybe I'm just a little bit behind the times!  I'm definitely not the sharpest tool in the shed.
In all seriousness, as someone who has competed in powerlifting and been around tons of clients and athletes alike, I know that people like to improve their bench. With that being said, I've decided to develop a collection of articles, tips and tricks to help you along the way. I hope this helps you set some PR's!
I figured if I'm going to compile a list, the least I can do is contribute something to it!
I wrote this article several years ago, and while it doesn't get into the actual pressing motion, it covers a very important aspect of benching – the set-up. Fixing my set-up alone allowed me to hit a 25# meet PR in a month's time back in 2002!
Dave Tate's Six Week Bench Press Cure
Back in 2001 when I first got into powerlifting, I paid several hundred dollars to attend a Westside/Elite seminar that Dave hosted.
The next meet, I hit PR's in pretty much every lift. And the cool thing was, it was only a month out from the meet – so the bulk of the changes were to my technique, not to my training program.
This video covers all the major bench press cues, tips and tricks. Definitely check it out if you haven't already.
Ashley Roberts "Up Your Bench" List
Have you ever benched 700 pounds?
If so, did you do it in your early 20's?
It not, Ashley Roberts has done both. Flat out, this guys is STRONG.
He's now training at Westside, and if you follow the link above you can watch his video where he depicts the 30 biggest mistakes you could be making when benching. I'm actually still guilty of #11 (pushing the bar out versus pulling it out), so this video was a great reminder for me.
The Elite FTS bench manual covers everything from technique to training programs. If you've read the Elite articles and archives extensively, you may not get as much out of this as the others, but it's still got some great info nonetheless.
What do you guys think? What are the best bench press resources you've reviewed lately?
Stay strong and good pressing!
MR