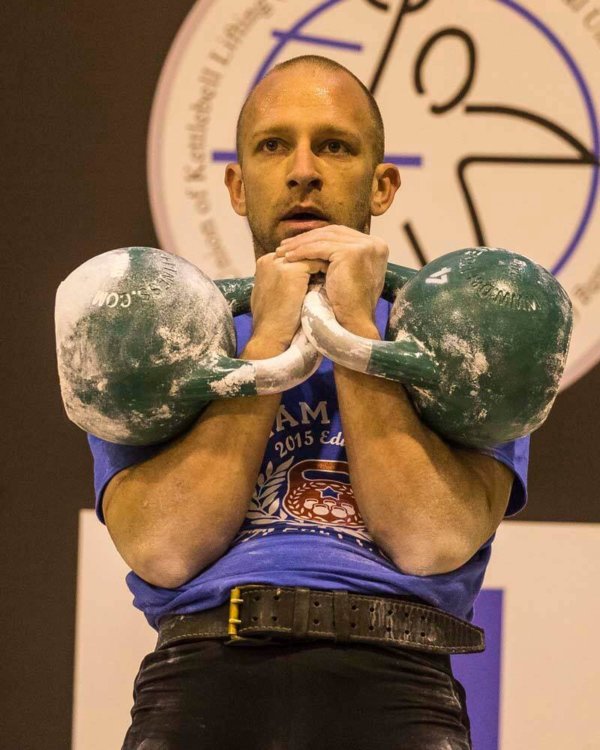 BJ Bliffert is the founder of Full Throttle Athletics and the North Texas Kettlebell Club where he helps busy people live a "high performance lifestyle" without the use of dangerous workouts or fad diets.
Over the last 20 years he's been fortunate to help thousands of busy people get into the best shape of their lives. And BJ is no stranger to being busy – he's not only a business owner but a father and husband as well. He Co-Authored the International Best Seller "Total Body Breakthroughs", and has earned a feature in USA Today for being a World Fitness Elite Trainer of the Year.
BJ's has competed internationally in the sport of kettlebell lifting, not only competing multiple times in Russia but, twice earning a spot on TEAM USA in 2015 & 2016 competing in Hamburg, Germany and Dublin, Ireland at the IUKL World Championships.
In this show, BJ and I talk about how getting dominated by a 16 kilo kettlebell sparked his interest in kettlebell training, his favorite coaching cues for the kettlebell swing and clean, and what it's really like to compete in kettlebell sport.
While this show is a bit different than some of the other ones, I think it's really unique and BJ has a ton of knowledge when it comes to kettlebell training and coaching.
Show Outline
Here's a brief overview of what we covered in this week's show:
MR Monologue: Understanding the Light and Dark Side of the Force (and a tease for next week…)
How BJ got started in the world of physical preparation (and how getting dominated by a 16kg 'bell sparked his interest in kettlebell training)
The differences between the standard kettlebell courses and kettlebell sport
A primer on kettlebell sport: The events you perform, and how to train for them
How to keep your hands from getting shredded while training with the 'bells
The kettlebell lifts he has his clients and athletes start with, and how to cue them
BJ's "one piece of advice" for someone who wants to improve their coaching of kettlebell lifts and training
The BIG Question
A really fun lightning round where we talk about his trips to Russia, the most impactful book(s) he's read in the past year, how he earned the nickname "Flex," and the big project he wants to get rolling on.
Call to Action: Please subscribe to the show and download your episodes!
Related Links
Website
Connect with BJ
Books Mentioned
Video Clips
Get 3 days of my best coaching materials — for free.
3 DAY COACH'S CAMP:
Write better programs
Learn how to motivate clients outside the gym
My most popular resets for instantly improving movement quality