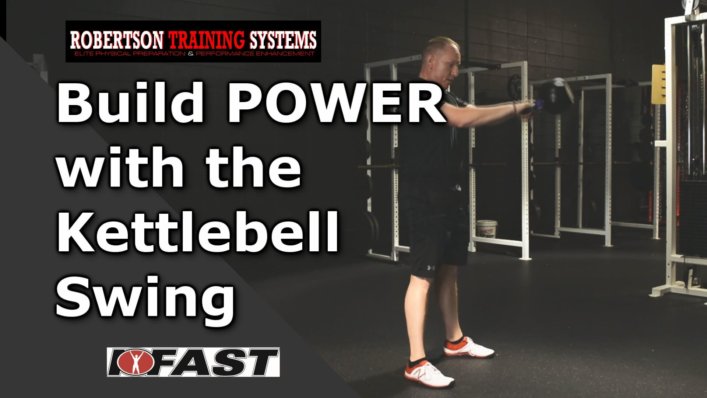 Many people would assume that if you're dealing with a lower body injury, that you can't train lower body power.
And that's simply not the case!
If we go way back to 2012, my good friend BJ Gaddour was talking about how he loved the kettlebell swing for developing lower body strength and power.
BJ had suffered numerous knee issues from his football career, so sprinting and jumping weren't the best choices for him.
So to fill in those gaps in his program, he used the kettlebell swing instead – with awesome results.
In this short video, I describe how I coach and cue this awesome exercise. Enjoy!
Now that you've watched the video, here are a few key notes:
Keep the back flat throughout. When it comes to the swing, one of the biggest issues is keeping a neutral spine position throughout. The goal is to really load the hips and thighs, NOT the lower back. To help you do this…
Use a short and tight range of motion. On the loading phase, think about keeping the kettlebell in tight to the groin – like snapping a football (thanks Dan John). On the propulsive phase, keep the elbows soft and the 'bell in tight to the body. When it gets really far out in front it can be difficult to control, and I think you lose some of the benefits of the lift.
Be explosive and snappy! Can you load a swing up super heavy? Sure – and there's a time and place for that. However, if your goal is to be explosive, use a slightly heavyish weight but focus on being explosive and snappy throughout.
The kettlebell swing is an awesome exercise, and one you can use to fill in numerous gaps in your programming.
If you're struggling to find ways to incorporate power training into your program, though, give it a shot – I guarantee you'll love the results!
All the best,
MR
Get 3 days of my best coaching materials — for free.
3 DAY COACH'S CAMP:
Write better programs
Learn how to motivate clients outside the gym
My most popular resets for instantly improving movement quality