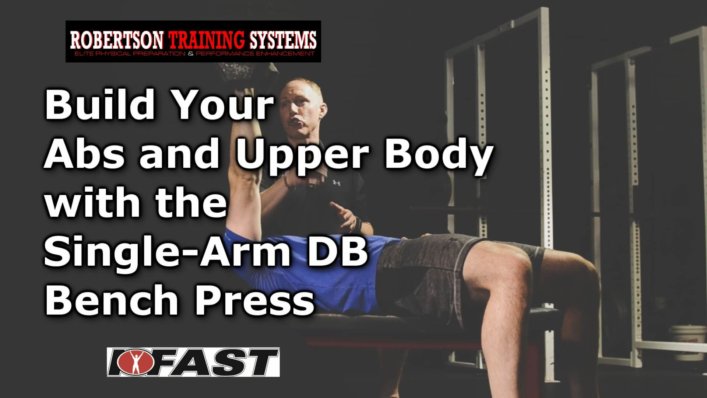 When it comes to training, I'm all about maximizing bang for my buck.
After all, why do multiple exercises when ONE exercise can give you a ton of benefit?
In this case, the single-arm dumbbell bench press is an awesome choice, because it not only strengthens the upper body, but builds a strong and stable core as well.
If you've never tried this before, you absolutely HAVE to give it a shot in your next training session!
Now that you've watched the video, here are a few more technique tips:
Get the feet set. This may sound simple, but make sure the feet are square and firmly on the floor. If standard bench pressing irritates your lower back, consider putting a set of low boxes or plates underneath your knees.
Exhale to find your abs. While any bench press variation is intended to build the upper body, you can't forget the core training element of this one. To help set a good position and lock those abs in, think about exhaling first. Then last but not least….
NO ROTATING! This variation isn't about how much weight you can push – but rather, how much weight you can push while controlling rotation. It may help to think of your torso as a coffee table, and you want it to stay flat and stable throughout.
Like I said up top, if you've never done this exercise before, it's definitely one you need to throw into your programs from time to time.
Give it a shot and let me know what you think!
All the best,
MR
Get 3 days of my best coaching materials — for free.
3 DAY COACH'S CAMP:
Write better programs
Learn how to motivate clients outside the gym
My most popular resets for instantly improving movement quality