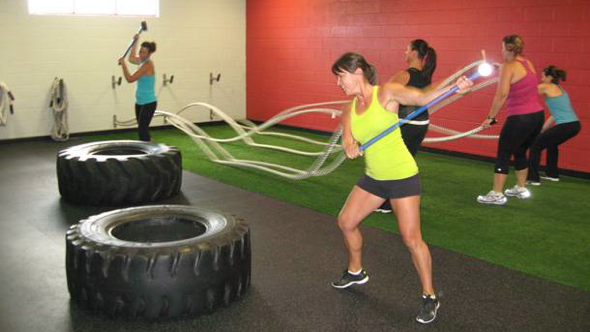 Let me tell you a little story from 2007….
In 2007, Robertson Training Systems was booming. It seemed as though Eric, Bill and myself could do no wrong with the information-products we released, and we were definitely riding the wave.
I was doing 1-on-1, in-home personal training, and while I had awesome clients, the hours were killing me. There were often days I'd get up at 4:45 to make it to my 6 am client, and may not get home until 7 or 8 pm in the evening.
I wasn't struggling financially, but I wasn't where I wanted to be professionally.
That summer, I ended up at Alwyn Cosgrove's gym, Results Fitness, in California. I had just given an in-service to his staff on knee training, and how to keep the knees healthy (in-services and education are the status quo at Results).
After wrapping this up, I clearly remember heading to lunch with AC and grabbing a beer (or beers). As we're sitting there, we started discussing the possibility of me opening up a gym in Indianapolis. While I'd definitely thought about this in the past, I hadn't really thought it through logistically.
Here's how the conversation went down…
AC: So you want to open a gym. How soon do you think you can do this?

Me: I don't know man – maybe 6 months or so?

AC: Really? 6 months?

Me: Yeah, that sounds doable, especially if I get serious and I'm focused about it.

AC: Ok then, so in 6 months, you'll have your gym up and running, and I'll be able to come out there and see it live.

Me: Um….yeah….sure (this is where I started to realize he was serious!)
Nothing like a deadline from a close friend and mentor to light a fire under your butt!
So that was July of 2007 – and while I wasn't ready to go in January of 2008, IFAST officially opened its doors in August of 2008.
Sorry AC – I was about 6 months behind 🙂
I tell you this story because if it weren't for Alwyn, I still might not have a gym. I definitely wouldn't be the trainer, coach, or businessman that I am today.
I've been blessed to learn from many amazing coaches, trainers and therapists, but AC was the first one to talk to me about business.
How to start a legitimate business.
How his business worked using semi-private training, and how I could model my gym after it.
The numbers I needed to "know" every month if I was serious about growing a business, not just holding down another job.
And on, and on, and on.
After IFAST had been open about a year, I attended Alwyn and Rachel's Counting Reps to Counting Revenue seminar hosted by Perform Better.
Between registering for the seminar, staying in a hotel, flying to and from LA, and of course FOOD, I easily spent about $1,500 to attend the seminar.
But you know what? It was absolutely worth it.
I can home with pages upon pages of notes – how to prospect clients, how to sell, how to market effectively, etc.
At the risk of sounding over-confident or flat-out arrogant, I knew how to train people. What I needed to learn was how to run an effective business.
For me, if I simply landed one or two new clients from this seminar, I knew it would be worth it.
Little did I know, it would literally transform the way I did business.
I was a little leery about writing this up today, for two reasons:
Eric, Pat and I just released a business products 2 weeks ago. If I was into scarcity or limited thinking, there's no way I would promote or recommend another business product. But I'm not – and seeing the seminar first hand, I know how powerful AC's stuff is.
Everybody and their mother is promoting this product, and I just reviewed a product yesterday. I get annoyed by it sometimes, too, and I'm in the fitness industry and selling products! But there's a reason everyone is promoting it – AC is a class act, and this is a top-notch product.
Look, AC didn't build one of the most profitable gyms in America by a bunch of random acts. He has a system and methods that he leans on to help him get results.
If you'd like to learn more about his system, or how it can help you grow your fitness business, I can't recommend this product highly enough.
Counting Reps to Counting Revenue
All the best
MR