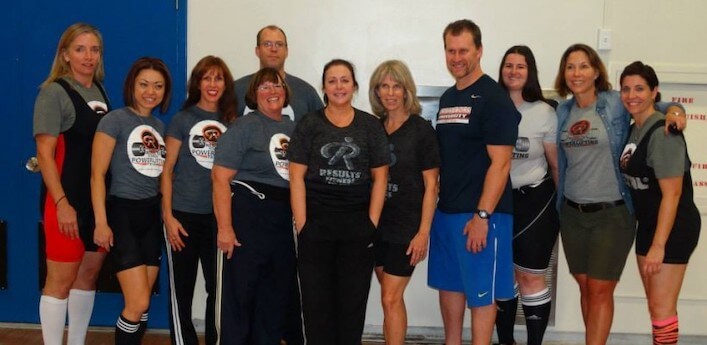 Craig Rasmussen is the Director of Coaching and Programming at Results Fitness in Newhall, CA. Results Fitness been named one of the top 10 gyms in the United States by Men's Health on multiple occasions. Craig has well over 18 years of experience in the fitness industry working with all levels, ages, and types of clientele including professional athletes to general population clients with a wide variety of goals.
With an unquenchable thirst for learning and sharing what he has learned with others, he also holds coaching and programming certifications from several top-level organizations in the fitness industry.
Craig has been featured in numerous online and print magazines including Muscle and Fitness, Men's Fitness, Men's Health, and T-Nation. His driving "why" is to inspire self-confidence in clients to help them to achieve things that they never thought possible when they walked through the gym doors.
I first met Craig way back in 2003 at a squat, bench and deadlift seminar I hosted in Ft. Wayne. We definitely hit it off, and his thirst for knowledge and personal growth is something I've always admired.
In this show, Craig and I cover a ton of ground – from his start learning from old school bodybuilders and powerlifters, to the power of confidence, why everything depends on goals, and an awesome discussion about what constitutes acceptable lifting technique.
Craig is someone that I deeply respect, and I know you're going to love this show.
Show Outline
Weekly Recap

Hoops
Long Weekend
SERIOUS Progress on my Training Cert/Program
6 Tips for Writing Better Conditioning Programs + Joel's Certified Conditioning Coach Course
New Video – Side Bear

Shot New Videos this week as well!

Recorded 3 new shows last week, and I've got some solo pieces in the work as well

Deep Thought: The Power of No

"No is a complete sentence" – Anne Lamont
Mark Fisher – The key to time management is saying "No" more often
Remember that even if you say "Yes" to something, you're essentially saying "No" to something else

Interview with Craig

How Craig got his start in physical preparation.
His overarching philosophy, and how he works with everything from gen pop "executive athletes" to pros.
What a typical workout might look like when you come to Results Fitness.
Exercise Technique: What is acceptable? And what is downright dangerous?
Craig's thoughts on coaching and building rapport, and how he goes about building strong relationships
Why he loves evolving his body comp clients into the sport of powerlifting (along with some of his success stories!)
The BIG Question
A really fun lightning round where we talk about the differences between Cali and Indiana, who will win the NBA title, the books he's reading right now, and what's next for Craig Rasmussen.
Related Links
Connect with Craig
Miscellaneous Articles and Products
Books
The Physical Preparation 101 Training System
Are you a fitness coach or trainer looking for ways to improve the results you deliver to your clients?
Want to create consistently better training programs and learn the exact exercises and strategies to improve your clients' and athletes' performance?
The Physical Preparation 101 Training System unlocks the secrets to optimizing performance and improving movement through my unique, cutting-edge training philosophy.
In this series, you'll learn:
The nuts and bolts of program design
The single-biggest issue you will see related to core exercises and breathing – and how to fix it!
How to train others to squat safely and effectively – in the first session
How to stop lower back pain in its tracks by using a specific deadlift progression
And much, much more!
You'll also receive sample programs and templates to help you build great programs with AMAZING results – consistently.
Are you ready to take your fitness training and coaching programs to the next level? Visit PhysicalPreparation101.com to learn more and get started NOW!
I Want Your Feedback!
What do you like about the show?
What do you hate?
What can I do to make you download every single episode, and share it with all of your friends in the industry?
Drop me a line at [email protected] and let me know. I'd love to hear from you!
Get 3 days of my best coaching materials — for free.
3 DAY COACH'S CAMP:
Write better programs
Learn how to motivate clients outside the gym
My most popular resets for instantly improving movement quality