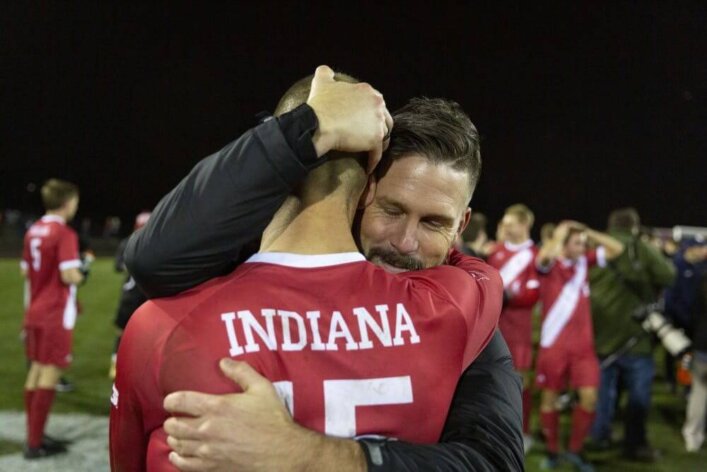 Danny O'Rourke has seen soccer from the vantage point of both athlete and coach.
After playing collegiate soccer at Indiana University – where he played 83 games, who back-to-back National Championships and the MAC Hermann Trophy – Danny had an 11-year MLS career.
In the early years of his career as a professional soccer player, Danny was immediately esteemed as one of the bright young prospects at midfield and later won two MLS cups, in addition to being a three-time Supporter's Shield champion.
Today, Danny is back at Indiana University as an assistant coach to give back to the Indiana Hoosiers.
Currently in his third season, Danny has helped the team win back-to-back Big Ten Conferences and regular season championships.
And along his journey from soccer player to coach, Danny has picked up some of the most important lessons a coach can learn.
Danny joins me today to share his experiences as a collegiate and professional soccer player and how he transitioned to his role as Assistant Coach at Indiana University.
He highlights the differences between playing soccer at the collegiate and professional levels, and he underscores the importance of filtering through the wealth of knowledge in today's world and having different tools in your toolbox.
He also discusses what he attributes his career success to and explains how the role of physical preparation evolved throughout his career as an athlete and coach.
Every individual is unique; you can't just have one approach to every athlete. Look at how they are as a person, then think about how you can relate defense and tactics to them. – Danny O'Rourke
This week on the Physical Preparation Podcast:
Danny's career in professional soccer and his transition to coaching in the world of physical preparation
What his views on weight training were while he was playing at the high school and collegiate level
Finding the perfect balance between being an authority and being an athlete's friend
How Danny changed his physical preparation to maintain his growth as a player at the professional level
How being around better players pushes you to become a better athlete
The value of learning to enjoy the training process and avoiding perfectionism
Mentors that stood out in Danny's career
The importance of having an individual approach to training athletes
Lessons from Danny's time in the private sector
The hardest part about transitioning from athlete to coach
How the world of physical preparation can continue to evolve and develop
Danny's career highlights as a coach and athlete
The benefits and importance of taking time off and enjoying downtime
Connect with Danny:
Momentous – The Cleanest Recovery Products in the World
Momentous is a world-renowned sports performance and recovery supplement. Preferred by top-level athletes in the NFL, NBA, NHL, and NCAA, Momentous is NSF and Informed Sports Certified.
Experience the best-tasting, cleanest recovery products in the world and take your performance to the next level. Choose Momentous.
For more information on Momentous or to place your first order, visit www.livemomentous.com/robertson – use the coupon code: Robertson20 at checkout to receive 20% off your first order or receive a free 3-pack sample.
Subscribe, Rate & Share!
Thanks for tuning into this week's episode of The Physical Preparation Podcast with Mike Robertson – your one-stop-shop for fitness trainers, coaches, and athletes.
If you enjoyed this episode, be sure to subscribe on Apple Podcasts, Stitcher, SoundCloud, Spotify, and Google Podcasts and leave your honest review. I'd also love to connect via Facebook, Twitter, and Instagram or visit our website.
And last but not least, please don't forget to share your favorite episodes with your friends on social media. Thank you!
Get 3 days of my best coaching materials — for free.
3 DAY COACH'S CAMP:
Write better programs
Learn how to motivate clients outside the gym
My most popular resets for instantly improving movement quality